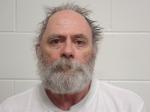 The Nebraska Department of Correctional Services announced that Jack Talbitzer, 59, died Monday at a Lincoln hospital.
Talbitzer was incarcerated at the Reception and Treatment Center (RTC) in Lincoln. He was serving a one-year sentence on charges of delivery of a controlled substance and possession  of a controlled substance out of Dodge County.
While the cause of death has not yet been determined, Talbitzer was being treated for medical condition. As is the case whenever an inmate dies in the custody of the NDCS, a grand jury will conduct an investigation.