Fremont Public Schools Foundation is pleased to accept two donations from the local group, Coffee With a Cause, on behalf of The Hub at Fremont High School and Urban Tiger at Fremont Middle School.
The Hub will receive $1,375 and Urban Tiger will receive $1,360.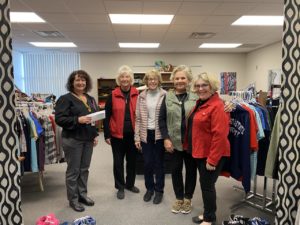 "The group, Coffee with a Cause, wanted to help our local kids in Fremont and support the Fremont Public School system. With this donation, we are able to support the students through Urban Tiger and The Hub by providing donated supplies and monetary donations for additional supplies that are
needed," said Sue Wilcoxson, Coffee With a Cause committee member.
The Hub began at Fremont High School in 2020. Students can stop in to get clothing, school supplies, hygiene products and food. Shayla Linn, social worker at FHS, helps students and families connect with other organizations in Fremont that can offer other helpful services.
"Many students access breakfast items in the hub, this donation will help us greatly stock up for the next semester.," Linn said.
Urban Tiger began at Fremont Middle School in 2014 by two retired teachers, Edie Ronhovde and Tammy Zentic.
"Our students will benefit tremendously from this donation. We want to thank all of the individuals who are part of Coffee With a Cause for donating to support our students," said Kristin Henkenius, school counselor at Fremont Middle School.
If you would like to donate to Urban Tiger please contact Henkenius at kristin.henkenius@fpsmail.org or if you would like to donate to The Hub please contact Linn at shayla.linn@fpsmail.org.