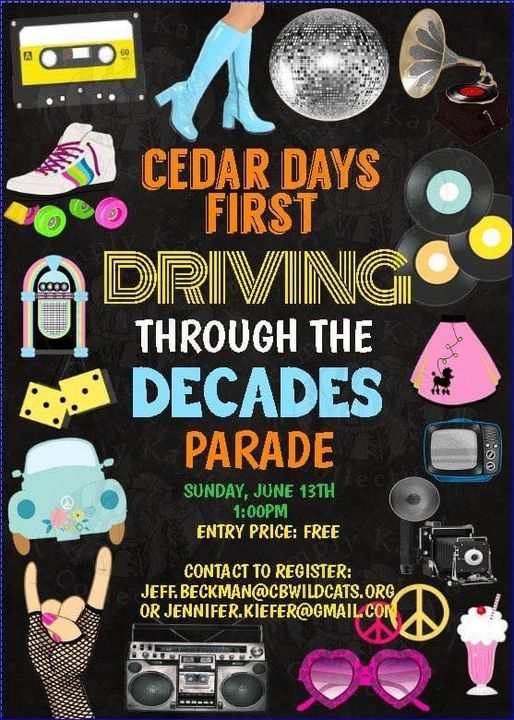 COVID-19 sidelined many summer festivals in 2020, including Cedar Days. 
The annual festival in Cedar Bluffs, however, is back in 2021 featuring three days of food, music, games and children's activities. 
Jen Kiefer, a member of the Cedar Bluffs Education Foundation Board that helps organize the event, said festivities are planned for Friday through Sunday. 
"We'll start off with a 12-U baseball game that will start at 6 Friday night at Legion Field," she said. "Following the baseball game and once it gets a little bit darker, we'll have an outdoor movie night and show the movie, "The Sandlot" in the park next to the baseball field." 
There will also be two food trucks available. Meanwhile there will be beer pong at the Cedar Bluffs Auditorium at 7 p.m. and a performance by The Radio Ecletric Band at Den Saloon at 8. 
"On Saturday we have alumni golf that starts at 9 a.m. It is a shotgun start at Valley View," Kiefer said. "On Saturday night we have our street dance with the local band, The Fools." 
Sunday's festivities begin with Corn Hole registration at noon at Den Saloon. At 12:30 will be registration for the 1 p.m. parade.
"We're going to have our first parade this year," Kiefer said. "We have about 12 people registered with the band and cheerleaders. We do have a theme of, 'Driving Through The Decades.' We have some older tractors and cars registered." 
The festival will end with a family fun day in the park, including a carnival and inflatables. 
"We'll have Slip 'N Slide, concessions and a bunch of bounce houses," Kiefer said. "The football boys are also doing a lift-a-thon." 
Kiefer said the board, including director Jeff Beckman, Travis Neubert, Hank Schollmeyer, Liz Novotny, Katy Giehler and Jeremy Pleskac, is hoping for a good turnout.
"We think it will be a fun time for people," she said.