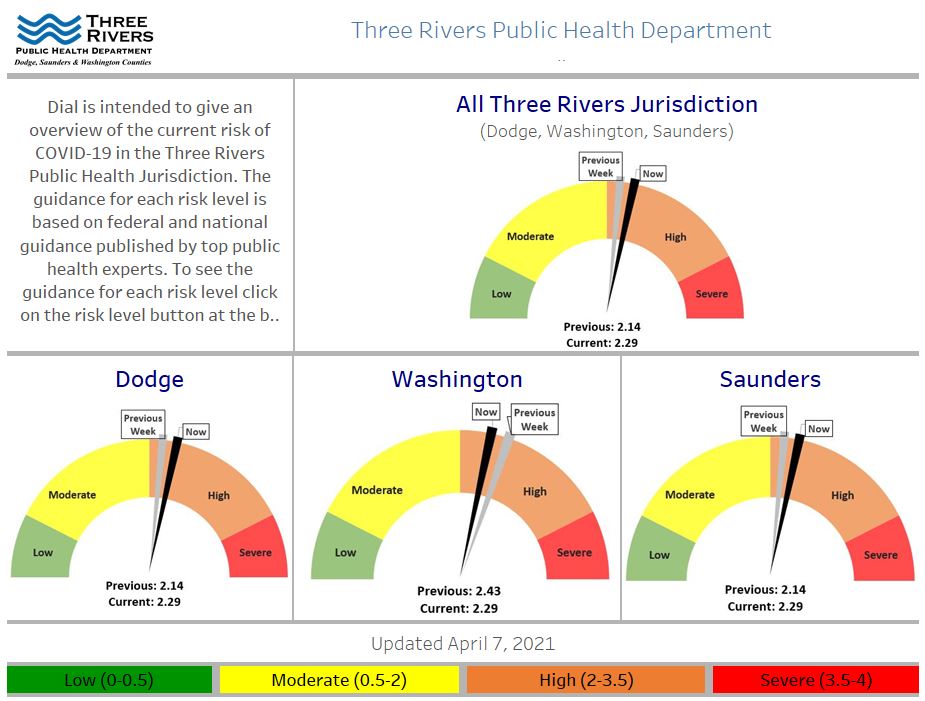 The majority of the Three Rivers Community Risk Dials have seen a slight uptick from last week. 
The Three Rivers jurisdiction of Dodge, Washington and Saunders counties jumped from 2.14 last week to 2.29 this week. Dodge and Saunders also increased from 2.14 to 2.29. The only county that dropped was Washington. It went from 2.43 to 2.29. 
Officials said the increase is due to an increase in the number of cases. There was no change in community spread. This week, there was also a slight increase in the ability to contact trace, an increase in weekly positivity, an increase in the percentage of available ventilators, and a decrease in the percentage of available ICU beds. 
Hospitalizations due to COVID-19 infections also increased in the past week. However, these factors were not significant enough to impact the Three Rivers risk dial. 
There have also been alterations to the risk dial. "The Percent Change in the Number of COVID-19 cases from Previous Week," has been removed. The "Average Number of Daily Cases per 100,000 people" has been added in its place. 
The main factors considered in the risk dials include: increase in the number of COVID-19 cases over the past three weeks, the capacity of the district and local healthcare system including the number of patients hospitalized with COVID-19, the ventilators being utilized and the percentage available of adult ICU beds, the presence of community clusters and/or community spread, and the availability of Three Rivers to trace all identified contacts of positive cases in 48 hours.