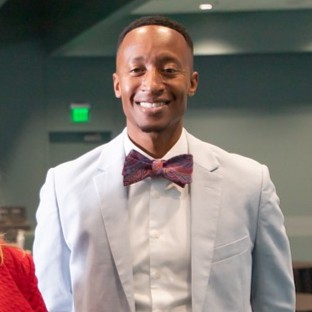 FREMONT – Garry Clark has announced his resignation as President and CEO of the Greater Fremont Development Council after serving in the role for over three years. Recently, Clark accepted the same title and role with the Economic Alliance Snohomish County (EASC), in Washington State.
Clark, a former Dana College graduate, holds a BA degree in Sociology and a Master of Science Degree in Urban Studies from the University of Nebraska at Omaha. Clark has been in the economic development field for 13 years and was hired by the Greater Fremont Development Council in September 2017.
"I wouldn't be where I'm at today, accepting this opportunity in Washington State without the people of Fremont. It really is a place where it fosters growth for people and of course, people are going to want us because we are in a place where we're doing good work and that just comes from having good leadership."
In his time as President and CEO of GFDC, Clark and his team accomplished many things for the city of Fremont. He shared what he believed to be one of his biggest accomplishments.
"Number one was coming in and actually being able to create a housing fund from scratch when our organization wasn't set up for that in the past. Raising somewhere around $3.5 million in revolving funds for housing to create incentives for developers to bring affordable housing and workforce housing in Fremont; that was probably the largest accomplishment," Clark said.
Clark shared that one of the most recent projects he worked on was very influential for him.
"Our multicultural inclusion council is developing. It's really near and dear to my heart because we're at a time where there is an opportunity to show that Fremont has been very welcoming and will continue to be."
Before his work in Nebraska, Clark started as a City Planner-Mainstreet Manager and Economic Development Specialist in Florida and Washington, D.C. In early 2019, Clark published his first work as a published author, with the memoir, Unlikely Viking – From the D.C. Projects to Rural Nebraska. Clark recently completed a TEDx Omaha Talk at Creighton University in 2019, his talk was titled, "Running shoes, food stamps, and cornfields". In late, 2018, Clark was awarded the Midland Business Journal's 40 under 40 award for his aggressive workforce housing efforts in Fremont, Nebraska.
Clark was adamant to say that his accomplishments could not have been done without the leadership and teamwork of those around him.
"I just want to thank the Greater Fremont Development Council and all of the leaders that have been a part of the city of Fremont and Dodge County. Specifically, Bob Missel has been a mainstay since I've been here. Chris Walz and Scott Meister have also been great team members for me as they are hard workers and very calm, collected guys that are easy to work with. I just want to wish everybody the very best and don't feel like you can't reach out to me."
Taking on the role of President and CEO at GFDC was a big step in Clark's career for him. Clark said he has learned many things about how to be a good partner and keep an open mind.
"The biggest things I've learned through leadership from people in the community is just to be willing to be a good partner and be willing to share information, and listen to people's concerns and issues even if you don't necessarily agree." He continued, "I've learned how to operate in a space with very active people, with a very aggressive board. I think that has set me up to be prepared for that activity in a larger space. I've also learned that not every project is going to work out. You can go months into a project trying to get it done and get to that finish line, and it doesn't cross it. And being willing to just pick up and keep going and look for other projects."
Clark was sentimental when sharing all of the things that made him love living in Fremont.
"I think if you haven't been in Fremont, and you haven't worked or lived here, it's very difficult to find out all of the good, juicy things about Fremont. I have found that it's a community that loves to collaborate. I think from the outside looking in, people might not know that. People are consistently thinking about the greater good for Fremont and Dodge County," said Clark.
When asked what he will miss most about Fremont, he didn't hesitate to say that it was the many connections he has developed with people in the community.
"I have made a lot of friends that I consider life-long friends, and mentors that I consider life-long mentors that I want to continue to be connected to. And to not be in a place that has done so much for me and my career, I'm going to miss it greatly. I came here with just a backpack and no money years ago as a Dana College student. Everything that I've gained and learned about life has happened in Nebraska in this time. Yeah, I'll miss it and I'm going to visit as often as I can. I'm really going to miss the people."
Transitioning, Clark has agreed to stay on at GFDC as long as he is needed to help the transition or to at least be an advisor and support, but he shared that he knows they will find another talented leader to fill the position.
Clark shared, "They really have a great model using the Greater Omaha Chamber of Commerce (GOCC) as their support; that's how they found me. So they'll probably go through that process again by opening it up to the public and going through the process with the GOCC's leadership. That way they can kind of sift through and find their person, but I've also agreed to share some names of folks that I know are superstars in the field."
Moving halfway across the country can be a big step, especially for Clark who is a husband to wife, Tina, and father of three, Azlyn (11), Delano (6), and Camilla (3). Clark laughed and said, "She (Camilla) is at the age where "She's a little crazy."
He said the family is excited about the move, but that his oldest, Azlyn, is going to miss her friends. But she is eager, as she's never lived anywhere else since she was born in Maryland and the family moved to Nebraska shortly after.
Clark shared, "Azlyn is excited to see what it's like. She's eager, and she's already sending me homes that she thinks might be a good look. My two younger kids could care less. They're not even sure we live in the United States."
Clark reminisced on a time when his son, Delano, told him that they lived in Omaha, Africa. He joked, "He's not going to be great at geography at all."