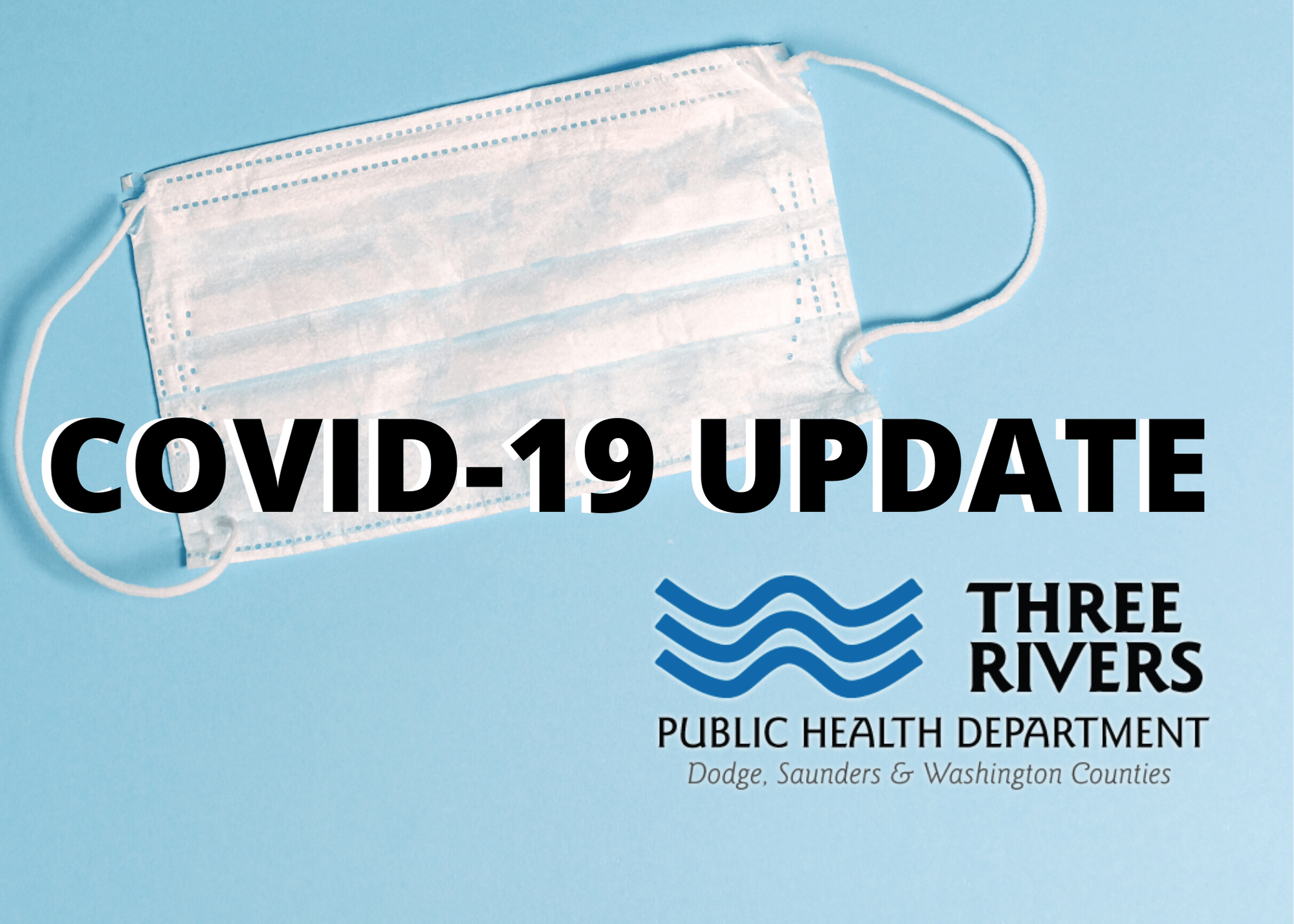 Three Rivers Public Health Department (3RPHD) gave an update Friday afternoon reporting total lab-confirmed COVID-19 cases within the district. Parentheses indicate changes since Wednesday.
Dodge County: 798 cases (+9)
Saunders County: 150 cases (+5)
Washington County: 114 cases (+4)
Total 3RPHD Case Count: 1062 cases (+18)
As of Friday afternoon, the Omaha Metropolitan Health Care Coalition (OMHCC) which consists of Dodge, Saunders, Washington, Douglas, and Sarpy county hospitals reported 287 (+2) medical beds available, and 108 (+11) patients were hospitalized with COVID-19. Of the 436 (+42) ventilators available to area hospitals, 137 (±0) were in use, including 15 (-4) for confirmed or suspect COVID-19 patients.
Three Rivers Risk Dial
3RPHD has released the weekly update of the Community COVID-19 Risk Dial.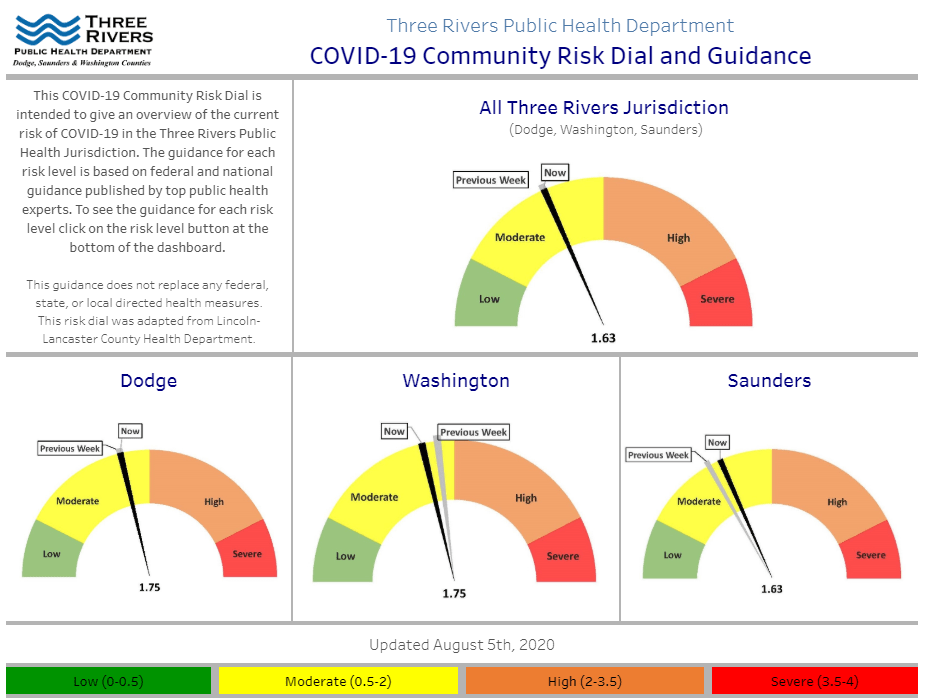 Three Rivers: 1.63
Last Week: 1.63
Dodge County: 1.75
Last Week: 1.75
Saunders County: 1.63
Last Week: 1.50
Washington County: 1.75
Last Week: 1.88
Nebraska DHHS Statistics 
According to Nebraska DHHS, there have been 27,821 reported positive cases within the state and 20,176 recoveries. 294,198 tests have been administered with 266,081 reporting back negative. There are 340 reported deaths.
You can spread COVID-19 even if you don't feel that sick. You can pass the disease to someone else before you have symptoms, and even if you never develop any symptoms at all. When people who have contracted the infection come in contact with high-risk people, there can be deadly consequences. As a reminder, exposure is defined as being within 6 feet of someone for 15 minutes. If you have been exposed to a person who has tested positive for COVID-19, then you need to quarantine at home for two weeks.
Remember the 3 W's
"It is more important now than ever to protect yourselves and your loved ones by remembering your W's: Wear, Wait, and Wash. Wear a cloth face covering if you will be around other people, Wait 6 feet apart, avoid close contact and Wash your hands often with soap and water for at least 20 seconds", said Three Rivers Public Health Executive Director, Terra Uhing.
Testing Availability and More Information
We encourage all Nebraskans to get tested for COVID-19 and to do so immediately if they have symptoms. This can be done through Test Nebraska at www.testnebraska.com.
For questions or more information about COVID-19, please call Three Rivers at 402-727-5396, email info@3rphd.org or visit www.threeriverspublichealth.org