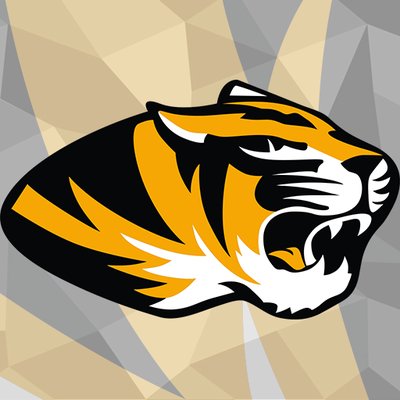 FREMONT- The Fremont Public Schools Back to School Blueprint has been released today, June 23.
The blueprint is a robust framework that outlines how the FPS School District will respond to the COVID-19 pandemic and its impact on the educational program at FPS during the 2020-2021 school year. There are two separate documents. A 65-page concise document outlining main procedures as well as a detailed document that is roughly 220 pages.
The Return to School Blueprint has helped to ground the schools' decisions regarding social, economic, and political policy. It includes balancing important educational and public health considerations while being confined to budgetary limitations and allocating resources and staff to mitigate risk, but also reach important educational goals.
These extensive measures are intended to mitigate risk, but it does not eliminate all risks of COVID-19 exposure.
3RPHD Community COVID-19 Risk Dial
One of Fremont Public Schools' main resources to determine the safety of the community and the school in regards to COVID-19 is the COVID-19 Risk Dial presented through the Three Rivers Public Health Department (3RPHD). The dial is categorized by four colors that represent the category of risk the 3RPHD district is in.
Green (low)
Yellow (moderate)
Orange (high)
Red (severe)
The Risk Dial is updated every Wednesday and is currently on the lower end of the moderate level category. Weekly reports from 3RPHD and other state officials are available on the FPS website to help parents easily view the information. The risk dial is implemented into the blueprint as well. To determine which of the five possible scenarios is chosen for how the schools will be run, they look to the risk dial.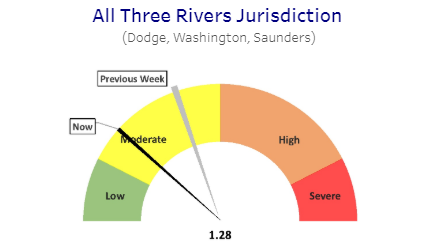 Scenario A is able to be used if the risk dial is safely in the green, low-risk category.
Scenario B will see a shift in students' calendars and schedules and will be implemented if the dial is rising continually in the yellow, moderate-risk category.
Scenario C would see a transfer to an AM/PM schedule and would be implemented if the dial is sustained in the orange, high-risk category and not seeing any improvements quickly.
Scenario D is similar to what students saw in the spring. Students would be transferred to remote learning only and would be implemented if the risk dial reaches the red, severe-risk category.
Scenario E would be used to close the school for a few days to contain an outbreak of the virus within the school and do contract tracing to isolate where the outbreak began. (Specific class, building, and/or team) It would be 2-5 days to also allow for a weekend to pass before re-opening and FPS would ask parents to get their student tested for COVID-19 and continually check for symptoms.
5 Possible Scenarios- When and Why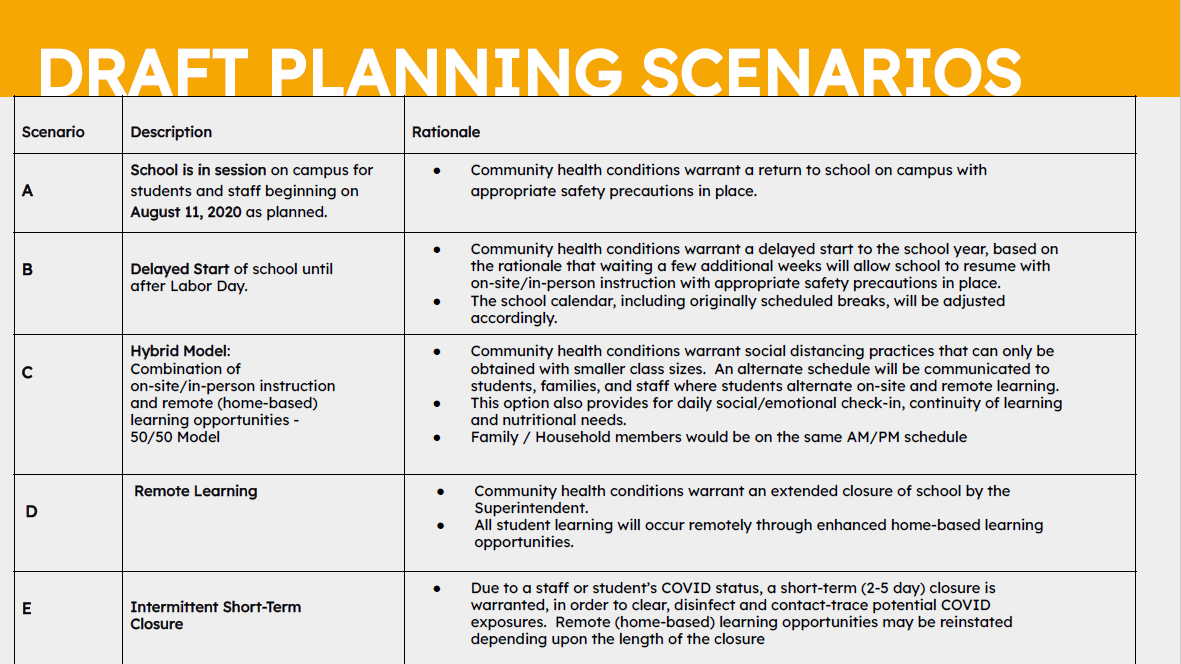 FPS is also releasing a virtual learning option for parents who are worried and do not want their student(s) to attend in-school learning. This option is different than it was in the spring where the classes/lessons took place over zoom and the teacher was in charge of learning. Instead, parents will be the leaders in teaching their younger students and they will need to provide guidance to their older students. Each lesson will be pre-recorded and available through FPS Learning Management Systems. More information will be released on this option soon.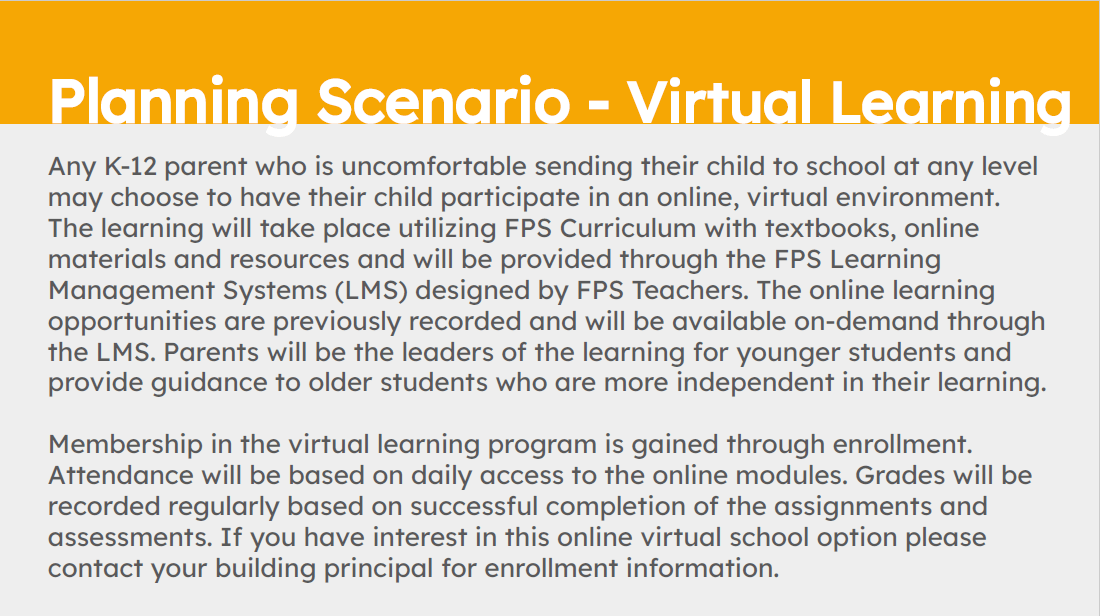 Taking Students Temperatures and Regular COVID-19 Assessments 
Upon arriving at school each day, students will have their temperature checked. "This process has been made much easier thanks to a recommendation from Jessica Kolterman at Lincoln Premium Poultry. We now have a thermal camera system that can give us a student's temperature within seconds and still be able to keep 6-foot social distancing in place," said FPS Superintendent, Mark Shepard.
Masks
Masks will be required in all FPS Systems with a few exceptions. Shepard, said, "We will be requiring masks for all students. We do not want to police, but we will be reiterating the importance of them, setting examples, and with practice and routine students will get used to them. As it is a policy, we will send the student home if they are continually refusing to wear the mask as it is a safety issue for our schools, just as if any other policy were being broken."
Two masks will be provided to students from the school. Shepard said they just recently secured 15,000 masks from a local manufacturer and have ordered masks from another location as well that should should arrive early August.
Chromebooks and Mobile Hotspots
Shepard said they will have Chromebooks available for all students from 2nd-12th grade. They have new Chromebooks that will be arriving in early September to help make this possible. For students who have limited WiFi access or who were using parents' phones for hotspots in the spring, they will have an option to check out one of the mobile hotspots that will be provided by the school. Shepard said they are looking to buy 100 of them and will look to make sure they identify each student's needs at the beginning of the year to access which students will need a hotspot.
---
All information on these documents and other information has been released on the FPS website.
To view 3RPHD website visit: https://www.threeriverspublichealth.org/Coronavirus-Updates