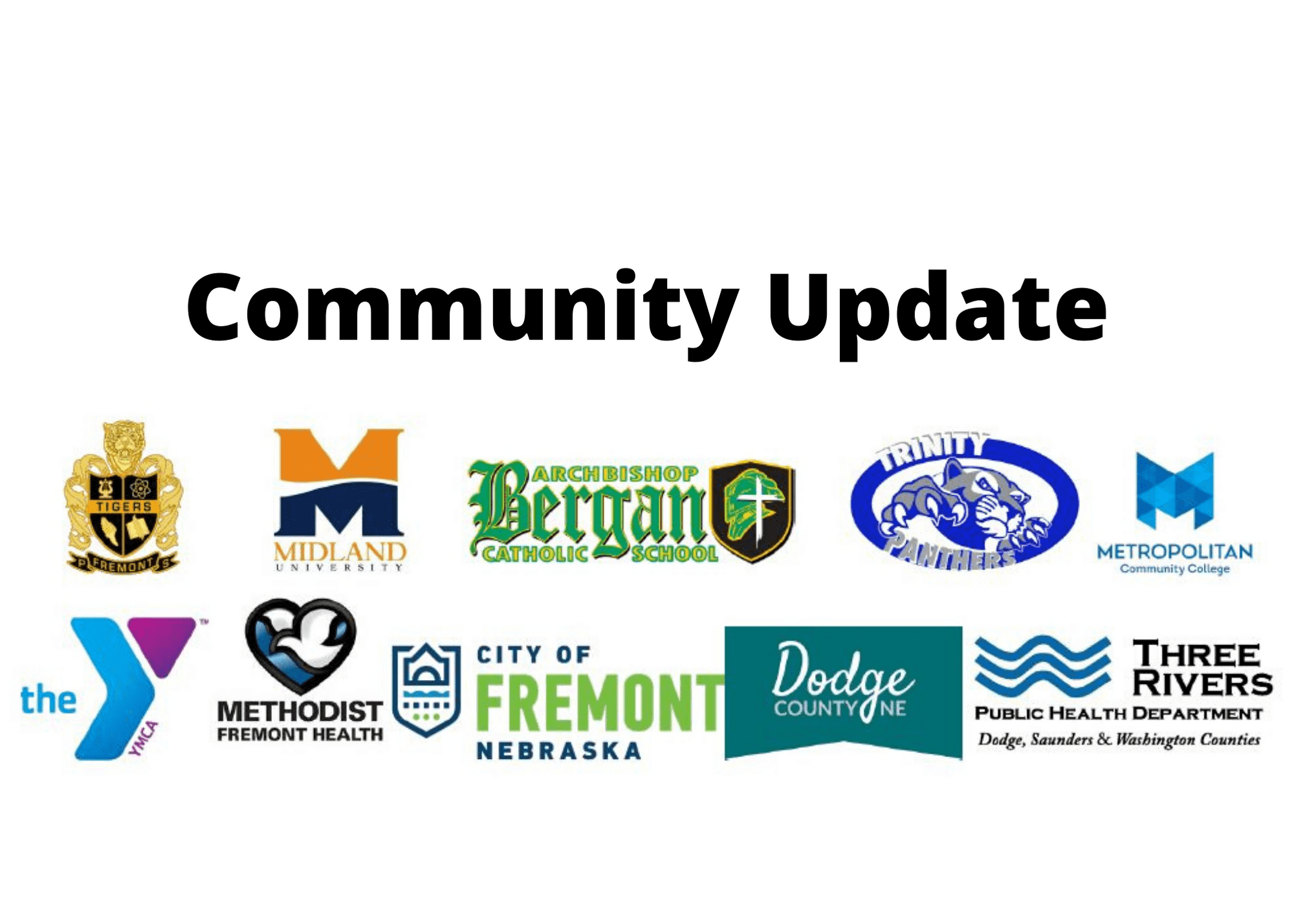 FREMONT – Local schools, Midland University, Metro Community College and the Fremont Fmaily YMCA met with other city and state officials this week to amend some facility closures in light of the Governor's relaxed DHM restrictions that will take effect June 1.
Fremont Public Schools
Fremont Public Schools will remain closed to the public. Staff will be notified of their schedule through the month of June. Fremont Public Schools (FPS) facilities will be closed for all outside use indefinitely.
The Fremont High School weight room will open on June 1. Students will work with their respective coach to maintain proper social distancing and cleaning procedures.
The summer feeding program will continue serving meals two days a week. On Mondays and Thursdays, multi-day meals will be available at Bell Field Elementary, Linden Elementary and Washington Elementary between 11:30 a.m. and 1:00 p.m. Meadowbrook meals will be available on Mondays and Thursdays between 11:00 am and Noon.
All FPS playground equipment will open for public use starting June 1. Equipment will be "use at your own risk," as it is not being sanitized regularly. All FPS play fields are open for "use at your own risk" as long as social distancing is maintained.
A graduation ceremony is scheduled for July 26. More information will be communicated to families at a later date.
Archbishop Bergan Catholic Schools
The Archbishop Bergan Catholic 2019-2020 Academic School Year has come to an end. Archbishop Bergan Catholic School, including the Bergan Elementary & Bergan Middle/High Schools buildings will remain closed to public access. Bergan Early Childhood Education Center WILL REMAIN OPEN for Day Care services for families operating under the expected health guidelines.
All Bergan facilities will be closed for outside use indefinitely. Students, Parents and community members needing access to the school may enter each building's main entrance Monday through Friday from 8am to 1pm. They will be greeted by a staff member upon entry. Health safety guidelines and requests will be asked of any visitor before they may enter any of the school facilities.
Grades 7-12 students will be able to participate in the Summer Strength and Conditioning program under the guidelines laid forth by the NSAA.
The Class of 2020 Graduation ceremony will be held at Saint Patrick Catholic Church on Saturday July 25, 2020 at 7:00pm. A Baccalaureate Mass honoring the Graduates of the Class of 2020 will be held before at 5:00pm on Saturday July 25, 2020.
Bergan Elementary playground equipment will be open for public use beginning June 1st. The community may use the equipment at their own risk and please know that it will not be sanitized on a regular basis.
Trinity Lutheran School
Trinity's Early Childhood Education Center WILL REMAIN OPEN for Day Care services for families operating under the expected health guidelines. For the K-8 school, two calendars have been approved by Trinity's school council. One has an August start date of August 19th. The alternative calendar has a start date the day after Labor Day, September 8th.
New information will be posted via School Beacon, Sycamore School Information System & the school's website. The parent Facebook page will also be a source for information.
The Trinity playground equipment will be closed for public use through May 31. On June 1st, the playground will be open but equipment will not be sanitized. Public usage will be at your own risk.
Midland University
Midland University's spring semester concluded on May 22. 319 degrees were awarded as part of the spring 2020 commencement ceremony. Scenario planning is in full swing as Midland plans for a full and safe return for all  students in the fall. Additional details have been sent to all students, faculty, and staff via internal email correspondence.
All graduate and professional studies courses will continue as originally planned for the summer. An Employee Return-to-Work plan has been communicated to Midland faculty and staff. Most employees will continue to work remotely until June 22, at which time all departments will reopen via a rotation schedule. On August 3, all employees will return to work on campus, and in-person, with the appropriate precautions.
Midland plans to reopen and resume in-person classes and co-curricular activities as scheduled this fall. Details around how the University will do this safely are being discussed and will be communicated at a later date.
Metropolitan Community College
Metropolitan Community College has moved credit classes to e-learning and alternate delivery methods, which will last through summer quarter. Face-to-face Continuing Education noncredit courses have been suspended through August.
Online options are available at mccneb.edu/ce. Student and public access to the Fremont Area Center is suspended.
Fremont Family YMCA
The Fremont Family YMCA will continue to offer emergency childcare for first responders, medical personnel along with families who are working. The Y is taking registrations for summer fun club.
The YMCA opened the wellness center only on May 9th. On June 1st, the Y will be able to be at 50% of rated occupancy in the wellness center, crossfit, Fitness studio and Large gym. A limited amount of fitness classes have started on May 26th.
The YMCA will be offering day camps, summer tennis, baseball and Flag football later in June. The DFAC will be opening June 15th. For more info go to www.fremontfamilyymca.org.