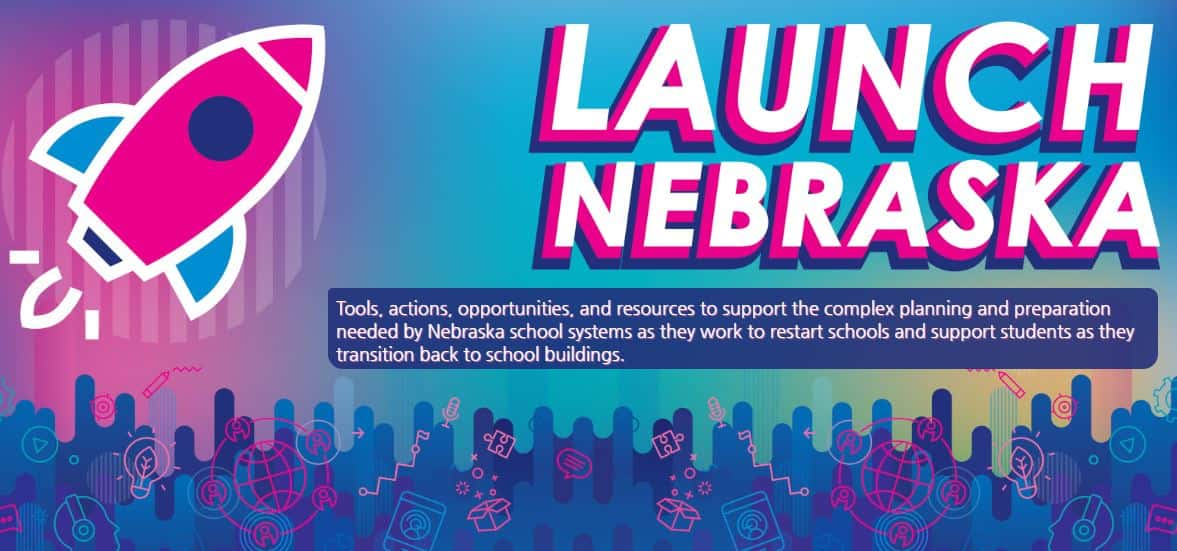 LINCOLN – The Nebraska Department of Education is proud to announce the creation of Launch Nebraska, a website dedicated to providing tools, actions, opportunities, and resources to support the complex planning and preparation needed by Nebraska school systems as they work to restart schools and support students as they transition back to school buildings.
The challenge of reopening school buildings for the 2020-2021 school year requires an unprecedented level of planning, preparation, resources, and coordination.
Launch Nebraska is a comprehensive guide, planning toolkit, and professional learning resource that schools and districts can use to address needs that may arise during summer learning and in the reopening of schools.
The new website outlines the decisions district and school leaders will need to make before students can re-enter physical school buildings, with an emphasis on leadership and planning, safe and healthy schools, and academic success for all students – especially the most vulnerable student populations. The site also includes professional learning opportunities for teachers and administrators, including a webinar series designed to provide knowledge and skills related to unfinished learning, instructional equity, and remote instruction.
Launch Nebraska is available now at https://www.launchne.com/.
The Centers for Disease Control and Prevention recently released their "Schools Decision Tool" to help guide officials making the decision about how and when to reopen schools. Last Tuesday, the agency followed up with a longer list of more specific guidance. These are guidelines and not requirements: the CDC says that implementation should be guided by what's possible and practical for each community.
Some guidelines are basics, instructing teachers to make sure children know and use basic hygiene and etiquette: covering coughs and sneezes with a tissue, hand washing before and after eating, using hand sanitizer.
Other CDC guidelines for schools include:
Students and teachers should wear face coverings when feasible
When possible, no sharing of electronic devices, books, learning aids, gym equipment, art supplies or games.
Place desks 6 feet apart facing the same direction – try not to face children toward each other in groups.
Use virtual options for activities, field trips, assemblies, performances and parent meetings.
Stagger school arrival and drop-offs if feasible.
State Education Commissioner Matt Blomstedt said he's seen huge progress in planning for the coming school year over the last two weeks. Reopening decisions and procedures will be informed by the CDC's guidelines and ultimately made by each school district. Blomstedt cited discussions already underway in the Omaha area, in Lincoln and Lancaster County, and with Nebraska's rural schools association.
Blomstedt said that these decision-makers likely won't be able to implement every guideline from the CDC, and that he's more interested in the "intent" behind each guideline. "There are no grand answers," he said.