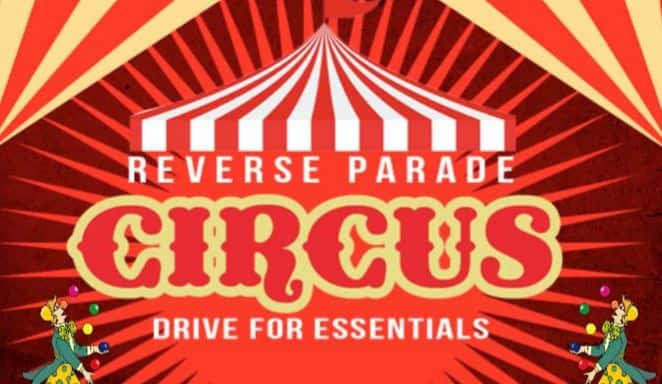 FREMONT – Many area agencies are running low on the essential items they share with our community's vulnerable population. Many parents are also running low on options for entertaining their kids. The Reverse Parade Circus hopes to, even temporarily, solve both those problems in one Friday afternoon.
The "Reverse Parade Circus" will be Friday, May 22nd  from 3:00pm – 5:00pm in the Bergan High School Parking Lot. It's called a "reverse parade," because instead of having spectators standing stationary in a group, spectators will actually drive  a "U" shaped path through the Bergan lot while entertainers are stationary outside.
Families are invited to enjoy a live band, fire throwers, stilt walkers, a juggler, golden human statues, the Shriners, a clown and even a magician – while dropping off donations for those in need.
At the end of the parade route, people will have the opportunity to donate items. Some of the items being collected include puzzles, word finds, and coloring books for the elderly quarantined in our area nursing homes and assisted living centers, since these individuals cannot have their usual visitors or programs.
Also in need at our area pantries are baby supplies like diapers, wipes, and formula. Cleaning supplies and hygiene products are also desperately needed.
This event is sponsored by DPA Auctions, HyVee, the Fremont Area United Way, Pinnacle Bank and the Fremont Area Chamber of Commerce. If you cannot donate in person, consider donating monetarily by texting "REVERSE" to 41444 or clicking here: igfn.us/form/xjQllw