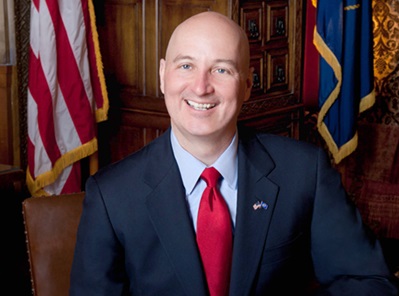 LINCOLN – Governor Pete Ricketts signed a proclaimation on Thursday, dedicating the next three weeks in Nebraska as "21 Days to Stay Home and Stay Healthy." The proclamation is not a stay-at-home order.
During the Governor's daily coronavirus update on Thursday, Ricketts signed the proclamation and talked about six rules for Nebraskans to follow for the next 21 days.
 Stay home. Skip all non-essential errands and don't hold or attend social gatherings. Respect the 10 person limit.
Socially distance at work, keeping 6 feet between yourself and other employees or customers. Work from home whenever possible.
Shop alone, and only once per week. Do not take your family with you.
Help kids with social distancing – play at home. No group sports, and no playgrounds.
Help seniors stay at home by getting their groceries during your once weekly trip and safely dropping them off for your elderly friends & relatives. Do not visit long-term care facilities.
Exercise daily, at home or with an appropriate activity that follows and enforces social distancing – like walking or running, as long as you keep 6 feet of distance between yourself and others.
"This is not a shelter in place order, or anything like that," the governor said. "This is about asking Nebraskans to do the right thing."
An updated DHM will be coming out to cover the entire state with closures for salons, sports clubs, massage therapy establishments and other non-essential close contact businesses. This DHM will bring the entire state in line with what individual health districts or cities (like Fremont) have already done.
Ricketts says Nebraska residents shouldn't expect the state to end its social distancing restrictions all at one time. At least some of the rules can only be relaxed gradually to prevent another surge in coronavirus cases.
Ricketts said Wednesday that he still hopes to lift some restrictions after the end of April. He plans to take a cautious approach so that public health officials have time to see whether or not lifting restrictions causes cases to spike. For instance, he says the state's ban on gatherings of more than 10 people may first be loosened to allow for groups of 20 or 25 people before it's eliminated altogether.
State health officials have also reported another coronavirus death in Nebraska, bringing the state's total number of COVID-19 deaths to 14. The Nebraska Department of Health and Human Services (DHHS) reports the latest death is that of a Madison county man in his 70s. Officials say the man had several underlying health conditions.
As of 3PM on Thursday, April 9, Nebraska has tested 8,704 people for the virus, and has 567 lab confirmed cases of COVID-19 infection. Twenty one tests have come back inconclusive, and 8,116 have come back negative.
DHHS opened a statewide COVID-19 information line to help answer general questions and share the latest information and resources with Nebraskans to help keep them informed. The number is (402) 552-6645; hours of operation are 8 a.m.-8 p.m. CDT, 7 days a week.