FREMONT – City Council representatives Mark Jensen and Linda McClain will introduce an agenda item at the next City Council meeting to amend the Rules of Conduct for meetings to foster more equal time given to each City Council ward at meetings and to reduce the length of meetings overall to allow more everyday citizens to participate in the city government process.
Since January 2018, the length of Fremont's City Council meetings has routinely run over 3 hours. The average length of each meeting is around 200 minutes – or 3 hours and 20 minutes – with some meetings lasting up to 6 hours and 45 minutes. The City of Fremont, and the City's taxpayers, have to pay for legal counsel at each meeting at a rate of $200 per hour: a single six hour meeting costs City taxpayers $1,200.
Fremont's City Clerk, Tyler Ficken, researched the meeting lengths of Fremont compared to other cities of the same size, namely: Hastings, Norfolk, North Platte, and Columbus.The City of Fremont's City Council meetings average 200 minutes. The other cities are averaging 50 minutes.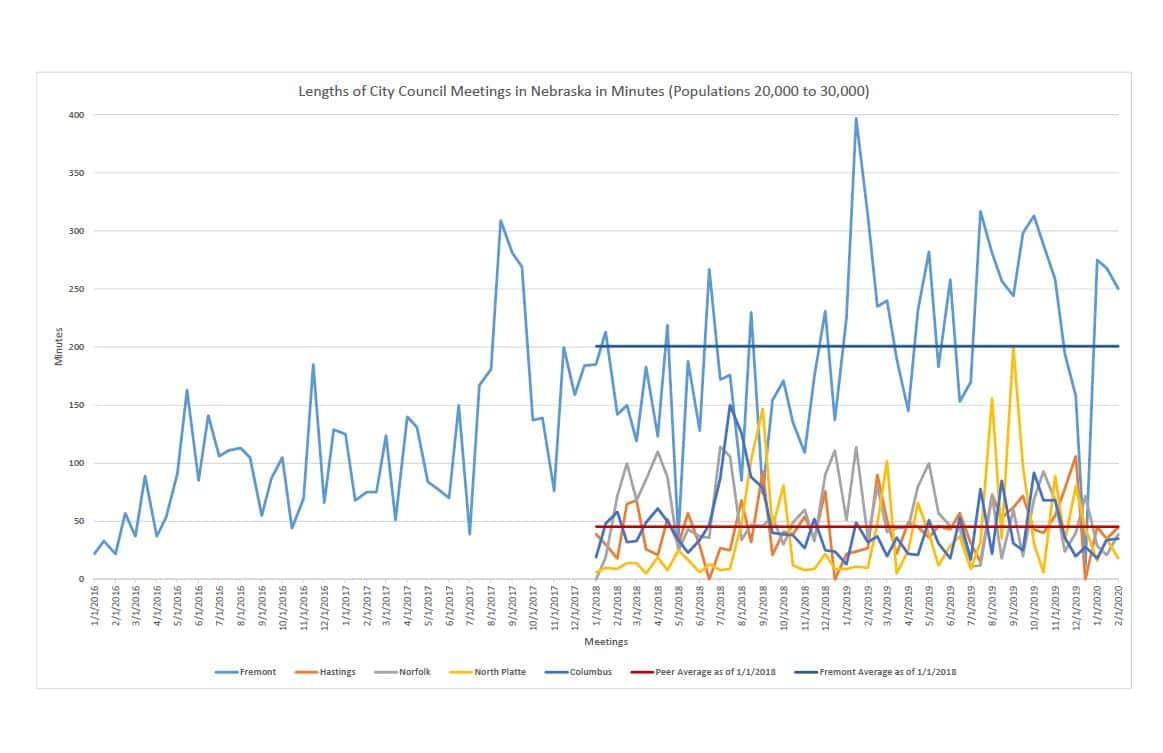 "None of us are trying to have a meeting that's just a rubber stamp," said Councilwoman McClain on KHUB's Morning Show, April 8th. "But we are trying to have an efficient meeting."
In the report submitted to the City Council agenda with the proposed ordinance, Jensen and McClain jointly state: "Over the past year, Fremont City Council meetings have become routinely long and excessively cumbersome. Recently, votes to end at 11:00 to 11:30 pm have caused carryover of items. We have become unable to move forward with the important business of the City in an efficient and timely manner."
"We've had people who came and sat through an entire meeting, and their issue didn't get addressed," said McClain, "or people at a quarter to 10:00 get up and leave because they have a job."
The report continues: "A small minority of Council members monopolize large blocks of time without regard for efficiency of the meeting. This situation at times inhibits others on Council from feeling they can participate without extending and slowing down the meetings even further. Citizens of Fremont pay for legal services at these meetings at a cost of $200 an hour. We should be respectful of that fact and work to become more efficient."
The length of the City Council meetings may also be reducing citizen participation in the City business that will affect them. With meetings starting at 7PM, a meeting may last until after midnight. Jensen & McClain's report states: "Citizens with employment or other time constraints are dissuaded from participating in local government at least in part because of the length of our Council meetings."
There is also the issue of agenda items routinely being held over for the next meeting when discussion and debate by the "small minority" on the council cause meetings to run into the night. The report says: "The public and interested parties also endure unnecessary hardships in not having their issues or concerns heard in a reasonable and timely manner."
"Late night meetings and held over items are contrary to openness and transparency in government," the report concludes.
Jensen & McClain propose to add the following items to the City's Ordinances (SECTION 1: Chapter 2, Article 1, Sec. 2-108.) Meeting rules of conduct:
(14) During general debate or debate on a particular agenda item, no Council Member shall be allowed to speak more than once upon any particular agenda item until every other Council Member desiring to do so shall have spoken. No Council Member shall be allowed to speak more than twice upon any particular agenda item.
(15) During general debate, or debate on any particular agenda item, each Council Member shall confine his or her remarks to a total of five (5) minutes.
The five minute rule is common in various levels of government – the Nebraska Unicameral uses a five minute speaking limit, for example. "The way the meetings are being run now, once a council representative is speaking, he goes on for an unlimited amount of time before it goes on to any other council members. We wanted to make this a little more fair, a little more open," said Jensen.
(16) Debate and discussion for any particular agenda item shall not exceed forty (40) minutes. Once forty (40) minutes have elapsed, the particular agenda item shall either be voted upon or continued by Motion of any Council Member.
The speaking time limit applies to council members only, not public comment time. "It's important to note that this [limit] is council comment only. We're not – in any way, shape or form, trying to limit public comment. If we had 30 people come in and all need their 3 minutes or five minutes – they would get it," clarified McClain.
"Our meetings are lasting four hours and we're not even getting to new business," said Jensen. "That just has to change. We have to get to where we're getting the business of Fremont done."
Although Jensen and McClain would like this ordinance to go to a vote in one meeting, they do want plenty of public comment. "That's why we're going a little more public than we normally do," he said, referring to he & McClain appearing on the KHUB Morning Show to discuss the ordinance. "We want the public to contact your council members, let them know how you feel. We feel the majority of the people feel like we do, but if I'm wrong – that's fine. Let's hear from the people."
Contact your council representative:
If you're not sure which City Council Ward you're in, you can use this map to find your ward: https://www.fremontne.gov/56/Voting-Precinct-Map
You can view the full City Council agenda at https://www.fremontne.gov/agendacenter 
The item will be introduced at the next City Council meeting coming up on Tuesday, April 14, 2020.
Listen to the full interview from Wednesday, April 8th with Mark Jensen & Linda McClain on our Podcast page.