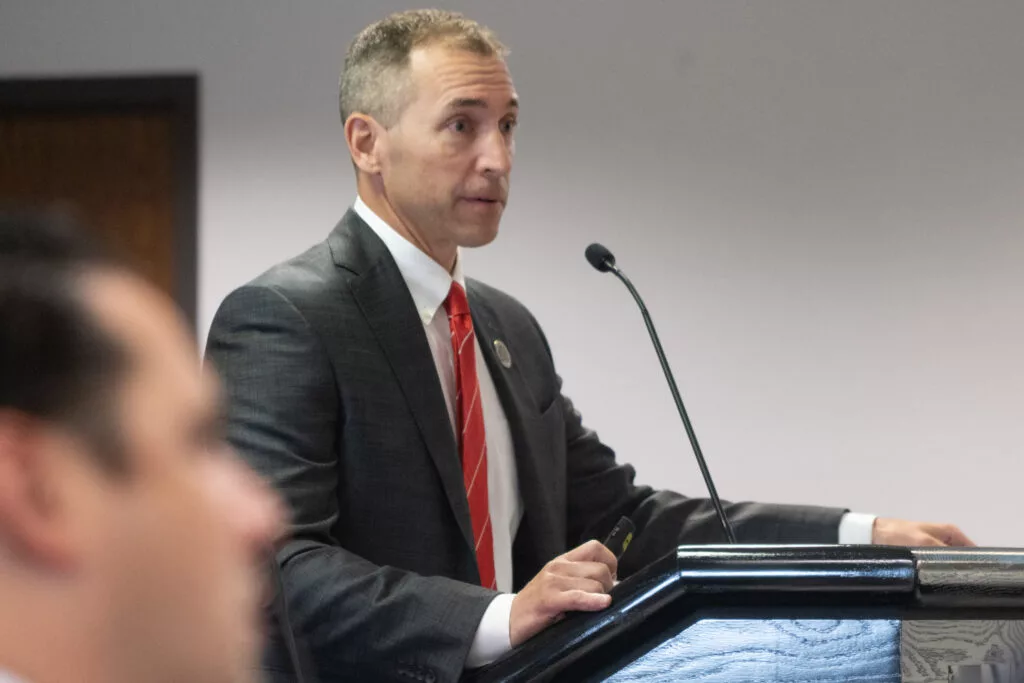 Aaron Sanderford
Nebraska Examiner
LINCOLN — The University of Nebraska Board of Regents has landed on a temporary replacement for outgoing NU President Ted Carter.
The regents expect to name Chris Kabourek, NU's vice president for business and finance, as interim president during their Dec. 1 meeting, NU officials confirmed Thursday.
Carter leaves in January to lead Ohio State University. He announced his departure in August, after consolidating more power into the office of the NU presidency, including oversight of University of Nebraska-Lincoln athletics.
The next NU president will inherit a projected $58 million shortfall over the next two years, as higher education nationally prepares for flat or declining enrollment.
Kabourek and Carter are already working together with the campus chancellors in Kearney, Lincoln and Omaha to cut their way back to financial balance. Each faces faculty and student pushback.
Carter expects chancellors to submit budget cut recommendations to him by Dec. 1. Campus-level discussions are already underway about potential losses of programs and services.
'In good hands'
Carter said NU will "be in good hands with Chris Kabourek at the helm." He said he brings "steady leadership" and offered him "wise and candid counsel" during his tenure leading NU.
Kabourek earned his master's degree in business administration at UNL and started work at NU as a budget and research analyst. He now helps NU manage a $3.3 billion operating budget.
An NU news release applauded his work developing the university's approach to regularly setting aside money to address deferred maintenance of buildings and facilities.
Kabourek won't be a candidate for the permanent job, NU officials confirmed Thursday.
Kabourek described being considered as an interim leader for his university "humbling." He said he plans to keep making progress on plans developed by Carter and the regents to improve the university.
"I will do whatever I can to support the University of Nebraska," he said.
Kabourek moonlights as a college basketball referee. He and his wife, Jamie, have three sons, including one attending the University of Nebraska at Omaha.
NU Board of Regents Chairman Tim Clare said NU faces a "critical juncture," with opportunities and challenges ahead. He said the university will "benefit greatly from Chris' experience."
"All of us will need to step up to make sure we don't lose momentum during the leadership transition," Clare said. "I know he will work hand-in-hand with our entire leadership team to keep us moving forward."