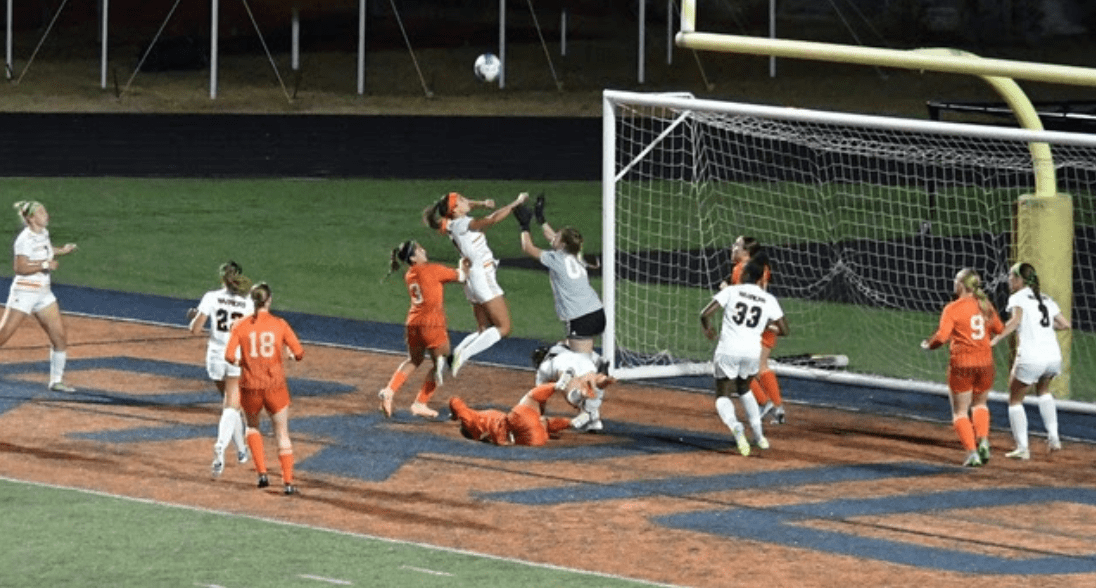 Courtesy of Midland Athletics
FREMONT, Neb. – Midland University began conference play on home turf Thursday night as they hosted (RV) University of Jamestown. The Warriors earned a 3-0 shutout over the Jimmies, dominating the final half to improve to 4-2-1 overall and 1-0-0 in the Great Plains Athletic Conference (GPAC).
Nearing the end of the first half, Hanna Schimmer broke the scoreless game with a goal in the 44th minute off an assist from Claudia Wilson. The Warriors controlled the opening frame as they outshot the Jimmies, 12-3, with 8 off the attempts on frame.
After the intermission, Midland continued to bring the heat as Schimmer found the back of the net for her second goal of the game in the 49th minute. The Warriors continued to keep up their momentum, putting up a solid defensive effort against the Jimmies.
Schimmer would complete her hat trick in the 79th minute. After a long pass up the right sideline was misplayed back to the keeper, she was there to scoop up the ball and poke it toward the goal for the final score of the game.
Hannah Tillison, who was named the GPAC and NAIA Defensive Player of the Week, went the full 90 minutes in goal to earn the clean slate. She orchestrated the defensive backline and picked up a save on the night.
"That was a really fun game for us to open our conference schedule," stated head coach Cody Bartlow. "Getting a win against the two-time defending conference champions really shows the quality of our group. Our second-half performance was absolutely tremendous in every aspect of our play. I'm really proud of the girls for their commitment and desire to go out and show the quality that they have. Great overall performances from our entire defensive unit, and congrats to Hanna Schimmer for her first conference hat trick."
Midland (4-2-1, 1-0) will be back in action at home on Saturday, September 16 against Waldorf (0-3-1,0-1). The GPAC matchup is scheduled for a 7:30 p.m. start on the turf at Heedum Field in Fremont.