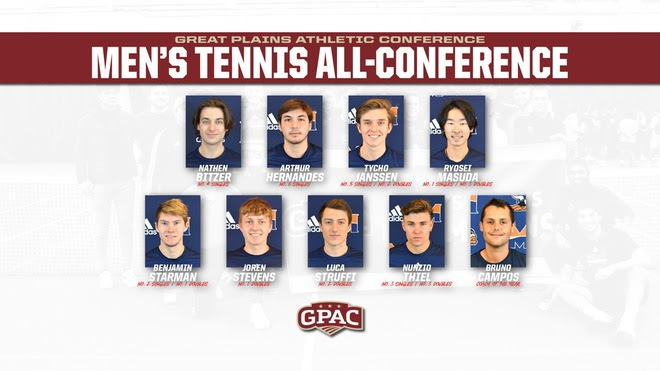 Courtesy of Midland Athletics 
SIOUX CITY, Iowa – The Great Plains Athletic Conference (GPAC) has announced the Men's Tennis All-Conference selections for 2023. Eight athletes from Midland University earned All-GPAC honors while head coach Bruno Campos was named the GPAC Coach of the Year. Jorge Chevez from Doane University was been named the GPAC Men's Tennis Player of the Year.
On the singles team, the Warriors had six players earn All-GPAC recognition from the conference coaches. The lineup was comprised of No. 1 Ryosei Masuda, No. 2 Benjamin Starman, No. 3 Nunzio Thiel, No. 4 Nathen Bitzer, No. 5 Tycho Janssen, and No. 6 Arthur Hernandes.
The three Midland doubles teams each received all-conference nods as well. Those were No. 1s Joren Stevens and Starman, No. 2s Luca Struffi and Janssen, and No. 3s Thiel and Masuda.
This season, the Warriors won their fifth-straight conference regular-season title as they undefeated in GPAC play with a 6-0 record. In the conference tournament, they earned the championship banner and punched their ticket to the NAIA Championship for the fourth consecutive time. Midland will begin play in the championship tournament on Tuesday, May 16. First serve for the men's duals is slated for 1:00 p.m. at the Mobile Tennis Center in Mobile, Alabama.