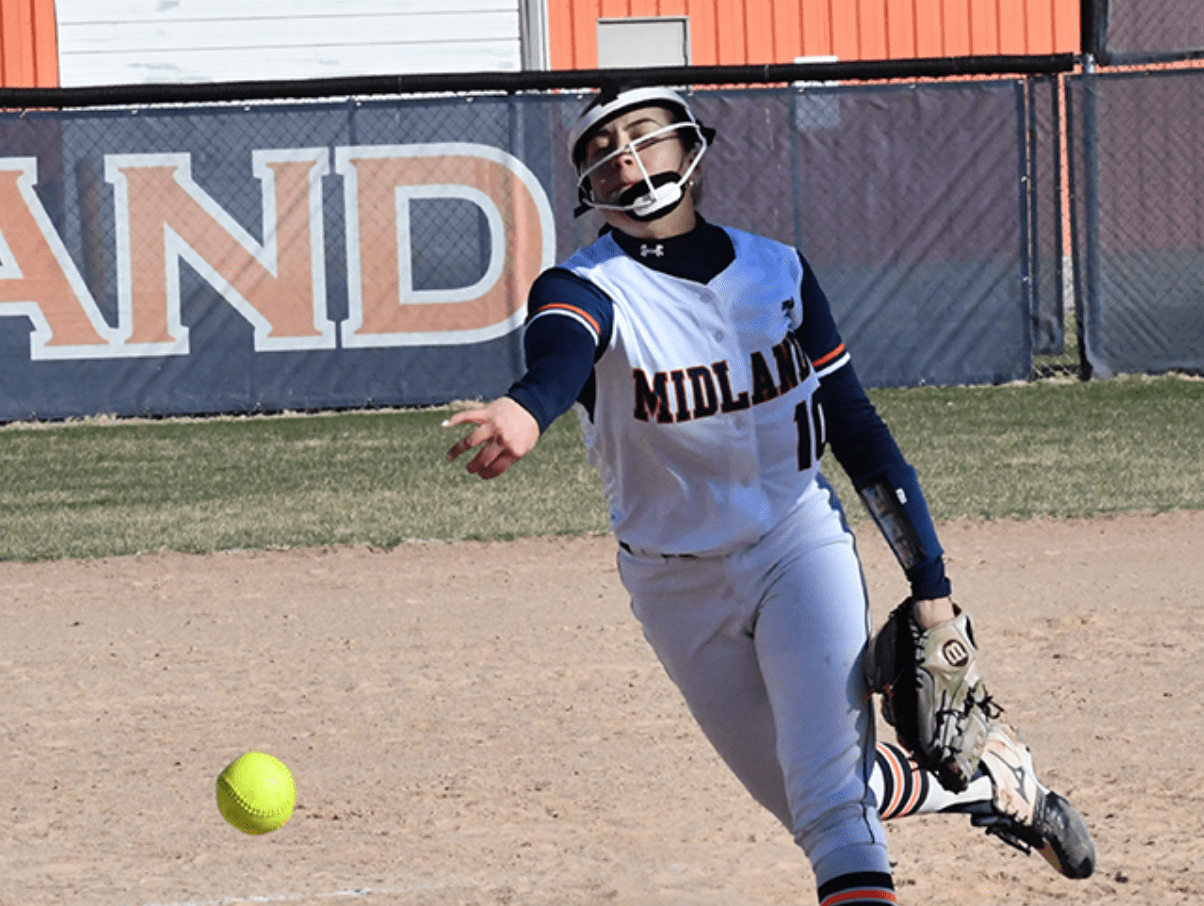 Courtesy of Midland Athletics 
PERU, Neb. – After an extra day to allow for warmer weather, (RV) Midland University traveled down to face Peru State College on Wednesday. The teams took advantage of the nicest day of the year as they played a single game at Centennial Complex. As it has taken Mother Nature time to warm up, so too did it take the Warriors as they came back with three runs in the final two innings for the 6-3 win over the Bobcats.
Both teams were able to get on the scoreboard in the 1st. Midland used a one-out single followed by an error on the outfield to get Keira Painter into scoring position. Roni Foote drove her in with a single to center field.
Peru State was able to notch a pair of runs as they hit a triple, followed by a single, with a runner already on bases with one out. They score two runs on three hits and left two on base.
In the 3rd, the Warriors were able to force a tie as Sarah Showalter drew a full-count walk. After Emily Prai advanced via a groundout, Painter drove her in with an RBI past the second baseman. Midland was unable to move ahead as the final out was recorded on a stolen base attempt.
The Bobcats regained their one-run lead in the bottom of the inning with a solo home run out to center field. After three complete innings, Peru State led 3-2.
During the next half-inning, Carly Pfitzer led off with a single to left. Aliyah Rincon sacrificed her into scoring position with a bunt back to the circle. Amanda Schmaderer moved her up to third with a flyout to center. With two outs, Mia Orduna hit a pop-up that was misplayed by the shortstop. The Warriors were able to tie the game once more via the miscue by the Bobcats.
After a scoreless 5th for both sides, Pfitzer reached on a one-out error by the third baseman on a bunt. Rincon followed up with a double to left field, scoring the go-ahead run.
In the 7th, Midland was able to add a pair of insurance runs. With two on and two out, Foote drove in Prai and Painter with a double to right field.
Paeton Coler and Aliyah Rincon were in the circle for Midland. Coler went 2-plus innings, striking out five batters while allowing one earned run, the solo homer to start the 3rd. Rincon came on in relief and earned the win. She pitched 5.0 innings and struck out 13 Bobcat batters. Of the 21 outs recorded by the Warriors. 18 of them came via a strikeout.
Statistical Standouts
Kiera Painter: 2-for-4, RBI
Roni Foote: 2-for-4, 3 RBI
Carly Pfitzer: 1-for-4, 2 R,
Paeton Coler: 2.0 IP, 1 ER, 5 K
Aliyah Rincon: 5.0 IP, 0 ER, 13 K
Midland (13-5) was scheduled to make another in-state trip this weekend with a doubleheader at Nebraska Wesleyan (11-5) on Saturday. Those games have been pushed back to next Wednesday. First pitch between the Warriors and Prairie Wolves is now set for 4:00 p.m. on March 22 at Seng Park. This will be the first meeting between the schools since NWU left the conference and the NAIA to join the NCAA Division III back in 2016. Midland owns a 12-8 advantage in the series since 2007.