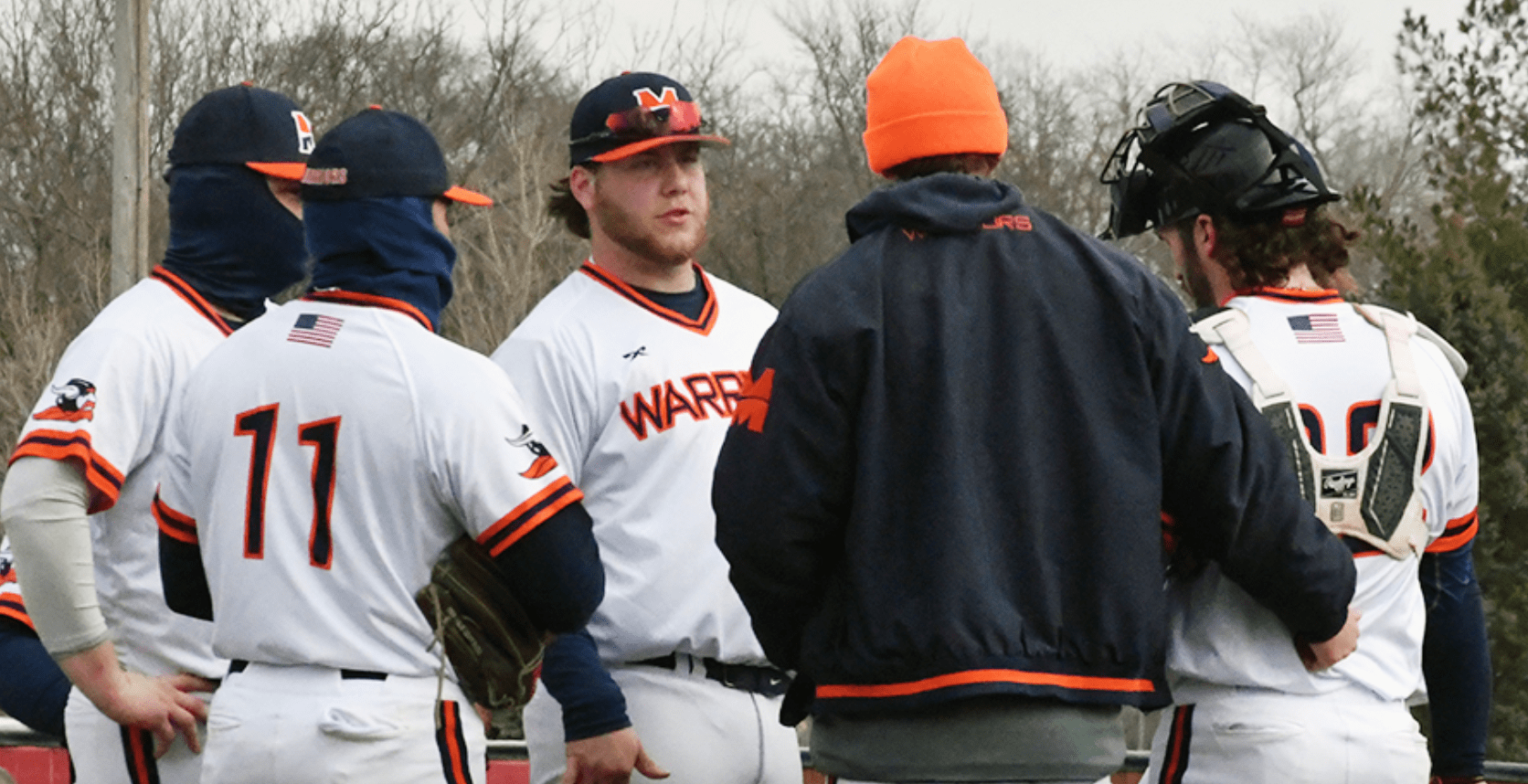 Courtesy of Midland Athletics
HUTCHINSON, KS. – After canceling four games due to winter weather, Midland University went searching for an opponent and was able to find a familiar foe for this weekend. The Warriors scheduled a nonconference neutral-site doubleheader against No. 24 Doane University, down in Hutchinson, Kansas as they were hoping for warmer weather. The teams were able to get both games in at Hobart-Detter Field with the Tigers taking both contests, 7-5 and 10-0.
GAME ONE: Doane 7, Midland 5
The Tigers fired their bats early on, scoring two runs off four hits in the top of the 1st and two runs off three hits in the top of the 2nd to take a 4-0 lead.
After being held without a hit in the 1st, the Warriors were eager to make a comeback. Jayden Gibson opened the 2nd with a single to left field and then Trystan Mills came on to pinch run for him. Connor Petersen singled to center, advancing Mills. A bunt single from Alec Villanueva loaded the bases with no outs.
The Tigers started to feel the pressure as they walked Dax Wandler, bringing home Mills. Trey Nichols reached first on a Tigers error, advancing all the Warriors and bringing home Villanueva and Petersen. A sacrifice fly from Yealex Lopez brought Wandler home to tie the game, 4-4. Another sacrifice fly, this time off the bat of Nathaniel Reyes, brought in Nichols to give the Warriors a lead of 5-4.
After four scoreless innings to follow for both teams, the Tigers regained the lead with a three-run 7th. They were able to close out the comeback victory as they worked around a two-out double by Haydn Crawford in the bottom of the inning.
Statistical Standouts
Connor Petersen: 2-for-3, R
Dax Wandler: 1-for-2, R, RBI
Jayden Gibson: 1-for-1, 2 BB
GAME TWO: Midland 0, Doane 10
The Warriors struggled in the second game both offensively and defensively. They were unable to put runs on the board as they had just three hits in the game and drew one walk. The momentum the Tigers gained by coming from behind to win game one carried over as they consistently struck their bats, with eight hits, throughout the game. Doane scored 10 runs and took advantage of five Midland errors to earn the sweep.
Midland (8-9) will begin Great Plains Athletic Conference (GPAC) play this coming week with a four-game series with Northwestern (5-12). The teams will play two games on Friday in Orange City, Iowa, and then two games on Saturday in Fremont. Last year, the teams split four games as they each swept games on their home fields. First pitch of the doubleheaders is set for 3:00 p.m. on both days.