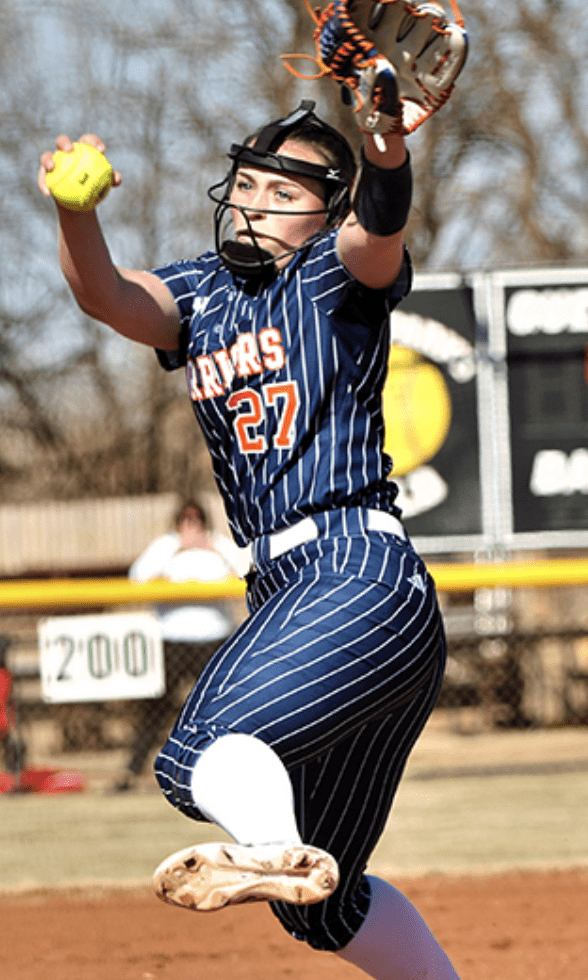 Courtesy of Midland Athletics 
MCPHERSON, Kan. – Midland University opened up play in the McPherson College Classic on Friday with a pair of games in Kansas. The Warriors began their day with an 8-0 win over Bethel College in six innings and then blanked Tabor College 6-0 in the afternoon. The victories propel Midland's record to 10-6 on the season.
GAME ONE: Midland 8, Bethel 0
After a pair of scoreless innings by both sides, the Warriors' offense broke through for two runs in the 3rd as Roni Foote blasted her eighth home run of the year. With Keira Painter aboard, she deposited the ball over the fence to put MU up 2-0.
An inning later, three runs came around to score. Aliyah Rincon got on base with a single and then Mia Orduna joined her on the bases with a one-out single and then advance to second on the throw. After a second out was recorded, Emily Prai hit a two-RBI single up the middle to double the Midland lead. She advanced to second on the throw and then stole third with Painter at the plate. A single to right by Painter scored Prai to make it 5-0 after four innings.
Rincon hit a one-out double to get things going in the 5th. Amanda Schmaderer was then hit and Mia Orduna worked a walk. With the bases loaded, Kevin Kight drove in a run as they reached on a fielder's choice.
In the 6th, Carly Pfitzer reached on an error with one out and then Micaela Rodriguez drew a walk. Rincon reach base after she was hit by a pitch and then Schmaderer drove in a pair of runs with a single to invoke the run rule, 8-0.
Paeton Coler was superb in the circle, allowing just four hits for her third win of the year.
Statistical Standouts
Emily Prai: 1-for3, 2 RBI, R, BB, SB
Keira Painter: 2-for-3, RBI, R, BB, SB
Roni Foote: 1-for-2, 2 RBI, R, 2 BB, HR
Aliyah Rincon: 2-for-3, 2 R, 2B
Paeton Coler: 6.0 IP, 2 K, 0 ER, 4 H
GAME TWO: Midland 6, Tabor 0
With Aliyah Rincon in the circle, hits were hard to come by for the Bluejays. The reigning GPAC Pitcher of the Year gave up three hits and one walk while striking out 11 batters for the shutout. Offensively, the Warriors put up six runs of support.
In the 1st, Keira Painter got on base with a one-out walk and then Roni Foote joined her with a single through the left side. Carly Pfitzer sacrificed them into score position and then Micaela Rodriguez drove both of them in with a single on the ground out to right field.
An inning later, Amanda Schmaderer led off with a single, and then Kylie Phillips reached on an error as Schmaderer advanced to third. An infield groundout scored Schmaderer to make it 3-0 after two complete innings.
Four innings of no runs ensued as the defenses settled in. During that stretch, the two lineups combined for four hits as the pitchers were dealing.
In their final at-bat, Painter reached with a one-out single to start the offense back up. Roni Foote followed up with an RBI triple and then Pfitzer hit her sixth home run of the year, bringing in the final two runs of the game.
Statistical Standouts
Keira Painter: 1-for-2, 2 R, BB, SAC
Roni Foote: 2-for-4, 2 R, RBI, 3B
Carly Pfitzer: 1-for-3, R, 2 RBI, HR
Micaela Rodriguez: 1-for-4, 2 RBI, SB
Aliyah Rincon: 2-for-3, BB… 7.0 IP, 3 H, 0 R, 11 K
Midland (10-6) will be back in action on Saturday at the McPherson Classic with games against Evangel (12-6) and McPherson (5-7). They'll take on the Valor at 9:00 a.m. and are slated to face the Bulldogs at 11:15 a.m.