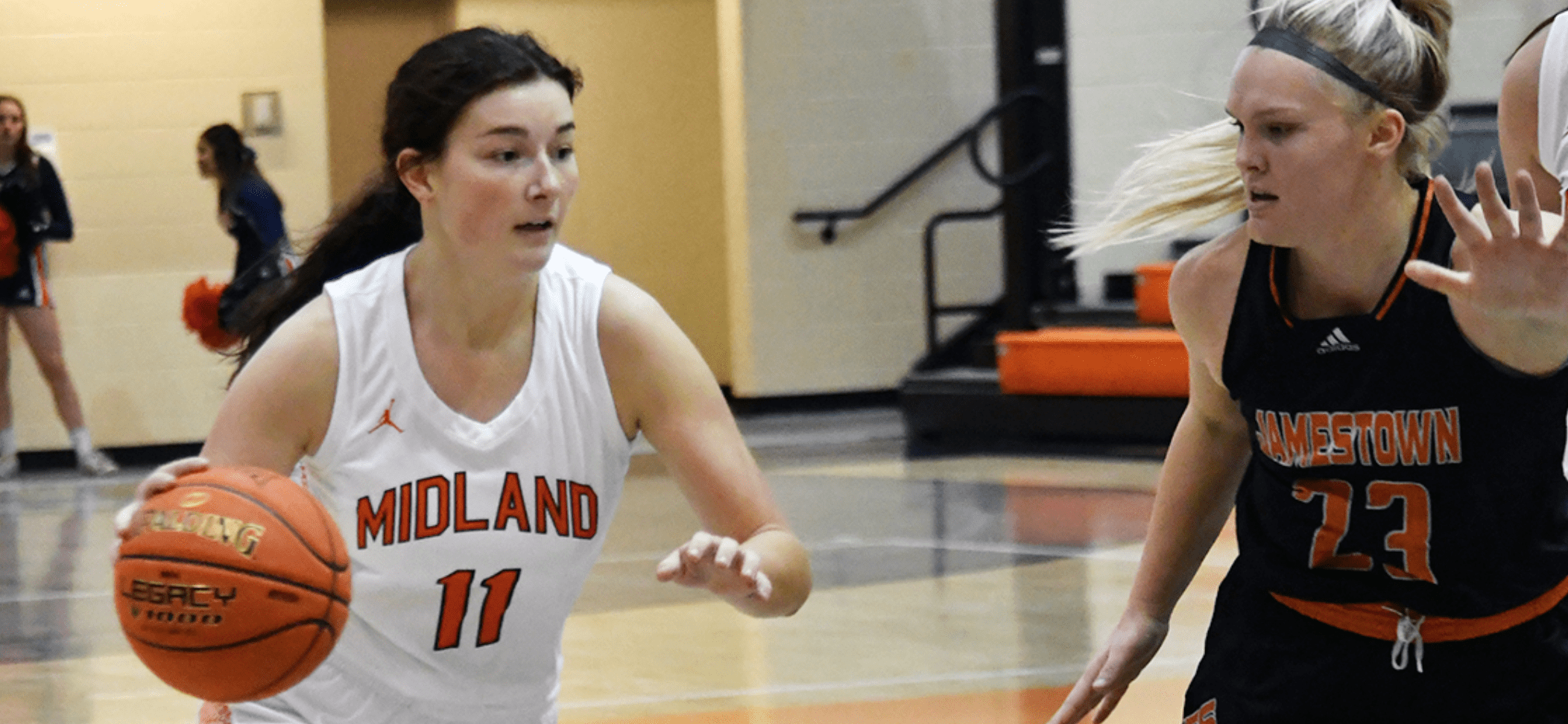 Courtesy of Midland Athletics 
JAMESTOWN, N.D. – Midland University took a long bus trip up to North Dakota to take on the University of Jamestown in a conference matchup on a Saturday afternoon. The Warriors fell to Jamestown, 76-50. Midland's record falls to 3-20 overall and 1-16 in the Great Plains Athletic Conference (GPAC). Jamestown improves their record to 19-5 overall and 14-4 in the conference.
The Jimmies took the early advantage going on a 6-0 run with back-to-back three-pointers to start the game's scoring. Kennedy Darner was able to put two points on the board for the Warriors but the Jimmies did not back down, hitting three shots from behind the arc. Their shot selection through the opening quarter was from distance as they hit a total of eight shots from range as they jumped out to a 28-12 lead after ten minutes.
Midland was able to settle in during the second quarter but Jamestown matched every shot the Warriors converted. Lexi Kraft and Sam Shepard each hit a three-pointer in the quarter but were matched by the Jimmies who added two more to their growing total. Jamestown shifted their attack to inside the arc as they took a 46-25 lead to the break.
After the intermission, the Warriors and Jimmies went back and forth, matching each other on the scoreboard early on in the third. With the pressure of making a comeback from their large first-half deficit, the Warriors' shooting faded while the Jimmies continued at a steady pace boosting their lead to 29 points, 70-49.
In the final ten minutes, Midland scoring was at a premium as the teams combined for just 15 points. The Warriors outscored their opponents, 9-6, with four points coming from the free throw line.
Darner was the leading scorer for the Warriors with 10 points. Sam Shepard followed her with seven while Kraft and Erin Prusa each had six.
As a team, Midland shot 18-for-53 (34%) from the field, while Jamestown was 29-for-77 (37.7%). The Jimmies had three players with double-figure points, led by Kate Busek with 19.
Midland (3-20, 1-16 GPAC) will return home to host the College of Saint Mary (5-19, 2-16 GPAC). The matchup will tip off on Wednesday, February 8, at 6:00 p.m. inside the Wikert Event Center in Fremont.