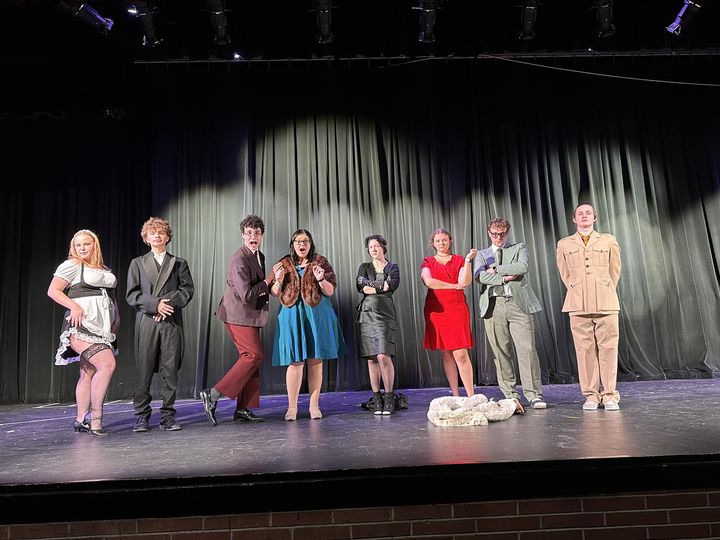 Caitie Hays had a pleasant problem when she was organizing Fremont High School's fall production of "Clue." 
"This is my fourth year at Fremont," the FHS theater director said. "When I started we would have about 30 to 35 (students) in all of our shows. "We're currently sitting at about 90 in all of our shows. We're to the point where we're actually trying to find places to use people, but it is the best problem in the world to have."
The murder comedy is set for 7:30 p.m. Friday and Saturday at FHS. Tickets, available at the door or online at fremont.booktix.com, are $10 for adults and $5 for students.
Hays said strong student involvement, including the set, props, lighting, costumes and makeup crews, has been vital for the show.
"It has been incredibly important because this is the biggest challenge that we've ever taken on," she said. "This show has falling chandeliers, a billiards table, a walk-in freezer, and walls that have to move to take us into all of the different rooms of the 'Clue' house. It is an epic show,  technically." 
The production is based on the popular board game and the 1985 movie with Tim Curry and Lesley Ann Warren. Hays said she is a big fan of the film. 
"If you are like me and you loved the movie, you'll also love the stage play," she said. "But the ending is a little bit different so it will still kind of surprise you even if you know the story pretty well." 
Members of the cast said the production has been an enjoyable experience. 
"It is such a fun show," said senior Jacilyn Foster, who is in her ninth production at FHS. "I feel so supported by the cast and crew members. It is a lot of fun."
Senior Ava Woods plays Mrs. White, who is dressed all in black.  
"Mrs. White has a very dry sense of humor," she said. "She wears a veil and black gloves. She is very, very dark."
Foster plays Mrs. Peacock. She said the character is a bit neurotic. 
"We have peacock feathers sticking out of my head and I have a big fur coat," she said. "She is kind of fun to play."  
While Foster and Woods are theater veterans, this is the first production for Matthew Canales. The junior is portraying Professor Plum. 
"I was an understudy last spring, but I'm really looking forward to this," he said. 
Hays is grateful for the community support the theater department has received. She noted that there are many ways to follow that group, including on Facebook (FHS Tiger Drama) and Instagram (fhs.tigerdrama). 
"We're doing a lot of cool things and are very active on social media," she said. 
Although the show will end Saturday, some of the cast members will be jumping into a new project next week. 
"We start immediately on Monday with one acts so it is go, go, go for us," Hays said.