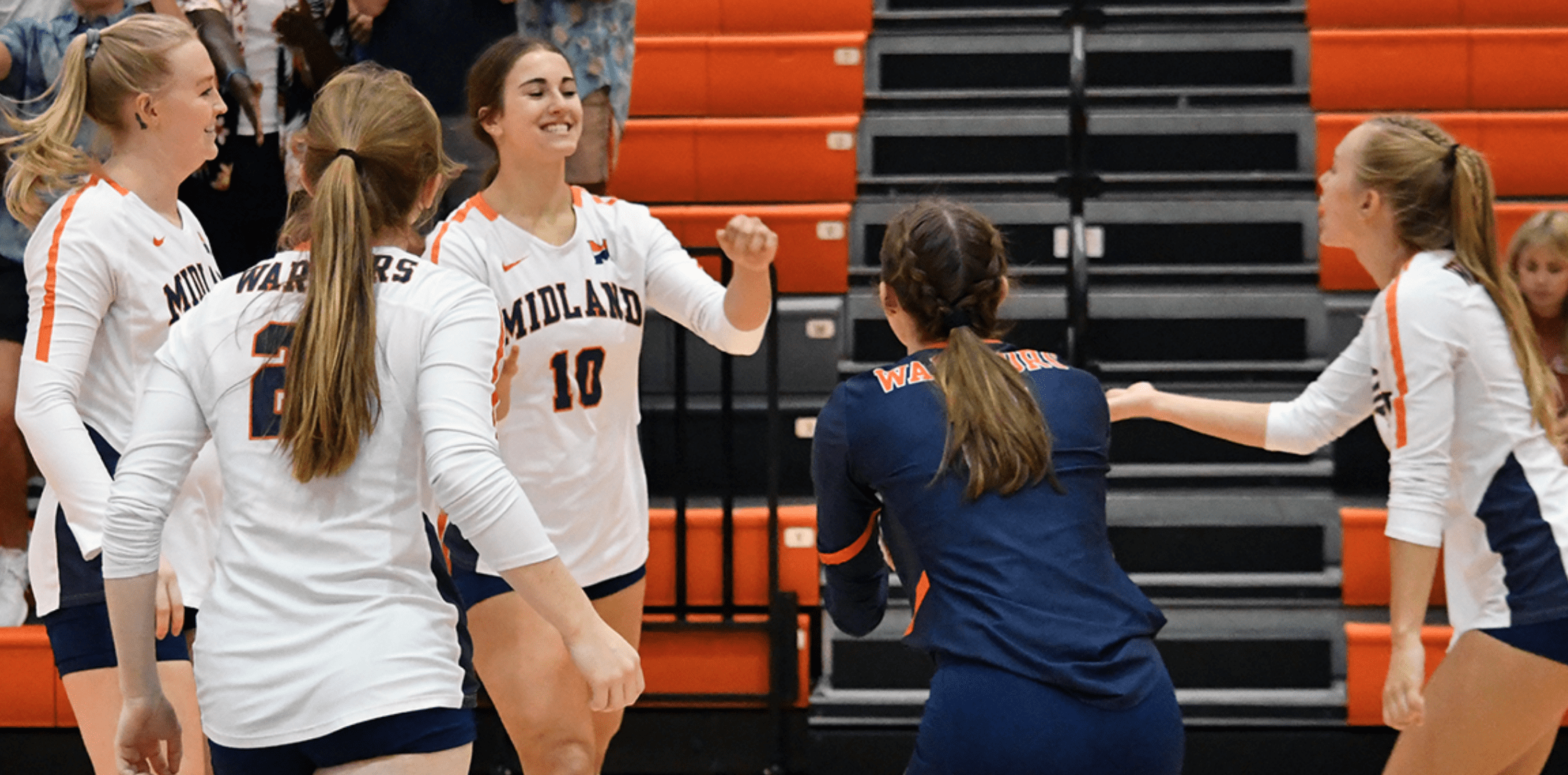 Courtesy of Midland Athletics 
FREMONT, Neb. – No. 3-ranked Midland University took to the court at the Wikert Event Center on Friday night against Morningside University in a Great Plains Athletic Conference (GPAC) match. The Warriors worked quickly and efficiently in earning a three-game sweep of the Mustangs (25-19, 25-12, 25-18). They improve their record to 16-2 on the season and 6-1 in the conference. Morningside falls to 6-14 and 2-5 in the GPAC.
Midland hit a season-best .355 on the attack with 43 kills against just 10 errors. They did so with a wide-ranging attack that saw seven players record a kill.
Set one saw the Mustangs jump out to a 3-1 lead before the Warriors settled into their system. They worked their way back to a tie at 11-11 and then edged in front with a 6-2 run. That momentum propelled them to set-point where Addisyn Mosier, who had a breakout night, clinched it with an ace from the service line.
In the second, Midland led wire-to-wire. With the score still within range for Mustangs at 8-6, the Warriors went on a 6-2 run followed by a 7-0 run. Abbey Ringler did the honors ending the set with a big kill of a set from Hope Leimbach.
The third set saw the Warriors lineup extend past their regular rotation with a handful of players seeing action. They stepped in and Midland didn't miss a step as they tied their set two hitting percentage of .364.
Late in the set, Midland extended a 14-12 lead with a 7-2 run. The bulk of it came with Mosier at the service line and on the attack. She had four kills and an ace in the stretch. Flores sealed the sweep with a kill off a pass from Delanie Vallinch for the 25-18 win.
Post-match, Flores was recognized in front of the home crowd for eclipsing the 1,000-kill mark last week.
"I thought we did a lot of good things tonight," stated head coach Paul Giesselmann after the match. "I thought our young kids, Lauren [Williams] and Addy, were really, really good offensively tonight against a pretty good defensive team. For us to hit .355, I thought was really good."
Lauren Williams led the Warriors with 12 kills while hitting .400 on the night. Mosier had 8 kills with an attack percentage of .412. Rounding out the Midland attack was Flores with nine kills, Ringler with seven, Leimbach with four, Savanna Berger with two, and a solo kill from Cortlyn Schaefer.
Defensively, Flores led the way with seven digs while Kailyn Scott and Brooke Fredrickson each had five. Leimbach had six digs to go with her 36 set assists.
"I didn't feel like we played great team defense," added Coach Giesselmann. "I didn't think our blocking was great, particularly in game one. After that, I thought we settled in and got a lot of kids in the match. We stayed organized and took a business-like approach tonight. Now the big challenge is to take care of the bodies and be prepared for tomorrow."
At the service line, the Warriors had eight aces. The trio of Leimbach, Mosier, and Scott had two each while Flores and Vallinch each had one.
Midland (16-2, 6-1 GPAC) will look to keep things going with another conference match on tap for Saturday. They'll host Briar Cliff (5-12, 0-6), who dropped a three-set match at Concordia on Friday, at 3:00 p.m. inside the Wikert Event Center on October 1.