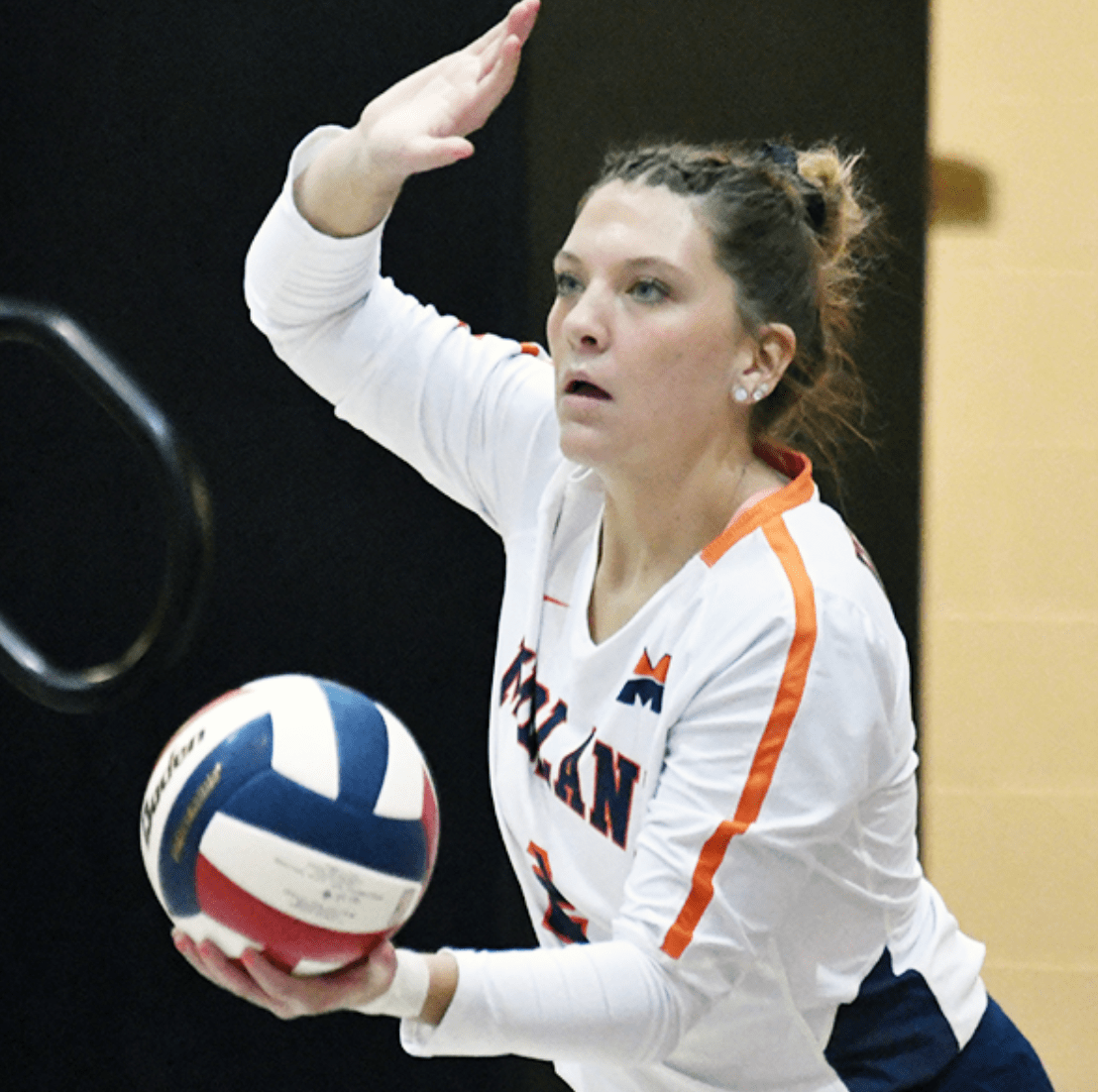 Courtesy of Midland Athletics 
FREMONT, Neb. – No. 3-ranked Midland University picked up their second sweep of the weekend with a victory over Briar Cliff University on Saturday afternoon. The three-set win (25-13, 25-13, 25-11) propels them to 16-2 on the season and 6-1 in the Great Plains Athletic Conference (GPAC). The Chargers drop their sixth straight, falling to 5-13 and 0-7 in the GPAC.
The Warriors were efficient on the attack. A day after hitting a season-best .355, they nearly matched it with a .319 hitting percentage. They totaled 46 kills on 94 attempts with just 16 errors on the day. Their counterparts fared the opposite. BCU hit -.035 with 16 kills and 19 errors on 85 attacks.
Midland used big rallies in each set to thwart the Chargers. In the first, they broke open the set with a 10-0 run with Hope Leimbach at the service line. The second set saw a 12-2 run with Leimbach back in the service position for the majority of it. With her putting the ball in play, the Warriors had a full arsenal of attackers on the front row, not that Leimbach isn't aggressive when she's up there. She had four kills on Friday night and added four more on Saturday.
In the final set, Saige Craven and Kailyn Scott were at the service when the Warriors were their most effective. Craven sparked a 5-0 run to put the Warriors in front and then Scott closed the door on the Chargers and the match with eight straight points with her toeing the line.
For the match, Midland had eight service aces. Three from Craven, two from Addisyn Mosier, and one each from Leimbach, Scott, and Delanie Vallinch.
The offensive attack was paced by Abbey Ringler who had a match-high 11 kills. Taliyah Flores and Lauren Williams were also big contributors with eight kills each.
"I thought our girls did a good job today offensively," said head coach Paul Giesselmann. "We tried to avoid bad errors and that type of thing. We were able to get a lot of players in today which I like because they are working hard in practice. We've got a team that has got a lot of depth this year. The opportunity to get more players in the match was really good. Now we've got to get some rest and then have three or four days of great practice next week. We've got two high-level matches against ranked opponents on the road where we're going to get tested. We've got a great opportunity to get better next week."
Midland (16-2, 6-1 GPAC) will face their toughest tests of the year next weekend. They'll travel to take on No. 15 Dakota Wesleyan (13-4, 5-3 GPAC) on Friday and No. 2 Jamestown (18-1, 6-0 GPAC) on Saturday. First serve on October 7 is set for 7:30 p.m. in Mitchell, South Dakota at the World's Only Corn Palace.