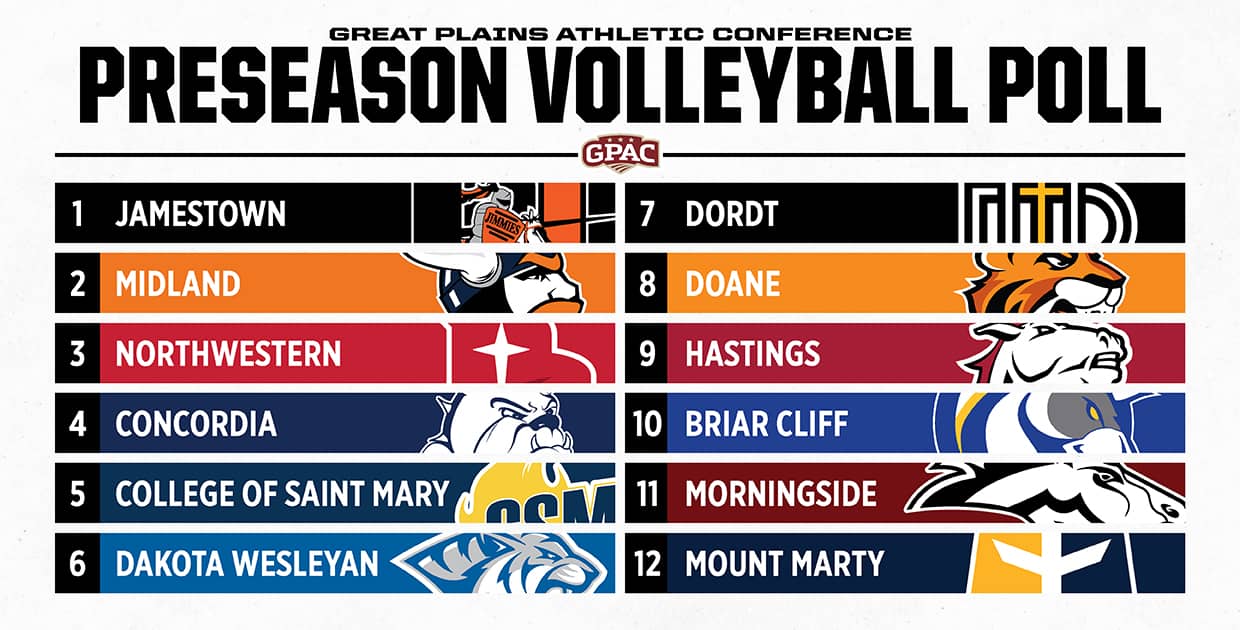 Thursday, August 11, 2022
SIOUX CITY, Iowa – As the start season draws near, Great Plains Athletic Conference (GPAC) released its Preseason Volleyball Coaches' Poll on Thursday. Midland University was selected second by the conference coaches behind the University of Jamestown, which garnered the top spot.
Following the Warriors were Northwestern College, Concordia University, College of Saint Mary, Dakota Wesleyan University, and Dordt University. The top seven teams in the GPAC poll also found themselves among the nation's best in the NAIA Preseason Coaches' Poll which was released a day earlier.
In the national poll, Jamestown, Midland, and Northwestern are in the top ten with rankings of No. 2, No. 5, and No. 8. Concordia is just outside that grouping at No. 11 while Dakota Wesleyan (14), College of Saint Mary (18), and Dordt (24) round out the rankings from the NAIA's toughest conference. Doane, who was picked eighth in the GPAC poll is receiving votes.
The Warriors and others from the conference will begin their seasons next week at various tournaments across the country. Midland will travel to Butte, Montana where they'll be challenged right out of the gate with their opening match with the No. 10-ranked University of Providence. They'll also face No. 12 Eastern Oregon on their opening day of the 2022 season.
2022 GPAC Preseason Volleyball Coaches' Poll:
Place – Team – Pts (1st Place Votes)
1. Jamestown – 115 (6)
2. Midland  – 107 (3)
3. Northwestern – 98 (3)
4. Concordia – 90
5. College of Saint Mary  – 82
6. Dakota Wesleyan – 80
7. Dordt  – 63
8. Doane – 48
9. Hastings – 44
10. Briar Cliff – 28
11. Morningside – 26
12. Mount Marty – 11