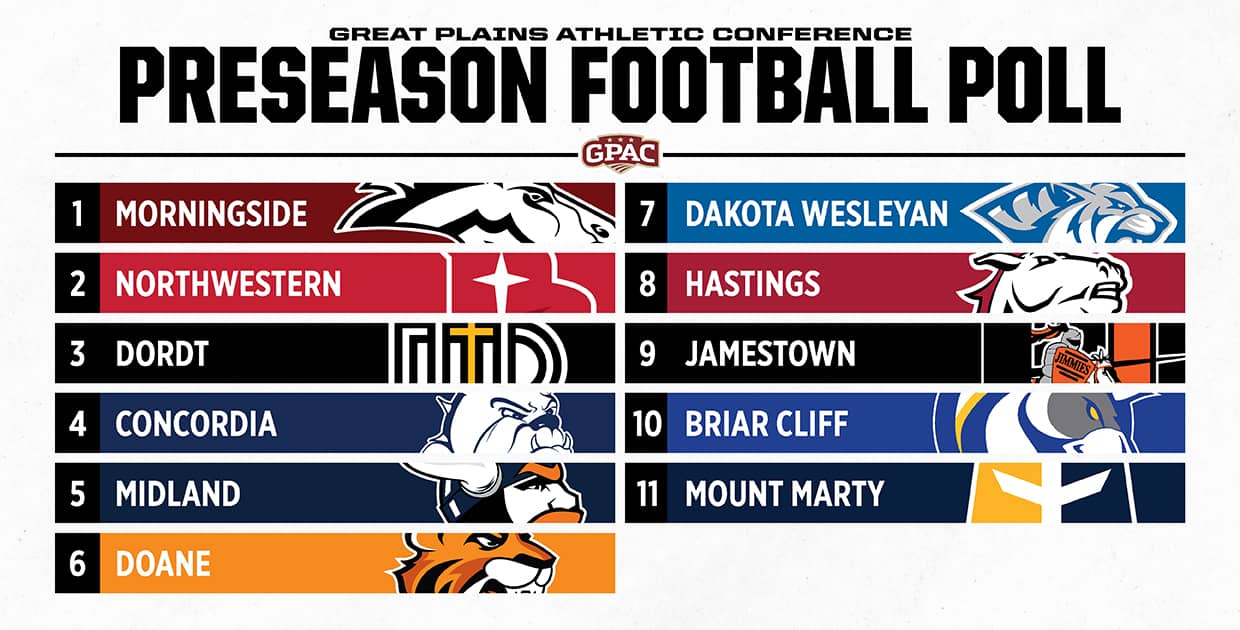 Thursday, August 11, 2022
SIOUX CITY, Iowa – The Great Plains Athletic Conference (GPAC) has announced the Preseason Football Coaches' Poll for the 2022 season. Midland University was picked to finish fifth by the conference coaches while defending national champion, Morningside University, is the preseason pick to win the GPAC.
Following Morningside, who is ranked No. 1 in the NAIA Preseason Coaches' Poll, are Northwestern College and Dordt University. Those two teams are ranked in the top 25 national poll as well, checking in at No. 3 and No. 21 respectively. Concordia University, which is picked just ahead of the Warriors, is receiving votes nationally.
Teams from around the GPAC will begin play the last week of August with nonconference matchups beginning on August 25. Midland will begin its season on Saturday, August 27 when they host the University of Saint Mary. Kickoff is set for 1:00 p.m. at Heedum Field in Fremont, Nebraska.
2022 GPAC Preseason Football Coaches' Poll
Place     Team                    Pts (1st Place Votes)
1.             Morningside                         100  (10)
2.             Northwestern                       91  (1)
3.             Dordt                                      77
4.             Concordia                             72
5.             Midland                                 69
6.             Doane                                    52
7.             Dakota Wesleyan                42
8.             Hastings                                 33
9.             Jamestown                           32
10.          Briar Cliff                               26
11.          Mount Marty                          11