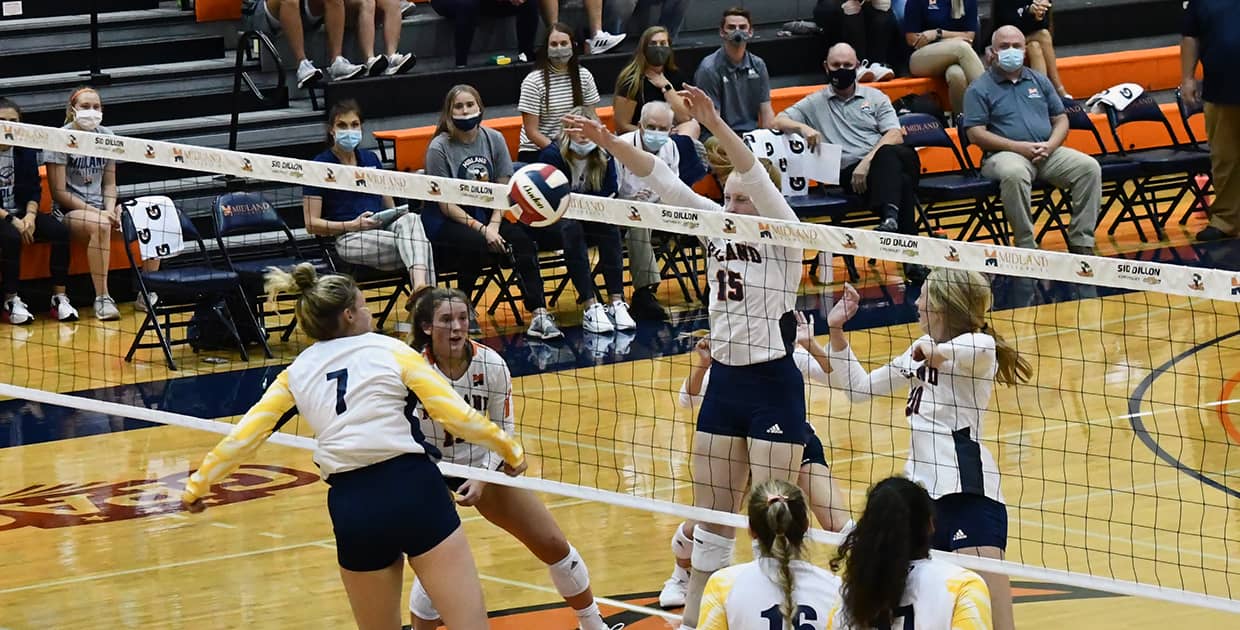 (File Photo Courtesy of Midland Athletics)
In a battle of two teams that reached the NAIA Championship Quarterfinals a year ago, No. 3 Midland University earned a sweep over No. 6 Concordia University on Wednesday night. The Warriors won 25-17, 25-18, 25-23 on the road inside Friedrich Arena to improve to 14-0 and 3-0 in the Great Plains Athletic Conference (GPAC). The Bulldogs fall to 4-4 overall and 1-2 in conference play.
Offensively, the Warriors ran a balanced attack with five players getting set 12 or more times. Taliyah Flores and Abby Ringler led the way in conversions, with 13 kills each. Ringler hit an even .500 for the match while Flores had an attack percentage of .355.
Coordinating the attack was Hope Leimbach. She had a match-high 38 set assists as the team hit .324. On Tuesday, Leimbach was named the NAIA National Setter of the Week for the second time in as many weeks.
Defensively, Midland had one of their better nights scoring off the block. In total, they had 10 total blocks of the Bulldogs' attack. Five of those were solo stops, with Ringler and Cortlyn Schaefer accounting for two each.
Midland (14-0, 3-0 GPAC) will get a little bit of time to rest and refocus before their next match. They will be back in action next Wednesday when they host Hastings (10-4, 1-1 GPAC). First serve between the Warriors and Broncos is set for 7:30 p.m. inside the Wikert Event Center in Fremont.