The Fremont Area United Way conducted its annual "Hats Off to Literacy" luncheon Tuesday at the Fremont Golf Club. 

The 11th-annual event helps support childhood literacy by raising funds for the Imagination Library Program. Through that program, about 1,000 Dodge County children from birth to age 5 receive a free book monthly in the mail. 

The guest speaker for the luncheon was Genna Faulkner, the Early Childhood Community Coordinator. Faulkner's position is grant-funded from the Nebraska Children's Foundation to the Fremont Family Coalition. 

Faulkner spoke about the multitude of challenges and opportunities young children and families have in the Fremont community.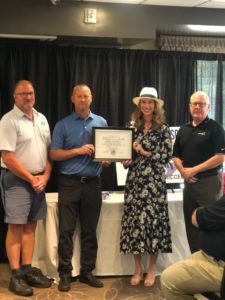 Each month, about 1,000 books are delivered by mail throughout the community. 

It costs Fremont Area United Way about $30 to provide 12 books to one child for one year. To sponsor a child/children, text the message HATS to 41444. Or if you prefer, you can send a check to: Fremont Area United Way; 445 E. First Street; Fremont, NE 68025.