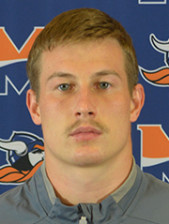 The College Sports Information Directors of America (CoSIDA) has announced the 2020-21 Academic All-America NAIA football team. Midland University's Dalton Tremayne was named to the team as a special teams player (kick and punt returner).
Tremayne, a junior from Ponca, Nebraska, served as the Warriors' kick and punt returner this past season in addition to his role on offense as a wide receiver. He averaged 10.7 yards per punt return and 30.4 per kickoff return with one return for a touchdown. He also caught 14 passes for 108 yards. Tremayne was one of two players on the team with a perfect 4.00 cumulative GPA. He is majoring in Secondary Education.
The NAIA Academic All-America team is selected by CoSIDA members and is supported by the NAIA national governance structure to assist CoSIDA with handling the awards fulfillment aspects for the 2020-21 NAIA Academic All-America teams.
The Great Plains Athletic Conference had the highest number of honorees with 10 players coming from conference schools. The team is made up of 26 student-athletes and is selected by positions. Players were nominated from a pool of Academic All-District winners, of which Theo Blum and Trevor Havlovic were also honored.