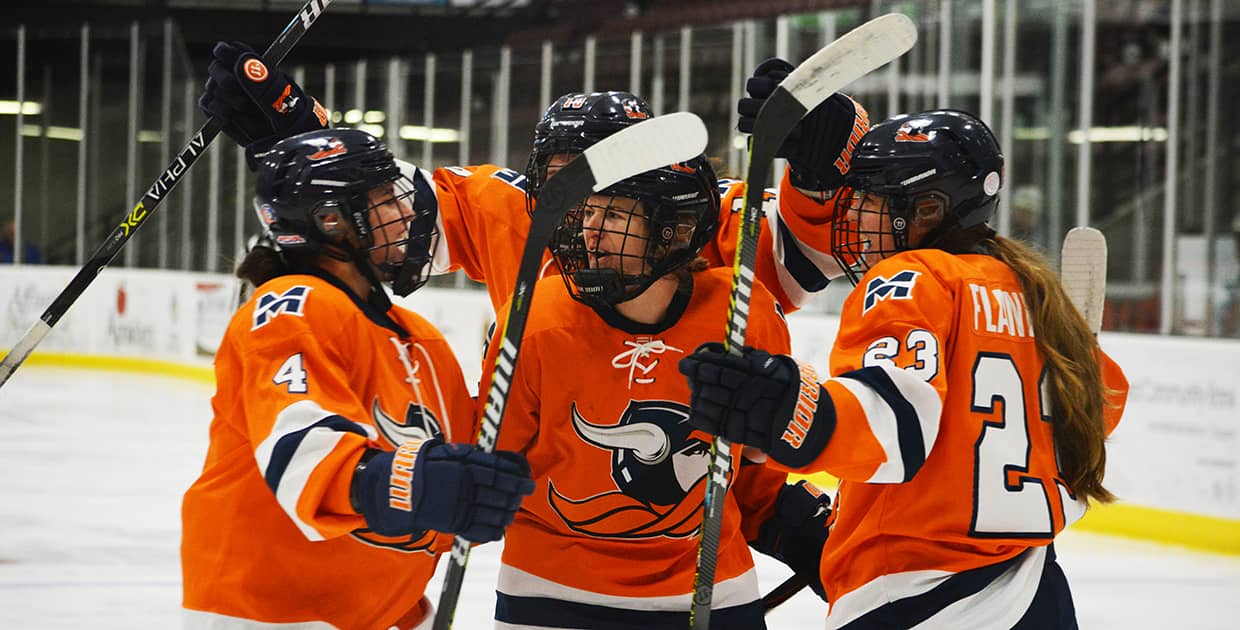 MINOT, N.D. – No. 3 Midland University women's hockey topped No. 4 Lindenwood University by a score of 2-0 in its final game of pool play at the ACHA Women's Division 1 National Tournament behind a two-goal performance from senior Alicia Williams. The win secures Midland a spot in the semifinals where the team will face the top-seed out of pool B which contains No. 1 Liberty University, No. 4 Lindenwood, and No. 5 Adrian College.
Williams got Midland on the board with her second goal of the tournament five minutes into play, off an assist from senior Ally Conybear. The Warriors continued to press throughout the period and had several edge of your seat opportunities, but the 1-0 lead stood at the conclusion of the first. Midland held a slight 9-8 edge in shots with junior goalie Hannah Stone turning away every offensive attempt from Lindenwood.
While the first period may have been free of penalties, the second was a different story. Calls were falling in favor of the Warriors to start with a five-on-three power-play coming just a few minutes into the period. Midland fired away, sending several shots on goal that were denied by the Lindenwood goalie. The Lions buckled down defensively and got out of the short-handed jam cleanly. Roles were reversed minutes later when Lindenwood benefitted from a pair of tripping calls against the Warriors. Midland's defensive units were stout through the two minutes of trouble, keeping the Lions off the board. Shots were heavily in Midland's favor in the period, with the Warriors outshooting the Lions 19-7, but the lead remained at one goal heading into the third.
Lindenwood's pursuit for the game-tying goal would not slow as the Lions controlled the puck for much of the third period. Much like the determination of the opposition, Stone was poised between the pipes, denying everything sent her way and keeping her team ahead. With the game winding down into its final minutes the tension on the ice continued to build. Midland's defense proved to be unflappable, and as the final minute approached the Lions were forced to pull their goalie to allow for an extra skater. The decision proved costly as Williams picked up a loose puck and blitzed down the ice, diving at the last second to beat a defender on her tail. The extra effort was rewarded as the senior managed to nudge the puck into the empty net, sealing the deal on a 2-0 win.
Midland (17-11) moves on to the ACHA National Tournament Semifinals and will play tomorrow at 4:00 p.m. inside Maysa Arena. Midland's opponent will be decided at the conclusion of today's pool play competition.