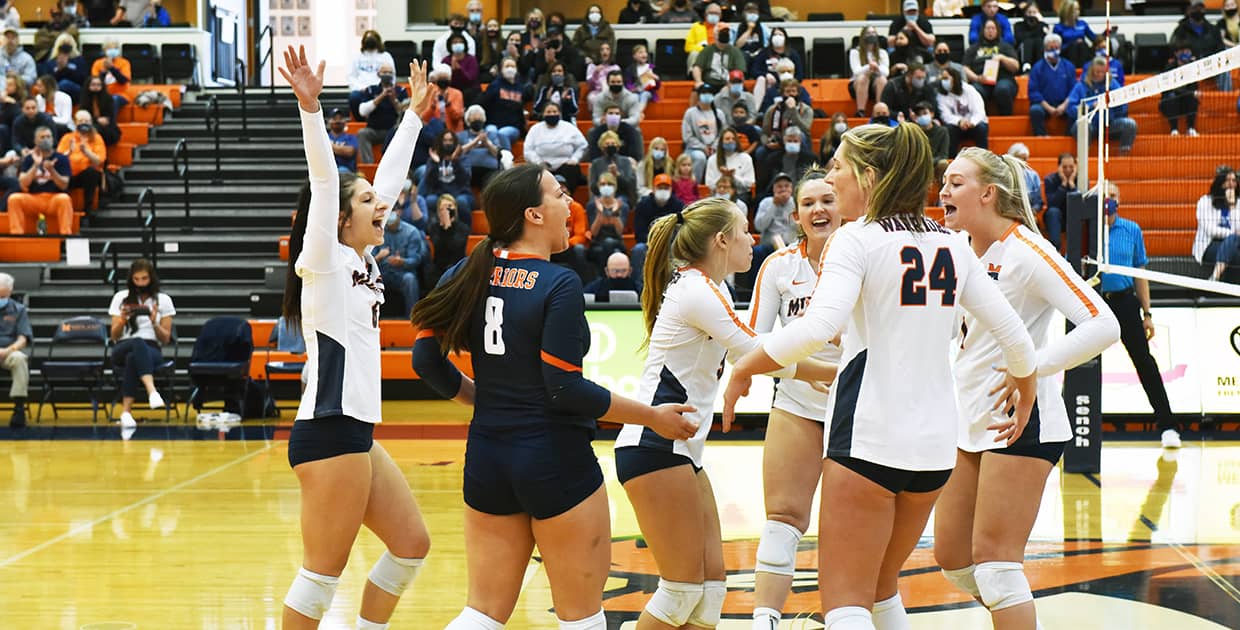 FREMONT, Neb. – No. 12 Midland University volleyball earned a 3-0 (25-23, 25-17, 25-21) sweep over (RV) Mayville State University in the NAIA National Tournament Opening Round on Saturday afternoon inside Wikert Event Center. The win improves Midland's record to 12-9 overall and secures a spot at the final site of the NAIA Volleyball Championship in Sioux City, Iowa
Midland had 51 kills while hitting .208 for the match compared to 25 kills and a .078 efficiency for Mayville. The Warriors had 42 digs to go along with five aces while the Comets out-blocked Midland 10-8. Junior Taliyah Flores led all players with 15 kills to go along with eight digs. Seniors Maggie Hiatt and Sydney Morehouse each chipped in nine kills. Sophomore setter Hope Leimbach dished out a balanced attack with 41 assists and six digs. Senior Jaisa Russell led the team with nine digs.
Set One: Midland 25, Mayville 23
The Warriors got off to a hot start, going up 9-3 after an ace from Taliyah Flores. The Comets cut the lead with a kill, but Hope Leimbach responded with a kill of her own to bring things to 10-4. The Warriors surged ahead 13-7 behind kills from Maggie Hiatt and Flores, but Mayville began to climb back into the set, trailing just 14-12 after a double block on an attack from Jaisa Russell. Midland benefitted from several Comet errors to pull ahead 19-13. Mayville got back on track late in the set and knotted the score at 22-22. The Warriors fired back with kills from Brooke Fredrickson and Sydney Morehouse to bring up set point. The Comets stayed alive after a service error, but the relief was short-lived as Morehouse ended things with her fourth kill of the set.
Set Two: Midland 25, Mayville 17
Midland started strong again, opening with a four-point run and eventually taking a 6-1 lead off a Flores kill. The Comets reeled it in, bringing the score to 7-5 after a kill. Midland pulled ahead again, this time with kills from Morehouse and Flores, to take a commanding 12-6 lead. Mayville continued to battle, but Midland was able to outlast the Comets in the long rallies to go up 20-13. The Comets picked up a bock to push the score to 22-17, but the Warriors earned three straight points to claim the set at 25-17.
Set Three: Midland 25, Mayville 21
Hiatt got the Warriors going with a kill to put the score at 1-1, and the points poured on to give Midland a 6-2 advantage. The lead continued to hold as the Warriors went up 13-8 off a kill from Hiatt. Mayville picked up a block to pull within two points at 17-15 and stayed within two points as the score climbed to 20-18. The Warriors earned a point off an attack error and padded the lead with back-to-back kills from Lauryn Samuelson to take a 23-19 lead. Mayville got one back with a kill out of the middle, but Midland countered with a kill from Morehouse to bring up match point. Flores called game with a kill off the block to secure the third-set win for the Warriors.
Midland (12-9) will look ahead to pool play at the final site of the NAIA Volleyball Championships at the Tyson Event Center in Sioux City, Iowa. The Warriors will be joined by 23 additional teams for the week-long tournament finale. The final site will feature eight pools of three teams that will play April 27-28. The winner of each pool will advance to a single-elimination bracket that will be played on April 29-May 1.