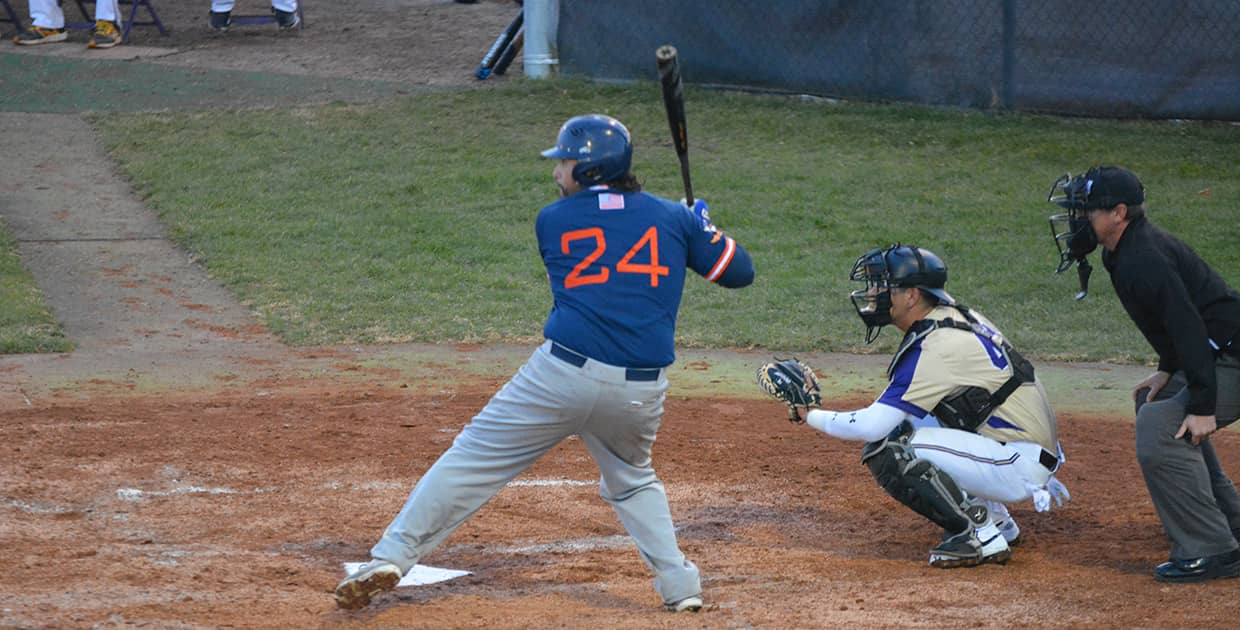 LINDSBORG, Kan. – Facing tough weather conditions all over the country, Midland University baseball managed to find a way to play a pair of games this weekend. The Warriors traveled to Kansas to take on Bethany College in doubleheader action on Sunday.
Midland picked up a come-from-behind win in game one by a score of 9-7 while the nightcap ended in a 7-7 six-inning tie. Midland moves to 4-4-1 on the year while Bethany shifts to 4-3-1 overall.
Game One: Midland 9, Bethany 7
The Warriors benefitted from a late push, scoring five runs in the final two innings to overtake the Swedes by a score of 9-7. The scoring surge was sparked by a solo shot from Eathan Secrest. Midland continued to pressure the defense, forcing a pitching change with runners on first and second. Tricky base running by Gavin Manheimer forced an error, allowing another run to come in for Midland and bringing the score to 7-6.
The pressure was on in the seventh inning as the Warriors were facing a one-run deficit. Jack Barrios earned a walk to kick things off, and Secrest followed with a single to right—placing runners on first and third. Down to their final out, Sam Braun stepped up to the challenge and launched a three-run home run over the right-field fence to put his team ahead 9-7. Brendon Jones forced a trio of fly-outs in the bottom of the inning to close the door.
Statistical Leaders:
Sam Braun: 3-of-4, 5 RBI, 3-run HR, 1 run
Eathan Secrest: 2-of-3, 1 RBI, Solo HR
Peyton Garbers: 2 BB, 2 Sac Fly, 2 RBI
Brendon Jones: 5 IP, 4 K, 1 ER
Game Two: Midland 7, Bethany 7 (six innings)
The offensive output carried over into game two as the teams totaled six runs in to opening frame. Peyton Garbers put Midland up 2-0 with a homer to right field. Matt Abdelnour got on base with a single and came around to score after a single to center off the bat of Trey Nichols. The Swedes bounced back by stringing together four singles, tying the game at 3-3. The score remained knotted until the bottom of the third when Bethany benefitted from a pair of two-run home runs to lead 7-3.
Midland got back on track in the fourth after a single from Chase Reynolds scored Javonte Williams from third to cut the lead to 7-4. Offense on both sides remained stagnant in the fifth before another surge from the Warriors highlighted the sixth inning. Back-to-back walks put runners on first and second and a pair of singles brought two runs in. Abdelnour came in clutch again, singling to center field to bring in the tying run. The game would end in a tie as the conditions led to the field being unplayable.
Statistical Leaders:
Peyton Garbers: 2-of-3, 1 HR, 4 RBI, 2 runs
Matt Abdelnour: 3-of-4, 1 RBI, 1 run
Chase Reynolds: 2-of-3, 2 runs, 1 RBI
Steven Boyd: 2.2 IP, 4 K, 1 run
Up Next
Midland (4-4-1) will continue the trek south as the team is slated to play five games in San Antonio, Texas at the Mission Baseball Complex this week. The Warriors will face (RV) Our Lady of the Lake University for three games (February 25 and 28) and Southwestern Assemblies of God University (February 27). The games on February 27 and 28 will be doubleheaders.