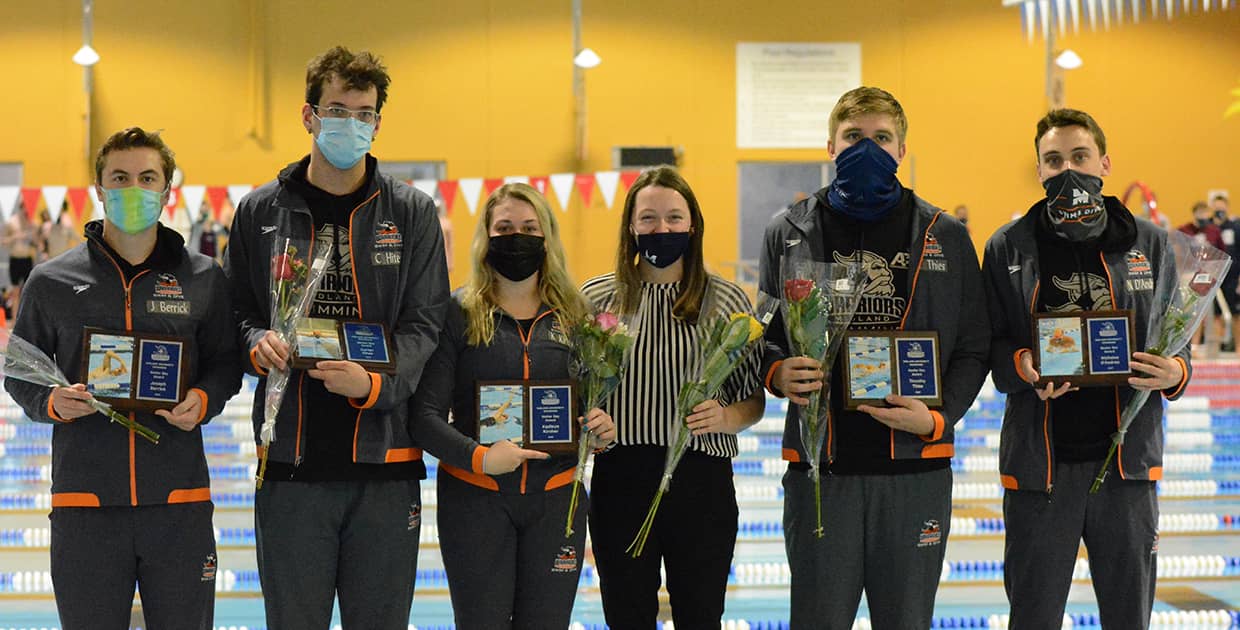 FREMONT, Neb. – Midland University's swim teams welcomed a trio of teams to the Dillon Family Aquatic Center on Saturday for a Quadrangular meet featuring Morningside College, St. Ambrose University, and Sterling College. The men and women both finished in second place with the women totaling 528 points and the men coming in at 535.
"We had a great meet today. I was happy with how well the team swam, especially given the circumstances of a long break and an abnormal week of training with athletes in and out of the pool all week," said head coach Ryan Bubb. "We put some swimmers in events that we wanted to see as we assess what our championship lineups will be."
Midland had 13 individual wins and four relay wins on the day. The women won the 200-yard medley relay with a time of 1:52.76. The team consisted of Nerissa Wagner, Gracie Lefholz, Lily Harrell, and Abby Ertz. The men also claimed the top-spot in the 200-yard medley relay with an NAIA Qualifying time of 1:34.20. The team was represented by Trevor Edwards, Tyler Penney, Carter Hites, and Scott Cain.
Faith Guyer won the 200-yard free with an impressive time of 1:58.36. The men's 200-yard free crown went to Caleb Miller with a time of 1:45.23.
Lily Harrell won the 100-yard backstroke with a time of 59.50 while Nerissa Wagner came in second at 1:02.21. Tyler Penney clocked a time of 56.95 for a win in the 100-yard backstroke.
Midland swept the 200-yard butterfly with a win from Anna Lowary (2:18.07) and Carter Hites (2:01.29).
Midland's Scott Cain picked up a pair of wins in the 50-yard free and 100-yard free with times of 22.77 and 46.90.
The women were dominant in the 200-yard backstroke with Lily Harrell and Kadisyn Kircher going one and two. Harrell posted a time of 2:11.39 while Kircher swam a 2:19.79.
The Warrior women would go one and two again, this time in the 500-yard free, with Rianna Mueller and Gracie Lefholz taking top spots. Mueller swam a 5:45.20 while Lefholz posted a 5:52.23.
The men's 100-yard butterfly title was claimed by Gabe Martinez with a time of 53.54. The men also took home the 200-yard IM title thanks to a 1:58.11 finish from Tyler Penney.
Midland's relay teams closed out the competition with a pair of wins in the 200-yard free. The women's team of Lily Harrell, Abby Ertz, Faith Guyer, and Nerissa Wagner swam a 1:42.41. The men's team of Caleb Miller, Tyler Penney, Trevor Edwards, and Scott Cain posted an NAIA Qualifying time of 1:25.44.
"I want to thank our seniors, Tim, Kaidsyn, Carter, Nick and of course, our first-ever commit; Joseph," commented Bubb. "They were the original class, the first class to swim at Midland University for four years, and I couldn't have asked for a better group to lead and grow the team."
Midland will have time to prepare as the next competition is slated for February 4. The preparation will be well-warranted as the Warriors will host the three-day KCAC Championships. The men will look to defend the title while the women strive to move up the ranks after finishing second a year ago.