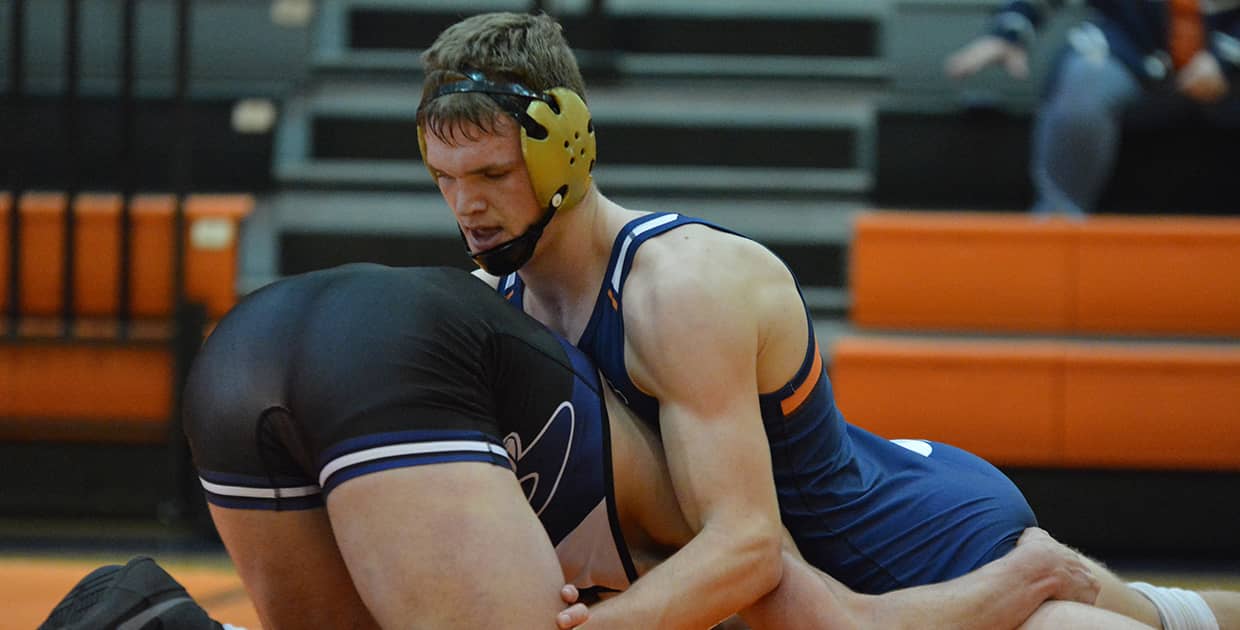 HASTINGS, Neb. – Midland University's men's wrestling team had a handful of strong showings at the Hastings Open on Saturday. The highlight of the meet for the Warriors was Tyson Beauperthuy's first-place finish at 184-pounds. Seven other grapplers competed for Midland with mixed results.
Beauperthuy went 5-0 on the day at 184-pounds, winning four by decision and another by pinfall. In the semifinal he shutout Concordia's Oscar Ramirez-Garcia, 5-0, to reach the championship bout. In that match, he faced Luke Jenness of Northwestern and won a decisive 7-2 bout.
Matt Johnson had a solid showing in the heavyweight division. After dropping his first bout via fall, he pinned each of his next two opponents on the consolation side of the bracket. In his fourth match of the day he was dealt defeat, ending his tournament.
Connor Dalton also went 2-2 in the open in his division. At 141-pounds he won a first-round tech fall over Angel Palacios of Briar Cliff and then followed it up with a 10-1 major decision over Sam Kallem of Grand View. He would drop his next two bouts, a pin in the semifinal round and a 4-2 decision in the consolation semis.
At 165-pounds, Chase Englehardt grinded his way to a 3-2 record on the day. He opened a tech fall win but was sent to the consolation bracket after a quarterfinal loss. With his back against the wall, he won back-to-back bouts by tech fall to reach the consolation semifinals. In that round, he would drop a 13-4 major decision.
"There are a lot of positives here at Midland," stated head coach Larry Nugent. "We aren't built for dual meets this year, but the results and competitiveness we showed on Saturday shows why we are going to make some noise moving forward."
"Tyson's performance speaks for itself, but don't overlook Chase," added Coach Nugent. "To come away from with a winning record is proof that several of his opponents did. Our entire team is determined to get better every day. Conner (Dalton), and Matt are traveling on an upward trajectory as is Connor (Rinn) and others."
Midland will be back at it next weekend as they compete in the Arena Sioux City Duals in Sioux City, Iowa.
Other Warriors competing on Saturday were:
–        Mario Martinez (133) – went 0-2 at 133-pounds.
–        Conner Dalton (141) – went 2-2
–        Tony Rinn (157) – went 0-2 at 157-pounds.
–        Jeshua Castillo – went 0-2 at 174-pounds.
–        Connor Rinn – went 1-2 at 184 pounds.