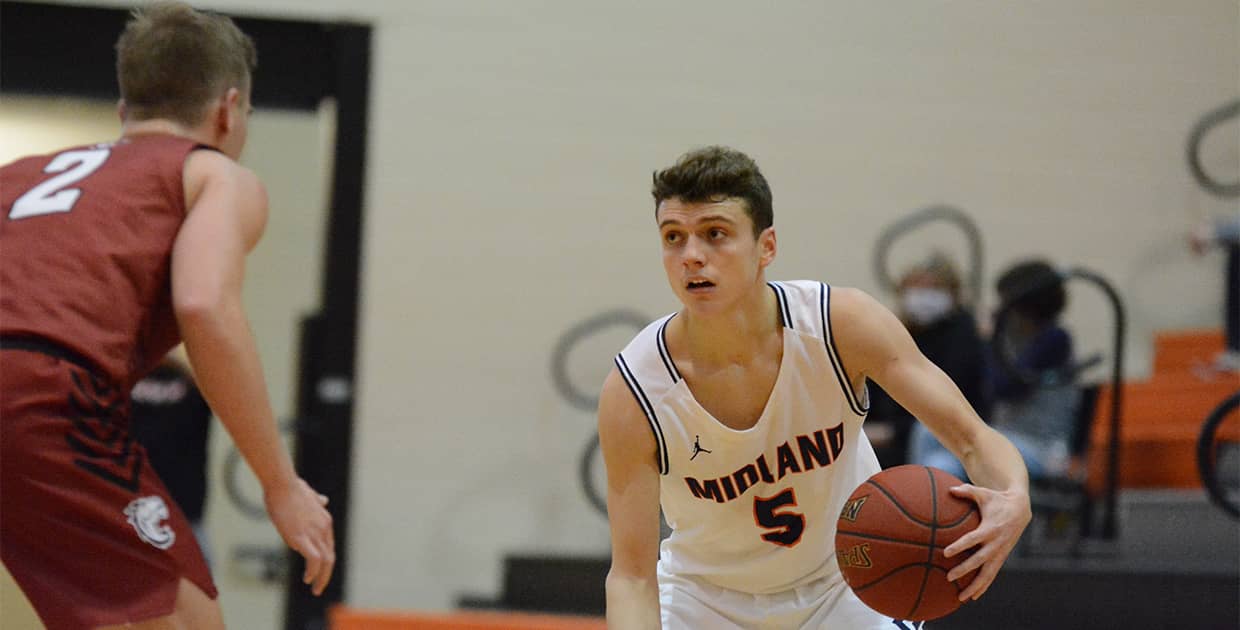 YANKTON, S.D – Midland University was back on the court Tuesday night in a Great Plains Conference (GPAC) matchup against Mount Marty University up in Yankton, South Dakota. The Warriors were defeated by the Lancers, 63-49, in a defensive battle.
The Warriors were hindered by one of their quietest offensive performances of the season scoring their lowest point total under sixth-year head coach Oliver Drake.
A slow start put the Warriors in an early hole as the Lancers jumped out to a 15-4 lead to open the game. Midland's poor shooting plagued them from both up-close and beyond the arc in the opening half, shooting 7-of-27 overall and 1-of-15 from three-point range.
Both teams struggled to find the mark to end the first half as both teams failed to get a basket in the final 3:46. The Lancers would go into the halftime locker room leading 29-16.
After the break, the Warriors found life early in the half with improved shooting and worked their way back. They cut the Lancers lead to just six points, 31-25, with three-pointers by Jake Rueschhoff and Laurence Merritt. But the spark would not last as the Lancers responded with a 15-6 run that ballooned their lead to 15, with 9:44 remaining in the game.
Mount Marty rode their strong three-point shooting to victory going 7-of-15 from the arc in the second half.
Midland finished the game shooting 35.7% from the field (20-of-56) and 16.7% from three-point range (5-of-30). Laurence Merritt led the team in scoring with 17 points in 34 minutes off the bench. He was the lone Warrior in double-figures with the next highest scorer being Jake Rueschhoff and Josh Lambert with 7 points each. Rueschhoff led the team with 9 rebounds from his guard position.
"I didn't like the energy we came out with," said Coach Drake postgame. "On the flipside, I thought Mount Marty had really good energy from a competitive spirit standpoint. We had to use timeouts early to challenge the guys but we were never really able to get our feet under us. Couple that with another poor shooting night and too many turnovers, and it's a bad recipe to play on the road."
The Warriors (1-5, 1-2 GPAC) will look to get back in the win column on Friday as they host Dakota State (0-1) in an abbreviated version of the Draemel Classic. The game is scheduled for a 3:00 p.m. start inside Wikert Event Center in Fremont, Nebraska.