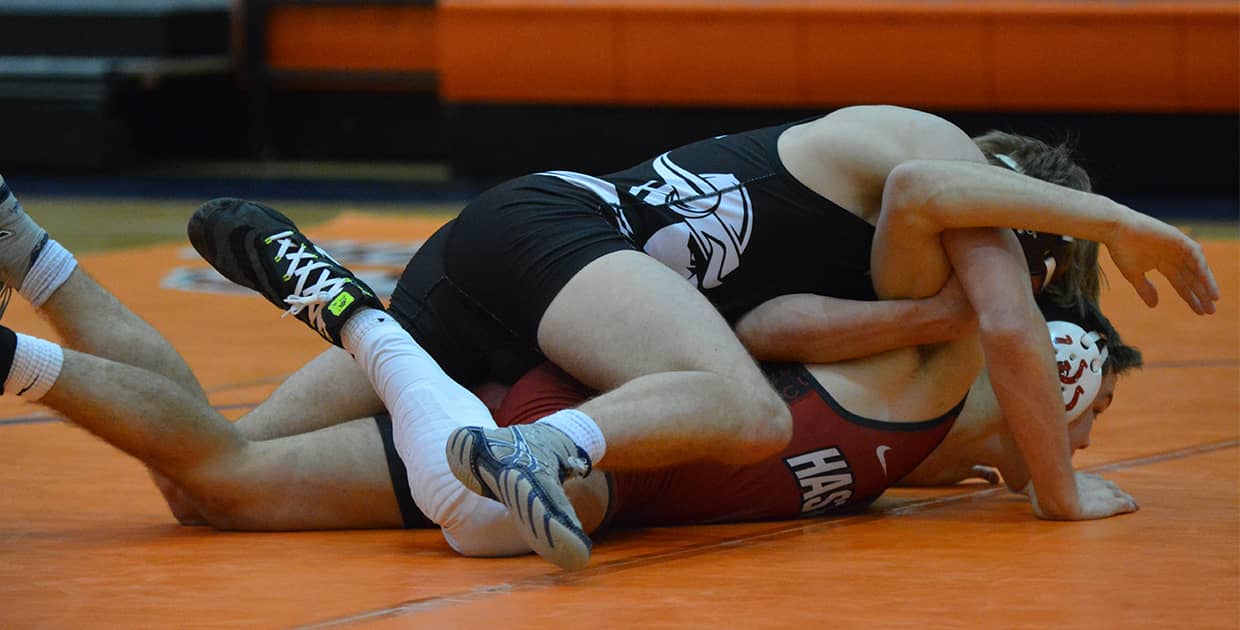 YORK, Neb. – Midland University took on in-state foe York College in a men's wrestling dual on Saturday afternoon and came away a narrow defeat, falling 30-22 to the Panthers. The Warriors, won five of the seven bouts that were contested on the mat leaving three open, which ended up being the difference.
Conner Dalton picked up an 11-3 win at 141-pounds for the Warriors to get things going. He had a pair of escapes and then followed it up with a takedown of his own in the second period. In the third, he picked up a four-point near-fall followed by a two-point near-fall. He earned an extra point for the major decision for his riding time.
Midland's next win came at 157 with Ray Aranda pinning his counterpart. He picked up a takedown and near-fall before the pin in the first period.
Tony Rinn picked up a 10-7 decision at 165. With the score knotted at seven apiece in the third, he earned one point for an escape and then clinched the win with a takedown.
At 174 it was Chase Englehardt picking up the 13-6 decision. After being taken down twice in the opening round, he came back with a reversal and two near-falls to regain the lead. In the second he had another reversal and near-fall, cruising to the victory.
Tyson Beauperthuy also had to battle back to win at 184. He suffered a takedown and near-fall in the first but came back with an escape and takedown of his own in the second period. In the third, he sealed the win with a pin.
"York is a quality team that always shows up when it is time to compete," said head coach Larry Nugent. "We were able to win five of the seven matches wrestled. Winning the close ones is encouraging. Our juniors dominated their opponents with Conner and Ray setting the example. We then had impressive performances out of freshman Tony, Chase, and Tyson, with Tyson remaining undefeated at 6-0. I'm looking forward to facing our opponents at full strength moving forward."
Midland (0-1) will open up Great Plains Athletic Conference dual action this next week with a road contest at Hastings College. The Warriors and Broncos will take to the mat inside Kiewitt Gymnasium at 7:00 p.m. on Tuesday, November 24 in Hastings, Nebraska.