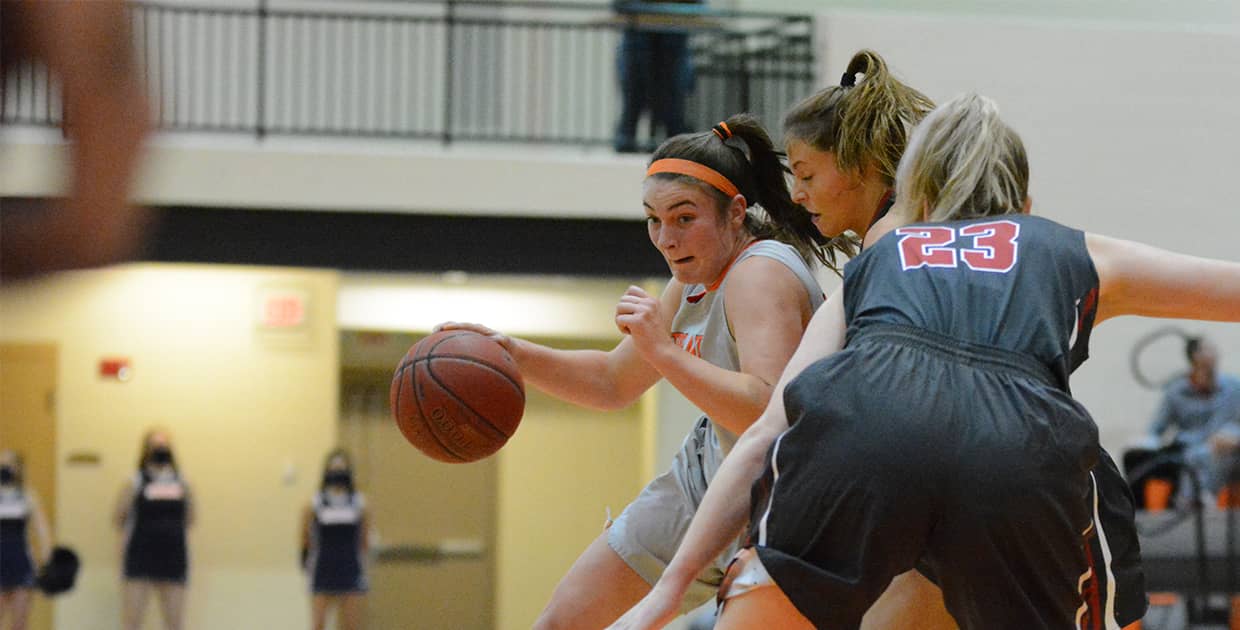 ORANGE CITY, Iowa – Midland University's women's basketball team came from behind to take down Northwestern College in Great Plains Athletic Conference action on Saturday afternoon. The Warriors outscored the Red Raiders 23-10 in the fourth quarter en route to an 80-74 road win.
Midland improves to 6-1 on the year and 3-1 in the GPAC while Northwestern drops to 0-6 overall and 0-2 in the league.
Midland shot 43.1 percent (25-of-58) from the field compared to 41.7 percent (30-of-72) for Northwestern. The difference-maker came by way of free throws as the Warriors drained 22 versus four for the Red Raiders. Northwestern held a narrow 41-39 edge in rebounds. The Red Raiders committed 24 fouls compared to 12 for Midland.
Senior Makenna Sullivan came to play, scoring 25 points to go along with eight rebounds and four assists. Junior Lexis Haase followed with a respectable 22 points. Junior Peyton Wingert had nine points. Senior Katy Gathje chipped in six rebounds.
The first quarter opened with stout defense before the Red Raiders managed to go up 4-0 with 8:26 on the clock. Midland answered with a six-point run, capped off by a Haase layup to take a 6-4 lead with six minutes remaining. The teams continued to trade points, tying to game at 10-10 before an eight-point run saw Northwestern leading at 18-10. The Warriors drained a pair of threes but couldn't muster a comeback, trailing 22-16 into the second quarter.
Sullivan and Gathje each dropped in a pair of free throws to open the second quarter, narrowing the deficit to 22-20. Haase was money from beyond the arc, draining a pair of threes to give Midland the 26-25 advantage with 7:38 to go. Northwestern hit a three of their own to reclaim a narrow lead and tacked on another moment later, going up 33-28 with five minutes to go. Kennedy Garner made an immediate impact off the bench by hitting a pair of threes for a 39-35 Midland lead. Northwestern dropped in a layup to wrap up the quarter, but the Midland lead would stand at 42-40 heading into the break.
The Red Raiders came out of the break firing on all cylinders to take a 44-42 lead. Northwestern locked down on defense, forcing a Midland turnover and converting for a layup which pushed the lead to 49-44. More miscues on the side of the Warriors allowed for a 54-48 Red Raider lead with five minutes to go. Northwestern's defense continued to torment the Warriors as a steal resulted in a layup and a 61-51 edge for the home team. Despite a Wingert three in the final seconds, Midland trailed 64-57 heading into the final quarter of play.
Haase started the fourth quarter with a pair of layups, seeing Midland down 64-61 with eight minutes to go. Sullivan was a veteran from the charity stripe, draining a pair for her 13th and 14th points of the afternoon to see Midland down 64-63. Sullivan continued to impress with a slew of points to give her team the 68-66 edge with 6:37 to go. Northwestern hit a clutch three to reclaim the lead, but Sullivan answered with a layup to bring the score to 72-71. The score was knotted over the course of two minutes before a pair of free throws from Haase had Midland up 76-74 with 36 seconds to go. Free throws continued to be the difference down the stretch and allowed for an 80-74 victory. Today's win was Midland's first over Northwestern since a meeting back on December 5, 2015.
"I'm so proud of how this team never stops competing," commented head coach Shawn Gilbert. "There were a couple of stretches where things didn't go our way, especially most of the third quarter, but this team continued to fight and got the job done. I thought we defended and rebounded well in the fourth. We had some players make big-time plays and free-throws at critical times."
Midland (6-1, 3-1 GPAC) will be back on the road on November 24 for a Great Plains Athletic Conference matchup with Mount Marty University. Tipoff is slated for 6:00 p.m. in Yankton, S.D. Midland split with Mount Marty last season, capturing a commanding 95-70 win at home but narrowly dropped the road game by a score of 87-85.