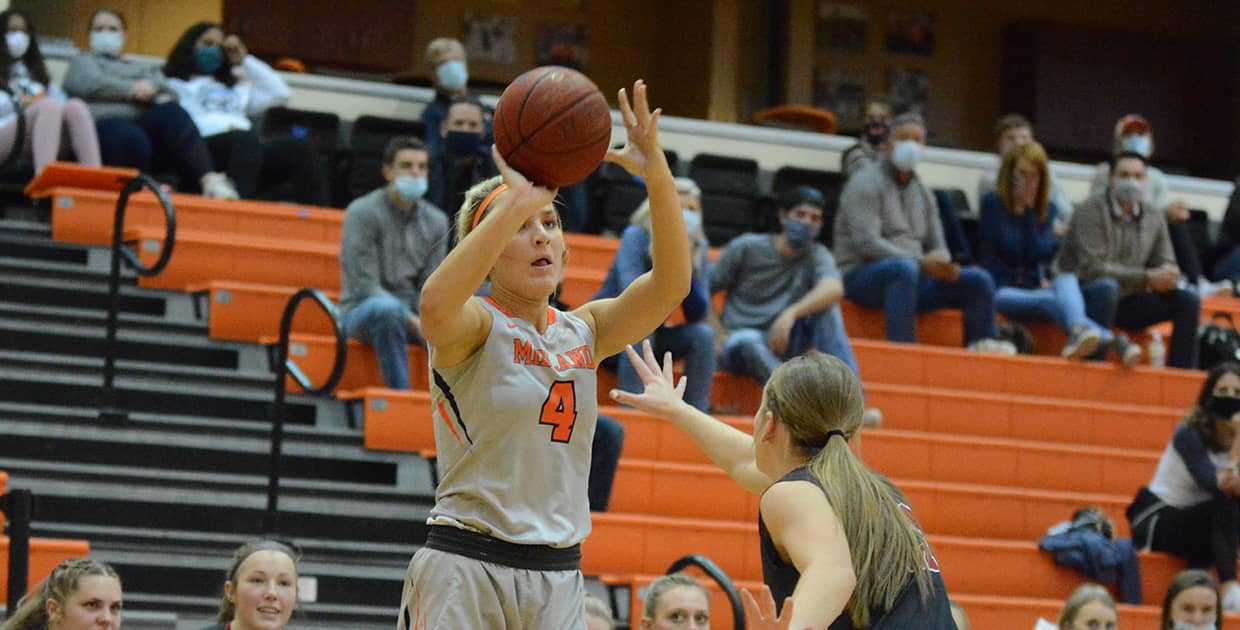 FREMONT, Neb. – Midland University's women's basketball team hosted in-state foe Hastings College Broncos in a Great Plains Athletic Conference (GPAC) game on Wednesday night winning 82-72. Midland has not beaten Hastings dating back to 2010 and head coach Shawn Gilbert would get his first win over Hastings.
In the first quarter, both teams went back and forth trading buckets. Midland was able to go on a 6-0 run to close out the quarter leading 18-10.
Hastings was able to make it a four-point game in the second quarter before Peyton Wingert and Lexis Haase hit back-to-back threes. With 17 seconds left in the first half, Lexi Kraft would make a layup to give Midland a 10 point lead (biggest lead of the night). Hastings would respond with a bucket of their own making it a 38-30 Midland lead going into halftime.
The Broncos came out firing in the third quarter going on a 10-0 run and taking the lead back. Wingert would respond to Hastings' run by hitting two threes in a row putting Midland back up. There would be six lead changes to round out the third quarter. Hastings would end the quarter with the lead, 56-52, and would outscore Midland 26-14.
Hastings would continue to have the lead in the fourth quarter until Makenna Sullivan scored with 6:22 left on the clock making the score 62-61. At 4:04, Wingert would make a layup which helped the Warriors take the lead for the last time in the game. Haase would go on her own 7-0 scoring run to help garner Midlands win. Dual free throws made by Kraft and Sullivan helped the Warriors win 82-78. Midland put up 30 points in the quarter compared to the Broncos 22.
The Warriors and Broncos would both end the night shooting 28-63 (44.4 percent) from the floor but Midland would outshoot Hastings from three, 32 percent to 28.6 percent.
All five starters for the Warriors would end the night in double digits. Haase captured her third double-double of the season by scoring 23 points and 12 rebounds. Wingert would have a career-high of 23 points shooting 8-13 (61.5 percent) from the floor and 3-5 (50 percent) behind the arch. Sullivan contributed 11 points and Kraft and Katy Gathje both had 10 points.
"Big GPAC win over Hastings tonight," said Gilbert. "Really proud of the character and toughness this team showed down the stretch. Hastings got after us in the third quarter to take the lead going into the fourth. This team got tough, made big-time plays, and scored 30 in the 4th to get the win."
Midland (5-1, 2-1) will travel up to Orange City, Iowa to play against Northwestern College Raiders (0-5, 0-2) in a GPAC game on Saturday, November 21 with tip-off at 2:00 pm. Northwestern dropped their game Wednesday night 65-70 at Jamestown.