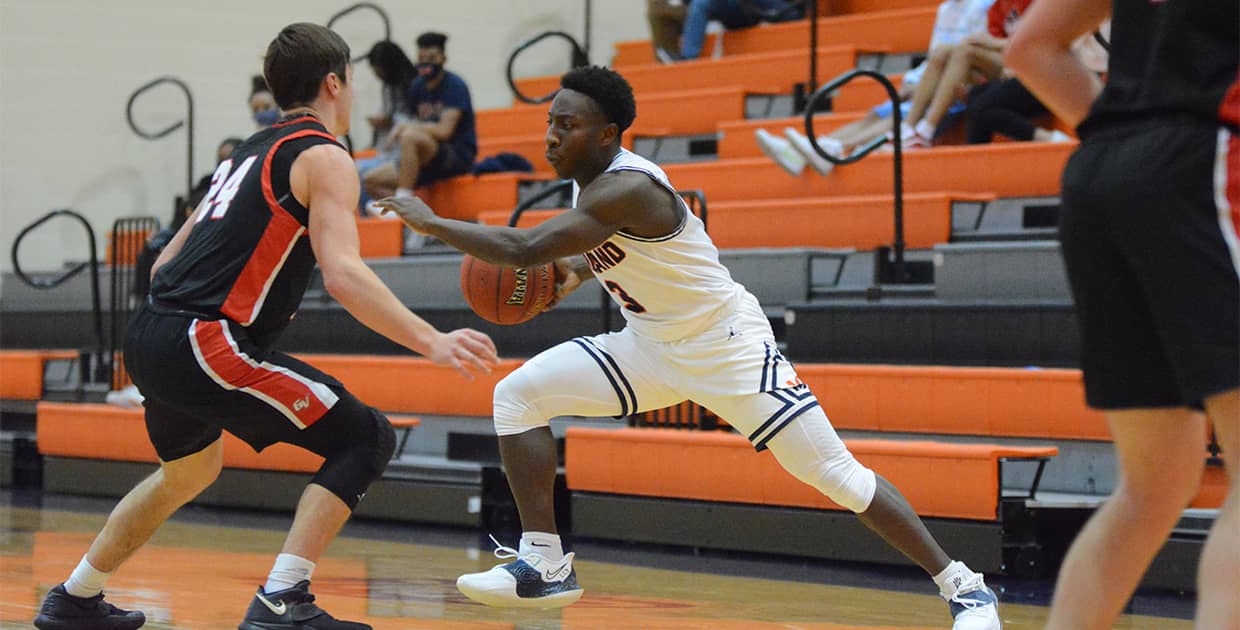 FREMONT, Neb. – Midland University took the court Saturday afternoon in a Great Plains Athletic Conference (GPAC) matchup against Dordt University and while they played their best offensive game of this young season it was not enough as Dordt won 82-73.
The Warriors (0-3, 0-2 GPAC) would get their offense going quick with a barrage of 3-point shots in the first half. A lay-up by Dordt (5-0, 1-0 GPAC) forward Dejay Fykstra would give the Defenders a 9-6 lead, and then the Warriors would knock down 3-point shots on four consecutive possessions to take an 18-13 lead halfway through the first half.
Junior guard Emanuel Bryson (23 pts) electrified the crowd as he converted three of those four makes and seemingly couldn't miss from behind the arc all game shooting over 50% from downtown (7-of-12).
Bryson was not alone as junior guard Bo Sandquist (9 points, 6 rebounds) and senior guard Laurence Merritt (10 points, 4 assists) would also find their shooting grooves, the two-shot a combined 5-of-7 from the arc in just the first half.
However, the Warriors were not able to shake the Defenders in the half, led by freshman forward Jacob Vis, who didn't miss a shot in the first period (5-of-5, 13 points), the Defenders took a 44-40 lead into halftime.
After halftime, the two sides would trade baskets for most of the half as the Warriors would continue to stay within five points of the Defenders and tied the game multiple times.
The Warriors offensive attack was well balanced, all eight players who played in the 2nd half scored, but the Dordt defense proved to be too much as the Warriors shot 36.7% from the field (11-of-30) and 29.4% from the arc (5-of-17) in the half.
The Warriors could not find the same success on the defensive end as the Defenders shot 52% from the field (13-of-25) and consistently got to the free-throw line (10-of-17).
The Warriors would cut the lead to six, 73-67, with a Bryson 3-point shot with 3:32 to go, but the Defenders would go on a game-clinching 7-1 run to put the Warriors away.
Head coach Oliver Drake made sure to not overlook the performance and energy his team demonstrated, "We were really proud of the way our guys battled against a really good Dordt team. We made some major strides in a lot of areas. Our group will continue to work to get better together." said Drake.
The Warriors will be back on the court Wednesday when they will face Hastings (3-1, 0-0 GPAC). The conference matchup is set to tip-off at 8:00 p.m. inside Wikert Event Center in Fremont.