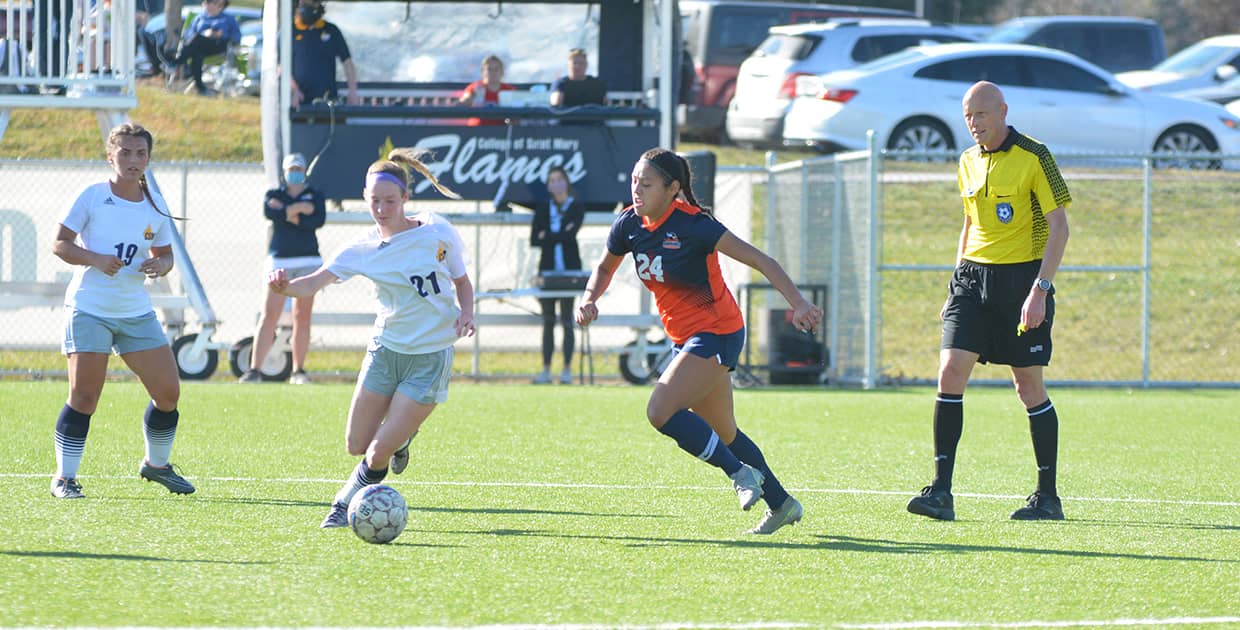 FREMONT, Neb. –  Midland University women's soccer team dropped the final contest of their fall schedule in 1-0 fashion to Hastings College in Great Plains Athletic Conference action on Saturday afternoon. The Warriors wrap up the regular season with a 5-4-3 overall record while Hastings improves to 10-3 overall and 8-3 in the league with one game remaining on their schedule.
The teams were nearly even on offense with Hastings holding a 12-11 edge in shots and a 6-5 advantage in shots on goal. Kisa Omerovic led Midland with four shots, two of which were on target. Arianna Flores and Bailey Locano trailed with two shots each. Senior goalkeeper Rachel Thigpen recorded five saves. The goal for Hastings came from Katelyn Rush—her second of the year.
"It was an evenly played game between two evenly matched teams," said head coach Greg Jarosik. "The goal allowed was an unfortunate mistake, but we will now take time to reflect on what can only be described as a unique fall season full of unprecedented changes. We will come back in the spring prepared to compete in the conference tournament."
Midland was firing early as a shot from Omerovic was corralled by the Hastings keeper 20 seconds into the game. The teams played even over the next 20 minutes before the Warriors looked to be in a promising position. A shot from Locano was saved by the keeper, but a pair of Midland corners were to follow. Despite the advantageous field position, the Hastings defense kept the home team off the board. Thigpen made a veteran save on a Bronco shot in the 26th minute, but the rebound would find the foot of another Hastings player, and with Thigpen out of position the visiting team found the 1-0 advantage. The defense held strong in the remaining minutes of the half as the 1-0 lead carried into the break.
The Warriors came out of the break and controlled the pace of play, sending a trio of shots just high of the goal. Hastings connected for a shot in the 68th minute, but another snag from Thigpen kept things close at 1-0. Midland continued to press down the stretch but couldn't find the equalizer, falling by a score of 1-0.
Midland (5-4-3) will now look ahead to the spring portion of the 2020-21 campaign which will feature the Great Plains Athletic Conference Championships. The Warriors await their official tournament seed as conference opponents continue regular-season competition in the upcoming weeks.