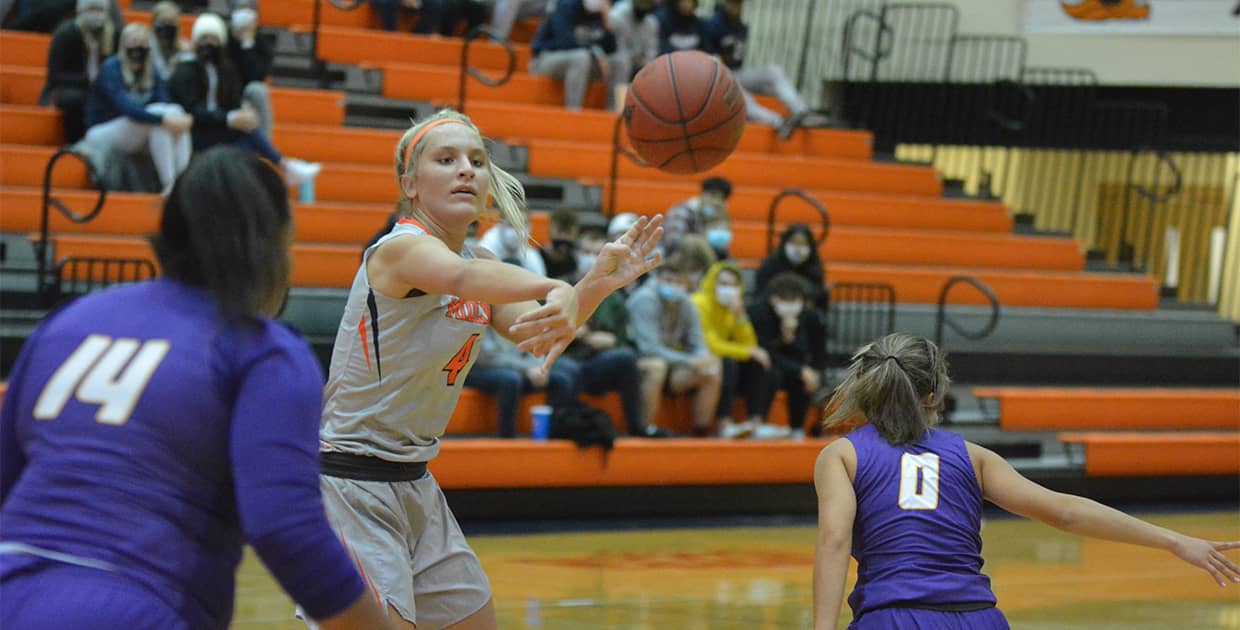 FREMONT, Neb. – Midland University's women's basketball hosted Dordt University in Great Plains Athletic Conference (GPAC) action on Saturday afternoon. Cold shooting plagued the Warriors as they dropped their first game of the season, 70-58 to the Defenders. Midland's loss drops then to 4-1 overall and 1-1 in the conference. The win moves Dordt to 2-2 on the season and 1-0 in the GPAC.
The Warriors were ice-cold in the first half, shooting 29 percent from the floor on 9 of 31 shooting. The 28 points were their lowest output through 20 minutes this season. Despite the struggles, they trailed by just seven points, 35-28 at the intermission.
In the second half, the struggle from the field continued as the Warriors shot 9 of 28 (32 percent), scoring 30 points. Dordt showed consistency, scoring an identical 35 points over the final two quarters.
"It was a tough loss for us today," said head coach Shawn Gilbert postgame. "We don't feel like we played to our capabilities… especially on the offensive end. We were disorganized and missed so many shots. I need to do a better job preparing us moving forward. Offense has been our go-to this season and we just couldn't get going tonight. Even at the free-throw line. Credit to Dordt as they played well. Ultimately though we need to be better and I have no doubt we will."
Dordt was able to outrebound the Warriors 50-41 and had a 30 to 19 advantage in bench points. Karly Gustafson had 18 points off the Defenders bench to lead all scorers in the game.
Midland was led by Makenna Sullivan with 15 points. She was joined in double-figures by Kennedy Darner who had 10 points off the bench.
Second-chance points were nearly even with Dordt holding a 10 to 9 edge. Both teams struggled at the charity stripe. Dordt made just 10 of 17 free-throws while Midland was 18 of 29.
Midland (4-1, 1-1 GPAC) will regroup this next week as they prepare for a mid-week tilt with Hastings (0-1, 0-0 GPAC). The Broncos dropped their season opener at Peru State on Friday night, 89-65. Wednesday's game will tip-off at 6:00 p.m. inside Wikert Event Center in Fremont.