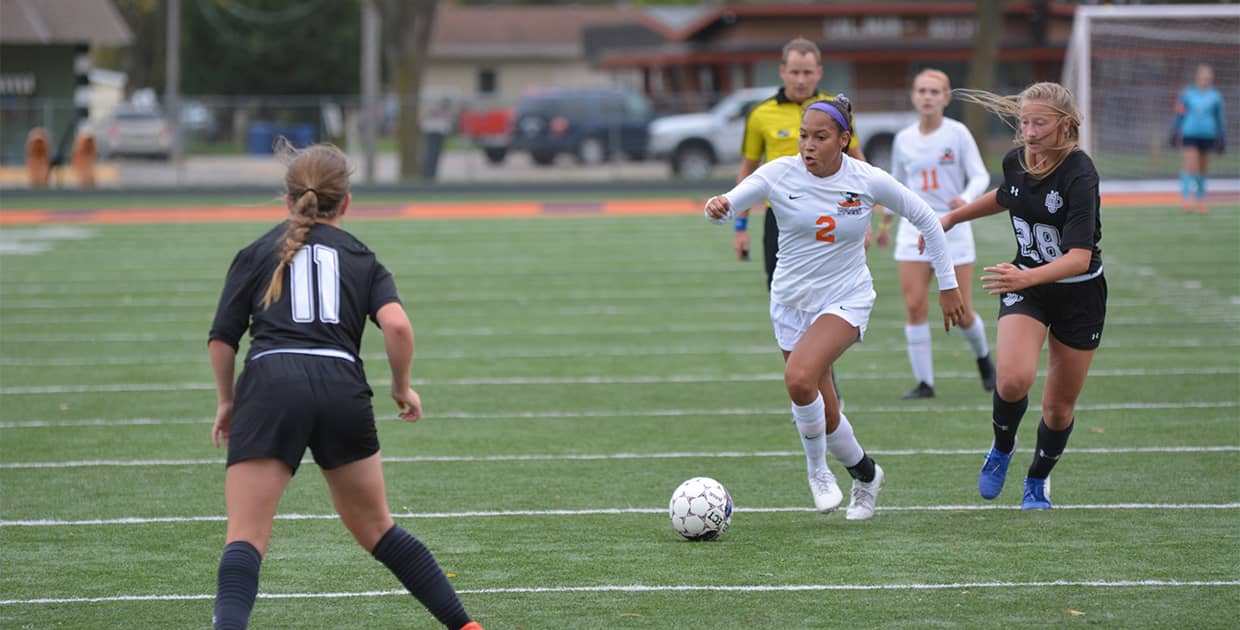 FREMONT, Neb. – Midland University's women's soccer team hosted an unbeaten Briar Cliff University on Wednesday night, and at the end of two overtime periods the teams found themselves at a 1-1 draw.  The tie moves Midland to 2-3-2 on the year with an identical mark in Great Plains Athletic Conference play while Briar Cliff's record now sits at 5-0-2, 5-0-1 GPAC.
Midland outshot Briar Cliff at an 11-4 mark with a 5-3 edge in shots on goal. Fouls were nearly even as Briar Cliff claimed 12 compared to 11 for the Warriors. Bailey Locano and Dana Gomez each registered three shots while Locano led the team with a pair of shots on goal. Kisa Omerovic picked up a pair of shots with one being on goal. Rachel Thigpen made three saves to earn her 42nd career shutout.
The teams were evenly matched in the opening half as each keeper earned a pair of saves. The Warriors looked to find the go-ahead goal in the 34th minute as a shot from Gomez made its way toward the upper pocket of the goal. Unfortunately, the Warriors were plagued with another rejection off the post. The tie stood heading into intermission.
The second half opened with each team attempting to take advantage of corner kicks. Stout defense on both sides kept the offensive pursuit at bay. Locano had an opportunity as the clock ticked toward zero, but another impressive save from the Briar Cliff keeper preserved the stalemate and sent things into overtime.
Midland's defense continued to impress in the overtime and didn't allow a shot by the opposition. The Warriors were denied by the keeper yet again as a perfect ball from Omerovic looked to seal the deal in the 94th minute. A sprawling save kept Midland off the board and pushed the game into a second overtime. A pair of shots wide of goal was all that Midland could muster in the final 10 minutes as time ran out on a 0-0 2OT draw.
Midland (2-3-2, 2-3-2 GPAC) is on the road for a Halloween showdown in Yankton, S.D. as the Warriors are due to take on Mount Marty University. Game time is set for 1:30 p.m. as Midland will look for their 15th-straight win over the Lancers.