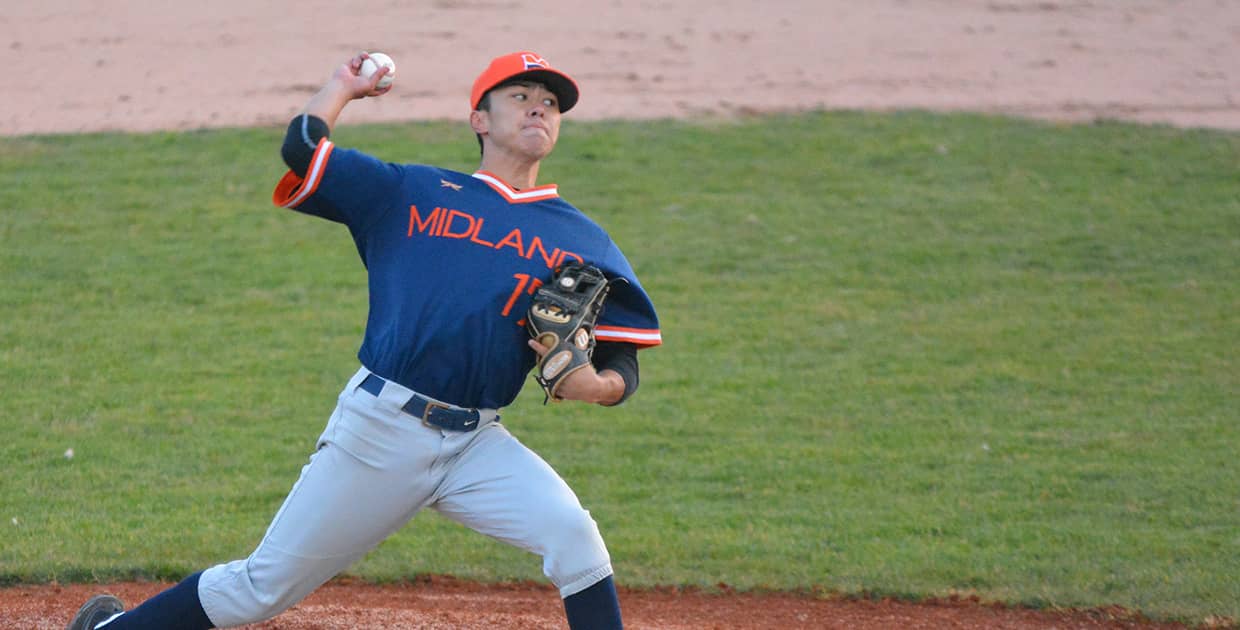 FREMONT, Neb – Midland University relied on solid pitching from a trio of Warriors on Tuesday as they combined to shutout Bellevue University on a chilly 40-degree evening at Moller Field. Midland moves to 1-1 on the season while the Bruins fall to 3-1.
Tyler Seebaum started the game and went 7 innings striking out 6 of the 27 batters he faced, scattering 6 hits along the way. The Bruins threatened a few times but solid defense behind the right-hander from Erie, Colorado stopped any potential scoring chances.
Bellevue left multiple runners on base in both the first and third innings and stranded six total runners on the night. Midland left just four on base, with two coming during the 7th inning after they had already pushed across a pair of insurance runs.
Logan Brede scored the first run of the night as Peyton Garbers singled him home in the 4th inning. Brede began the inning with a double to right field and then advanced to third on a Bruin wild pitch. After the next two batters were retired via groundouts, Garbers hit a slow roller down the third base line and legged out an RBI single.
In the bottom of the 7th Connor Petersen and Jack Barrios hit back to back, one-out singles to get the offense started. Javonte Williams and Jordan Reier would come on to pinch run for the duo and would advance up 90 feet after a passed ball to the next batter. Williams would score and Reier would advance to third on the ensuing throw down to third that went off the Bellevue infielder's glove, trickling into left field.
The Bruins pitcher would lose hit grip on pitches to the next two batters, loading the bases with just one out.
Kyle Weber would drive in Reier via a fielder's choice hit to up the middle to make the score 3-0 in favor of Midland after seven complete innings.
James Scurto would come in to pitch in the 8th inning and nearly had a perfect inning. He struck out a pair of batters and also got a groundout to first base in his one inning of work.
The ninth inning belonged to Steven Boyd and he matched Scurto's line from the inning before. After getting the first batter to fly out to centerfield, he struck out the next two to pick up the save and secure the first Midland victory of the 2020-21 season.
Midland will be back in action one more date this fall as they host Bellevue once again on Thursday, October 22. The teams will play a doubleheader beginning at 4:00 p.m. in Fremont.