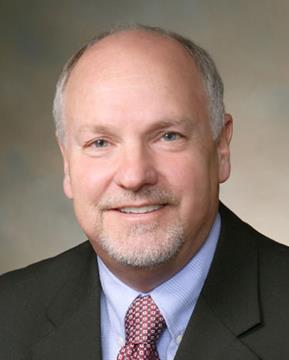 FREMONT- The International Economic Development Council (IEDC), the largest association for professional economic developers in the world, has recognized leaders in the field with its 2020 Honorary & Leadership awards for achieving excellence in the profession.
Mayor, Scott Getzschman, has received the IEDC Leadership Award for Public Service and was one of nineteen leaders recognized in the USA/Canada in the economic development sector. 
This award recognizes an elected official who has served as a committed advocate for economic development for at least 10 years in the public sector and has demonstrated sustained and effective efforts to mobilize community groups and industry leaders. Alongside the nomination came many letters of support showcasing Mayor Getzschman's dedication to his community.
Getzschman said he was "humbled and shocked" when he received the news Friday afternoon, September 11, while on a short vacation in Dubuque, Iowa with his wife, Judy.
"It's just amazing how many people were involved. Even my wife was in on it and helped put it together! I am truly humbled. One thing I found out is that [Nebraska] senators, the governor, the Greater Fremont Development Council (GFDC), and multiple others wrote letters of recommendation for me. It's extremely exciting and humbling, and I would never have been able to accomplish any of this without those who have worked alongside me over the years," said Getzschman.
Mayor Scott Getzschman has served the City of Fremont, Nebraska in an elected leadership capacity for over 15 years.
GFDC said, "The City of Fremont and its growth trajectory have forever changed for the better because of his love for his community, strong leadership skills, and commitment to economic development.
Cecilia Harry, former executive director, of the Greater Fremont Development Council, headed up the idea to put Getzschman in the running for this award.
"It was pretty surprising, but she felt that once she knew I wasn't going to be running for Mayor again, that she wanted to submit an application in my name for this award," said Getzschman.
With the help of GDFC's Garry Clark, Kelly Gentrup, city worker Lottie Mitchell, and several others, they submitted Mayor Getzschman's name, his attributes, and a summary of his history in elected positions in Fremont.
"All of the things that have happened in Fremont since I've been here wouldn't have been possible without everyone I've worked with in the community over the years. To have this much growth and development in my time as mayor, it just doesn't happen overnight. It is so exciting to see that happening in Fremont with everybody's help," said Getzschman.
Governor Pete Ricketts states, "Mayor Getzschman is passionate about Nebraska's growth and has continually given back to the community through his work in government, his private business, and his nonprofit work. He is a man of honesty, integrity, tremendous work ethic, and is a natural leader."
As a small business owner, Mayor Getzschman brings a strong understanding of the importance of supporting the growth opportunities of existing businesses to his role as a public leader.
Getzschman said, "This came from my father. He always said that you have to give back. We've owned Getzschman Heating and Air since 1960 and to see so much growth and development since that time in our community has been humbling. Watching others and working with people to make Fremont grow and become better has made me grow inside and out."
US Senator Ben Sasse shared, "Scott is a leader in every sense – he works hard for the greater good while keeping the individual citizen firmly in mind and he doesn't shy away from tough decisions, all while maintaining a special brand of honesty and humility." Since taking office in 2010, Mayor Getzschman has worked intentionally and collaboratively to ensure a future of forward progress for Fremont.
Getzschman said that to his core he believes that receiving this award showed the results of a community coming together, just like the community has done so many times in the past.
"When we had the 2019 Floods, I saw our community come together in a way I had never seen before. The tremendous work the airport accomplished, and different organizations and people in town worked seamlessly to provide help where it was needed. Those floods could have been even worse for our town, but with everyone working together we rose above and were able to avoid major damage in town," said Getzschman.
Mayor Getzschman continued, saying that receiving this award is the fruition of the work the community has done to create growth and opportunity for Fremont.
"The collaboration that takes place to have success and see Fremont grow cannot be done with one person. We have had tremendous leaders in our community during my time as Mayor with great communication and common goals. This has made my time in elected positions in Fremont so wonderful and exhilarating to be a part of," said Getzschman.
Mayor Getzschman will be receiving this honor during IEDC's 2020 Virtual Annual Conference, October 13-16.
Soon after, Mayor Scott Getzschman will be stepping down from his position as the Mayor of Fremont in November.
"It's going to be bittersweet. I've had my hands involved in so many different buckets during my time, and it's going to be hard to let it go. I think the biggest thing I'm going to miss is the economic development piece. It's exciting, and to see opportunities for companies to come here, build in the community and the relationships you develop with them is one I won't ever forget. I'm excited to see what Fremont and the community does in the coming years and I will be doing what I can in other ways to help contribute more growth to the community," said Getzschman.