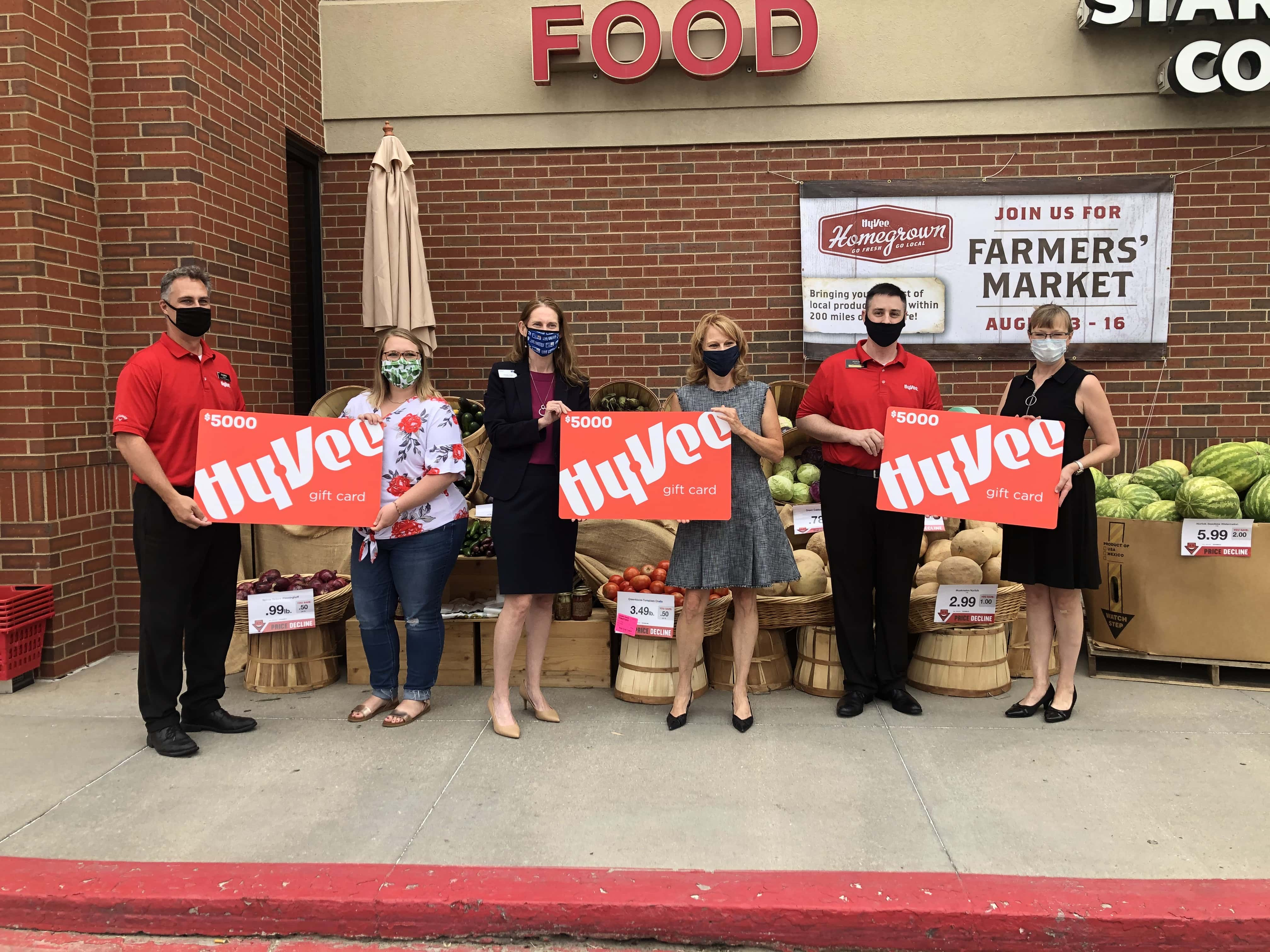 FREMONT- First Lady Susanne Shore, president of Nebraska Impact, and representatives from Hy-Vee today presented the Fremont Family Coalition with a donation of $15,000 in gift cards to assist with area COVID-19 relief efforts.
The Hy-Vee gift cards will provide support to individuals and families with urgent needs for emergency food and medications when assistance from other agencies cannot be immediately accessed.
Today's donation as facilitated by Nebraska Impact and its COVID-19 Relief Fund. The fund was created to provide direct aid to communities and organizations working to mitigate the impact of the pandemic across the state.
The Fremont Family Coalition is one of the statewide Community Collaboratives supported by Bring Up Nebraska, a program of the Nebraska Children and Families Foundation (NCFF).
First Lady Shore said, "We know people are struggling. Hy-Vee has stepped up in many ways to assist those in need throughout this pandemic. We appreciate Hy-Vee's generosity and the generosity of so many other companies and individuals who are doing everything they can to help lessen the burden for our most vulnerable populations. By continuing to work together, we will emerge from this time as even stronger Nebraska."
Tina Potthoff, senior vice president of communications at Hy-Vee, Inc. said, "As Nebraskans continue to adjust to the prolonged impact of COVID-19, this is just one way we can help support our local communities. Since the pandemic started, the number of families who are food insecure has significantly grown. As a provider of an essential service, we must do everything we can to assist those in need."
Impact on Fremont Family Coalition
Fremont Family Coalition Board Member and Executive Director of the Fremont United Way, Christy Fiala, said, "These gift cards could not have come at a better time! We are blessed with the generosity and compassion that Nebraska companies and leaders have shown during this challenging time. On behalf of so many families in the community, we express our thanks and gratitude for this amazing gift."
"The impact from this donation will be great in the community. We see lots of families in need, and this will give us the opportunity to help them with gas, medication, food, and many other things. We will be making sure we get this money to those in need as quickly as possible to help them recover during this difficult time," said Fiala.
NCFF Senior Vice President, Jenny Skala, said, "We have been hearing from Fremont and many communities that food insecurity is a top concern for families during the pandemic. At Nebraska Children and Families Foundation and without Bring Up Nebraska partners, we know that it takes all of us to make Nebraska a place where families can thrive. When we see businesses like Hy-Vee and the donors to the COVID-19 Relief Fund generously support their communities during this time of crisis, we are so grateful. The Fremont Family Coalition has been at the forefront in helping families during the pandemic and last year's flooding crisis and donations like this give them a critical resource for that assistance."
About Nebraska Impact
NCFF and Nebraska Impact are 501c(3) organizations. Donations made to the Nebraska Impact COVID-19 Relief Fund are tax-deductible. To donate, visit www.neimpact.org.
Nebraska Impact was formed out of Celebrate Nebraska Incorporated. Established in 2015, Celebrate Nebraska Inc., was formed to plan and execute a series of events and programs to celebrate and commemorate Nebraska's Sesquicentennial in 2017.
"When we finished that event in 2017, we thought, there is so much more we can still do to help out our communities and make Nebraska strong. That's when we pivoted as an organization and became Nebraska Impact. Then, the 2019 Flood happened, now COVID-19, and suddenly we had a huge wave of need in Nebraska. This was where our organization found its purpose in helping great communities like Fremont to grow and recover," said First Lady Shore.
Collaborations
Money donated to the Nebraska Impact COVID-19 Relief Fund is being directed through statewide Community Collaboratives that are part of Bring Up Nebraska, a program administered by NCFF. Funds will help individual communities meet their needs depending upon their particular circumstances, which may include assistance for rent, mortgages, and utilities as well as to supplement food pantries and provide school supplies to students from low-income families now studying from home.
The collaborations bring together critical community players, including community leaders, service providers, educators, health care professionals, law enforcement, businesses, elected officials, and government officials, who work toward the end goal of improving well-being. With the assistance and support of NCFF and the Nebraska Department of Health and Human Services, each Community Collaborative has an intimate understanding of its community's needs, challenges, and strengths and is best situated to help solve the problems of its citizens.
More information about Bring Up Nebraska and NCFF can be found at www.bringupnebraska.org and www.nebraskachildren.org. More information about the Fremont Family Coalition and be found at https://www.fremontfamilycoalition.org.