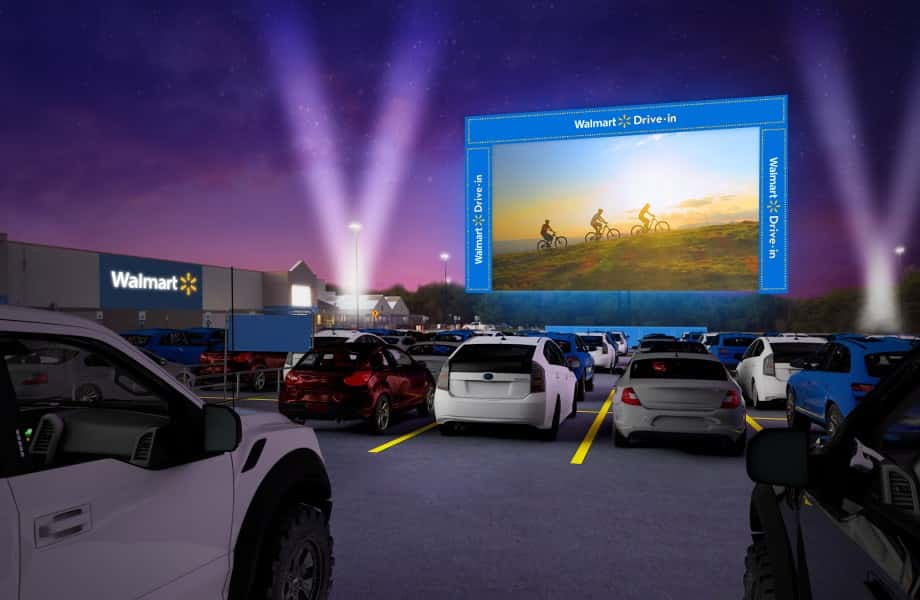 Walmart announced plans for Walmart Drive-in, a drive-in movie theater experience, which is set to take place at 160 Walmart stores across the country beginning this month, created in partnership with the Tribeca Film Festival.
Available for free to Walmart customers, the Walmart Drive-in will transform Walmart parking lots into outdoor cinemas from August 14 through October 21 with 320 showings of hit movies. Starting today at 5:00 p.m. ET, families can visit TheWalmartDriveIn.com to discover dates, store locations, and the movies for each stop of the movie tour.
"We recognize the challenges our customers and their families have faced over the last few months, and we wanted to create an experience where they could come together safely to create new memories. The Walmart Drive-in is one small way we're supporting the communities we serve, said Janey Whiteside, Walmart's chief customer officer.
The doors will open at 6:00 pm with a strict no-late entry policy. The tickets are free but must be reserved in advance.
The Walmart Drive-in will be making its only stop in Nebraska in Bellevue on August 28 and 29. 
Possible movie showings will be:
Wonder Woman PG-13 | 2h 21min | 2017
Spy Kids PG | 1h 28min | 2001
Space Jam PG | 1h 28min | 1996
Spider-ManTM: Into The Spider-Verse PG | 1h 57min | 2018
Ghostbusters PG | 1h 45min | 1984
The Wizard of Oz PG | 1h 42min | 1939
Black Panther PG-13 | 2h 14min | 2018
E.T. the Extra-Terrestrial PG | 1h 55min | 1982
Friday Night Lights PG-13 | 1h 58min | 2004
The Walmart Drive-in promises families a fun, contact-free experience where they can watch popular films thoughtfully curated by the Tribeca Film Festival. Audiences will be welcomed back to the big screen to enjoy a wide range of films safely from their own vehicle.
For the complete movie-going experience, families can stock up on their favorite theater concessions to bring along with them through Walmart's convenient pickup or delivery services. Alcohol is prohibited during the event.
To reserve a space for the Walmart Drive-in, customers can visit TheWalmartDriveIn.com starting today, August 5, at 5:00 p.m. ET to pick their desired date and location. Once confirmed, customers will receive an email with a QR code, which will grant their vehicle entry on the day of the event.
For more information visit TheWalmartDriveIn.com or check out the FAQ for the event.