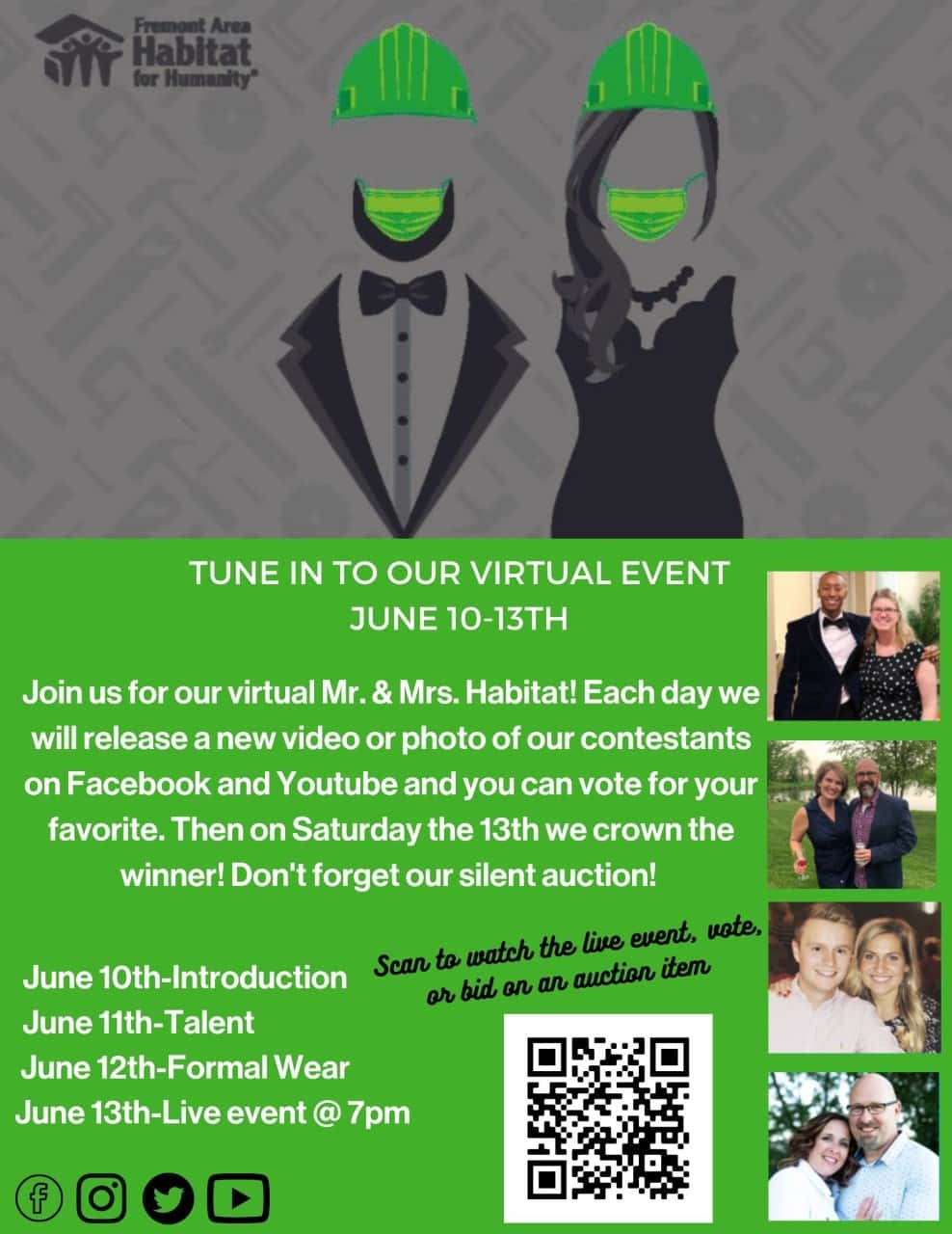 FREMONT- The Fremont Area Habitat for Humanity (HFH) will be hosting it's Mr. and Mrs. Habitat Pageant virtually this year from June 10-13th.
Each day the HFH will release a new video or photo of the contestants on Facebook and Youtube. They will also be posting the youtube link on all of their social media pages and website. From there you can vote for your favorite Mr. and Mrs.
Here is a list of the scheduled events each day:
June 10th – Introductions
June 11th- Talent
June 12th- Formal Wear
June 13th- Live streamed event at 7 pm
The live stream on the 13th will include a group dance video, information about the Habitar, and the crowning of the winners.
This year's contestants are:
John and Libby Headid of Don Peterson & Associates.
Scott and Christina Meyer of Juice Stop.
Garry and Tina Clark of the Greater Fremont Development Council and Millard Public Schools.
Ben and Amanda Hutton of S2 Rolloffs and Pinnacle Bank.

Starting June 5th and ending June 14th there will be a silent auction. The link to the auction will be posted on social media and the Habitat website. The funds from the auction go to building homes for low-income families.
"These are families in our community that are usually not in a very good living environment and we build them a home that they have to purchase, but the home has no interest to help make it affordable," said Executive Director Joy Mckay.
The Fremont Area Habitat for Humanity is also cautiously planning to try and re-open June 5th and 6th. *This is a tentative possibility*
Visit www.fremonthabitat.org/involve/mr-mrs-habitat-2020.html for more on the contest
For information, resources, and questions on the Fremont Area Habitat for Humanity visit their website- https://www.fremonthabitat.org/