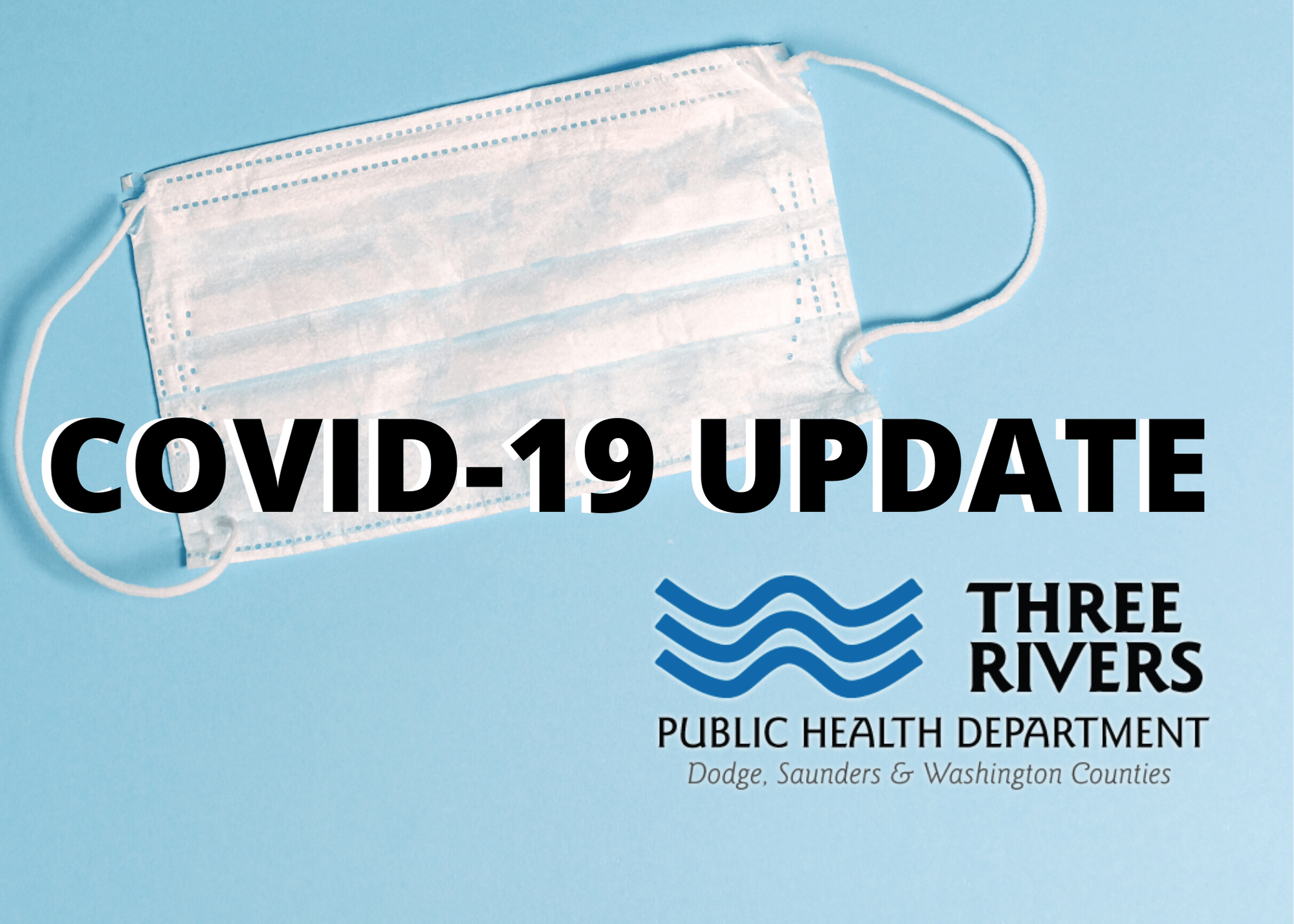 FREMONT – The Three Rivers Public Health Department (3RPHD) reported an increase of  82 lab-confirmed COVID-19 cases within the district since Friday, May 22nd.
The case total by county is currently:
Dodge County: 392 cases, an increase of 76 new cases since Friday.
Saunders County: 31 cases, an increase of 4 cases since Friday.
Washington County: 28 cases, an increase of 2 cases since Friday.
Total 3RPHD Case Count: 451 cases
Hospitalization figures:
As of Tuesday morning, hospitals in the local area (including Omaha hospitals)  reported 431 medical beds were available and 141 patients were hospitalized with COVID-19 – this is a decrease of 8 hospitalized patients since Friday; however, it is important to note that at least 3 individuals hospitalized with COVID-19 in Omaha died over the weekend.
Of the 382 ventilators available to area hospitals, 144 were in use, including 46 for confirmed COVID-19 patients. This in an increase of four COVID-19 patients on ventilation since Friday.
An additional 42 people were hospitalized as COVID-19 persons of interest in Douglas county. Intensive Care Unit capacity in Omaha area hospitals is currently at 75 percent.
3RPHD Reminder:
Please be aware of the COVID-19 symptoms, which may include a fever, cough, sore throat, severe fatigue, loss of taste and smell or difficulty breathing. In most cases, a person will have more than one of these symptoms. Anyone who has COVID-19 symptoms or develops symptoms should contact their health care provider and tell them how you are feeling and any possible history of exposure. Please call ahead before you go to the doctor's office or an emergency room.
As some restrictions due to COVID -19 are relaxed, 3RPHD asks you to remember the basics. Maintain social distancing, wear a cloth mask in public, and wash your hands often for 20 seconds with soap and water.
The CDC reports that 20% of those hospitalized for COVID-19 in the U.S. were 20-44 years old. Even if you're healthy, you can pass COVID-19 on to people who could be severely affected. According to Johns Hopkins University, the mortality rate in the U.S. is currently 6%.
The State of Nebraska has now diagnosed 12,619 cases of COVID-19 infection since March. Nebraska DHHS is not tracking recoveries on a statewide basis. 153 Nebraskans have died. 90,748 tests have been completed.