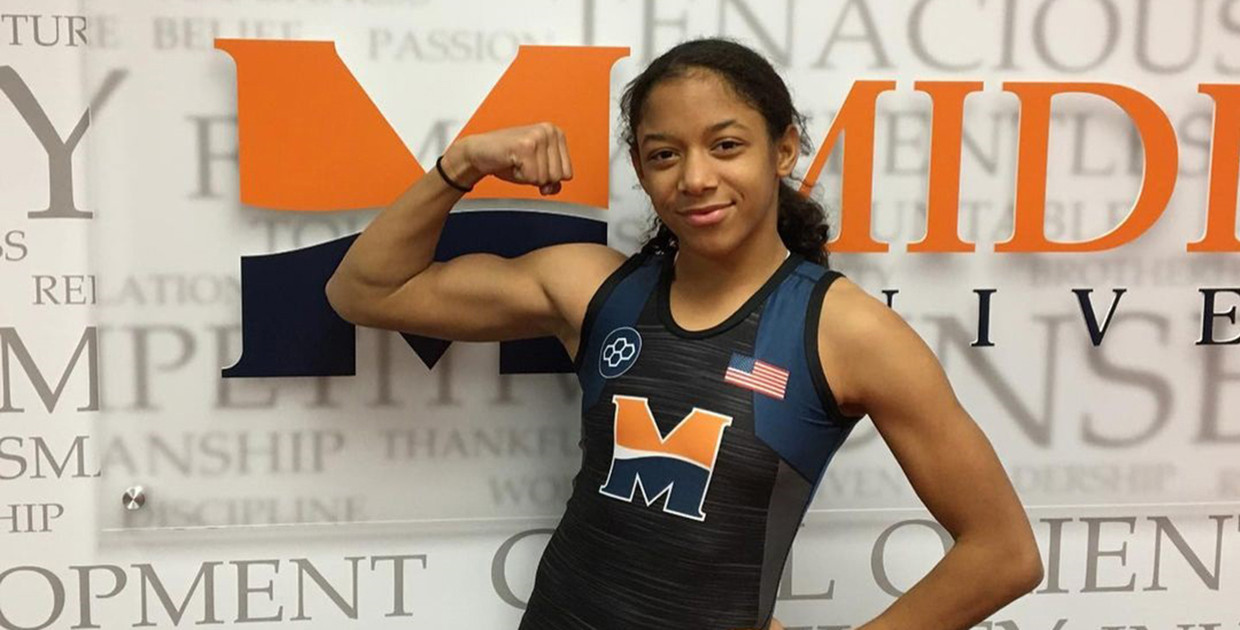 YORK, Neb. – Coming off a pair of dual wins and a strong open meet last weekend, Midland University's women's wrestling team sent six wrestlers to take part in the York Open Tournament this past Saturday. Alongside Midland and host-schools York College there were a number of competitors from a dozen other NAIA and JUCO schools.
Warriors' freshman Serenity Durham Goree was the team's highest earner with a second-place finish in the 116-pound weight class. Durham Goree earned wins over Rayana Sahagun of the University of Jamestown (TF 10-0) in her first bout. Then in the quarterfinals, she bested Mariah Spix of Lyon College (Fall 1:17). She took down another Lyon wrestler in Jessienna Burkett-Erice (Fall 1:38) in the semifinals. In the championship match, she suffered her lone defeat on the day, falling to Camille Fournier of Texas Wesleyan (Fall 2:49).
Freshman Prethy Enriquez won her first bout in the 123-pound division on her way to a 3-2 record. She took care of Autumn Branson (Fall 1:38) before dropping her quarterfinal match to Arianna Marrufo of Jamestown (TF 10-0). In the consolation bracket, she completed back-to-back pins. The first over Kya Battle of Schreiner University (Fall 3:30) and then over Olivia Branson of Baker University (Fall 2:28). Her open came to a close in the consolation semifinals with a loss (TF 11-0) to Nichole Moore of Baker.
Other Warriors competing on the day were freshman Salem Scobee (0-2) at 109-pounds, sophomore Avery Thomason (0-2) at 123-pounds, freshman Ashlee Palimo'o (0-2) at 143-pound division, freshman Jasmin Ballesteros (0-2) at 170-pounds.
Midland will be back in action this week with a pair of home duals set for Wednesday afternoon. The Warriors will face Hastings and Ottawa with matches set to begin at 2:00 p.m. inside Wikert Event Center in Fremont, Nebraska.