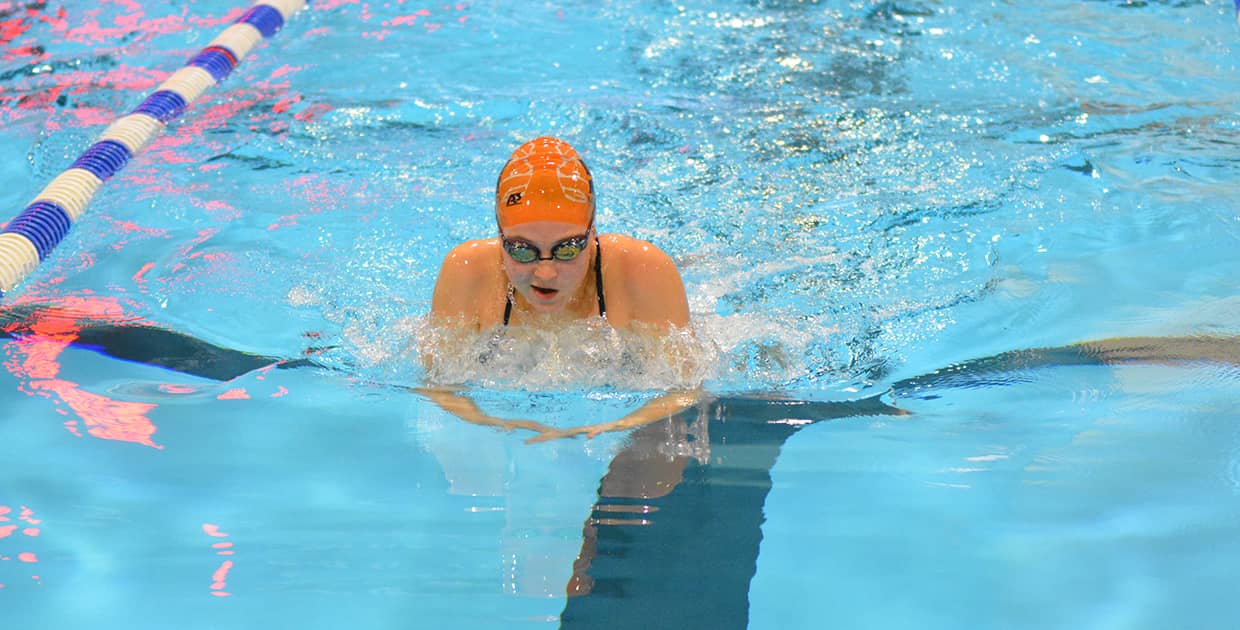 SIOUX CITY, Iowa – Thanks to superior depth, Midland University came away with a pair of convincing wins over rival Morningside College on Friday night in Sioux City. The Warriors' women defeated the Mustangs 161 to 54 while the men were victorious by a score of 149 to 82.
In a program that featured 26 events, Midland came away with 22 wins, including all 13 races on the women's side. Of those victories, seven different women and five different men found themselves winners in the solo races. The Warriors won all four relays, the 200 medley and the 200 freestyle in both divisions.
Faith Guyer, Kadisyn Kircher, Allyse Bell, and Lily Harrell all had multiple wins on the evening. Guyer won the 100 and 200 freestyles. Kircher won the 100 backstroke and the 500 freestyle. Bell was victorious in the 100 breaststroke and the 200 individual medley. Harrell won both the 50 freestyle and the 100 butterfly.
Also picking on wins for the Warrior women were Anna Lowary (200 butterfly), Nerissa Wagner (200 backstroke), and Gracie Lefholz (200 breaststroke).
On the men's side, Caleb Miller and Tyler Penney won a pair of races. Miller won the 200 and 500 freestyles while Penney won the 100 breaststroke and the 200 individual medley. Also winning for the men were Hayden Robbins (100 backstroke), Scott Cain (100 freestyle), and Trevor Edwards (200 backstoke).
This season the Warriors have found the pool at the Hindman-Hobbs Center to their liking as they won the Mustang Invitational last weekend.
Midland will be back in the pool on Saturday and Sunday this weekend, along with Morningside and the women from Nebraska-Omaha. The three schools will be competing in the Mid-Season Invitational along with College of Idaho and Olivet Nazarene, who are both competing virtually. Start time on Saturday inside the Dillon Family Aquatic Center in Fremont is set for 2:30 p.m. with a 9:00 a.m. start on Sunday.