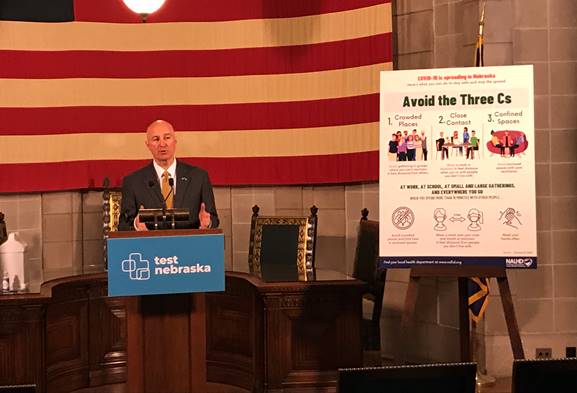 LINCOLN – This afternoon, Governor Ricketts held a press conference in the capitol building to give an update on COVID-19 within Nebraska.
Gov. Ricketts discussed the rising number of hospitalizations in the state saying,
"One of the things we have seen is an increasing number of hospitalizations. As of last night (Oct. 15), we had 323 people in the hospital, which is nearly 40% more than when we had during our peak hospitalizations back in May."
Gov. Ricketts noted that keeping hospitalizations down has been his focus in Nebraska since the pandemic began.
"All of the restrictions we've put in place has really been about trying to make sure we maintain that hospital capacity, so we can provide that hospital bed, ICU bed, and that ventilator for people who need them," said Ricketts.
Governor Ricketts stated that starting today, they will be doing three things to help combat COVID-19 in Nebraska.
The first is making changes to the Directed Health Measure, which will be effective Wednesday, October 21. Most requirements will be changing back to the Phase 3 Directed Health Measure.
 Gatherings
INDOOR Gatherings will be limited to 50% of rated occupancy (not to exceed 10,000).
OUTDOOR Gatherings will remain at 100% of rated occupancy (not to exceed 10,000).
Gatherings include but are not limited to Indoor or Outdoor Arenas, Auctions, Stadiums, Tracks, Fairgrounds, Festivals, Zoos, Auditoriums, Large Event Conference Rooms, Meeting Halls, Indoor Theaters, Libraries, Swimming Pools, or any other confined indoor or outdoor space.
Plans for reopening or expanding to new capacity limits must be submitted to the local health departments and approved for all indoor and outdoor locations/venues that hold 500 or more individuals before reopening is permitted.
Bars and Restaurants
Table sizes have been limited to 8 people and people must remain seated unless ordering, using the restroom, or playing games.

Occupancy levels will remain at 100%.
Weddings/Funerals
Limiting the size of tables to 8 people

100% of rated occupancy continues
Hospitals
 If a hospital wants to continue to perform elective surgeries, they have to keep a cushion of 10% of staffed hospital beds and staffed ICU beds available for possible new coronavirus patients.

Hospitals cannot transfer patients to different hospitals to hit the 10% cushion to do elective surgeries.
The DHM changes listed above are scheduled to remain in effect through November 30, 2020.
Video from today's press conference is available by clicking here.