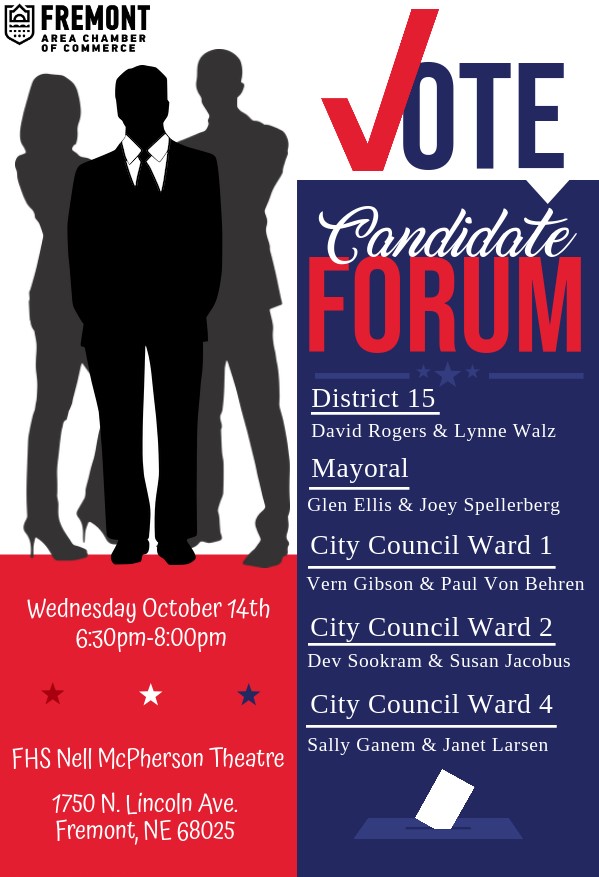 FREMONT- The Fremont Area Chamber of Commerce (FACC) is holding its Mayoral and Candidate Forum tonight in the Nell McPherson Theatre at the Fremont High School from 6:30-8 pm.
Each position up for grabs in this election will have a 30-minute session for the candidates to speak and answer questions that the FACC has been receiving from the public over the past two weeks.
You can listen to the forum live on KHUB's Big Dog 98.9 FM and 1340 AM and you can also attend the event live in-person.
If attending in person, masks are required and temperatures will be taken at the door. They ask that you enter the school through the south entrance and head to the auditorium from there.
The candidates taking part in this forum are:
District 15 Candidates
Fremont Mayoral Candidates
Joey Spellerberg
Glen Ellis
City Council Ward 1
Vern Gibson
Paul Von Behren
City Council Ward 2
Susan Jacobus
Dev Sookram
City Council Ward 4